Aeneon Xtune DDR3-1866 (PC3-15000) 4GB DDR3 Kit
Introduction & Specs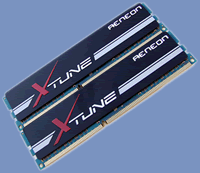 Back at the beginning of the year, Overclock3D was fortunate enough to take a look at a
DDR3-1333 4GB kit
from a fairly new player in the performance memory scene named Aeneon. At the time, we were highly impressed by the kit's ability to reach speeds of  DDR3-1700 using only 1.85v, but couldn't help but feel that this excellent kit was a one-off, designed to generate some media excitement around the new brand name.
However, Aeneon, keen to prove us wrong, have returned once again – this time brandishing something exceptionally more powerful: a 4GB DDR3-1866 kit affectionately labeled AXH860UD20-18J. Let's check out the specs:
Description
XTUNE™ DDR3 series is the AENEON™ solution for the latest DDR3 platforms addressing highest performance needs as well as fast, stable and reliable system operation.
The Dual Channel Kit comes with two identical modules tested together in DUAL CHANNEL MODE at 1866MHz at a latency timing of 10-10-10-30 on several platforms.
Supports XMP – Extreme Memory Profile on Intel X38/X48 platforms and EPP2.0 – Enhanced Performance Profile on the latest NVIDIA SLI platforms.
Features
* Dual channel kits are pair-tested on latest platforms
* DDR3-1866 CL10 @1.5V
* Enhanced performance modes included in EPP2.0 and XMP profiles
* 240-Pin Dual Inline Memory Module (DIMM) with gold contacts
* High quality aluminium heat spreader to ensure cooler operating temperature
* Supports Intel XMP – Extreme Memory Profile on Intel X38/X48 platforms
* Supports NVIDIA EPP2.0 – Enhance Performace Profile on NVIDIA SLI platforms
With 10-10-10-30 stock timings, the Xtune kit certainly isn't going to win any awards for latency out of the box. However, we know better than to judge anything by its factory settings here at Overclock3D, and the JEDEC standard voltage of 1.5v certainly brings hope that this kit is just erring on the side of caution.
Unfortunately, the specifications make no mention of just how high (if at all) the voltage can be taken before voiding the 10-year warranty that Aeneon provide with the kit (yes you read that right). This is something that companies such as OCZ and Mushkin take pride in displaying, as it provides reassurance to the casual overclocker that they can push the modules a little bit further without throwing money down the drain.
Finally, one last thing worthy of a mention is that the Xtune DDR3-1866 kit supports both Intel's XMP and NVIDIA's EPP2.0 performance profiles, ensuring that the kit works at its intended speeds on some of the more recent chipsets by both of these manufacturers.
Now let's get up close and personal with the kit…