Cooler Master Silent Pro 700w Modular PSU
Introduction & Specifications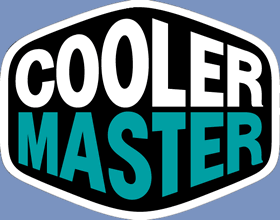 As most of the silent PC enthusiast crowd will tell you, total silence is one of those things which can never quite be achieved. Even after going to extraordinary lengths to isolate Hard Disks, Fans and other devices from rattling your fully sound-proofed case, there is always one device that simply cannot be silenced in the same way as the rest – the PSU. Many manufacturers have already realized this and have designed their Power Supplies to be as kind on the ears as possible. However, PSU designs that incorporate features such as water cooling or passive cooling all have their downfalls, either transferring heat to another location where it needs to be cooled, or simply not packing quite enough punch to power the modern PC.
For this reason, most PSU manufacturers seem to have steered clear of these flawed cooling methods, instead concentrating their efforts on fan-based cooling with the lowest possible noise output. Cooler Master is one of these companies, and with an already good lineup of relatively silent PSU's coupled with beastly power outputs (such as the Real Power Pro
M1000
and M1200), they now have their sights firmly set on reducing PSU noise even further in the recently announced Silent Pro series.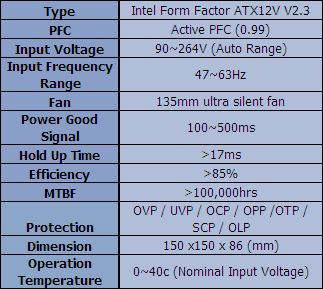 Feature List

1. Modularized cable design to eliminate clutter and improve airflow inside the chassis
2. Two 6+2 pin PCI-e connectors are compatible with future graphic card upgradeability
3. Eco-design for energy and money saving by 80Plus design (>85% efficiency)
4. Single +12V rail provides more power for over-clocking users
5. Compliance with Intel standard ATX 12V V2.3
6. Green power design to meet energy star and blue angel and RoHS requirements
4. Super silent operation with intelligent 135mm fan speed control
6. Multiple protections provide full-scale protections for your components (OVP/OCP/OPP/OTP/SCP)
7. High Power Density (150*150*86 mm)
8. High reliability (MTBF > 100,000 hrs)
9. Copper + Aluminum heat sink design
10. Flat cable design for better cable arrangement
11. Japanese Made Capacitor
12. Silicon rubber Pad
As the specifications above show, Cooler Master has tackled the problem of noise inside Silent Pro 700w unit we're reviewing today in four main ways: a 135mm fan with intelligent speed control, Silicone rubber gaskets to prevent vibrations transferring to the PC enclosure, effective removal of heat from the PSU mosfets (using a combination of copper and aluminium in the heatsink construction), and an overall high level of efficiency of 85%+. A lot of these methods have been used on PSU's in the past, but this is the first time any of us here at OC3D have seen all of these methods combined into a single unit.

Cooler Master have also taken us by surprise by opting for a single +12v rail capable of delivering an impressive 50 amps. This is a big step away from the recently reviewed
Real Power M700
and
Real Power Pro M1000
units that featured four and six +12v rails respectively, with each being rated between 18-19amps.
While Single- vs Multi-rail has always been hot topic for debate among PSU gurus, the single-rail configuration has always been a favourite for overclockers who prefer to have all their power readily available on a single rail. This avoids situations where one +12v rail is under heavy load from power-hungry devices such as an SLI/Crossfire graphics card setup, while the remaining rails are barely being utilized.