FSR 2.0 Tested with Deathloop – A Huge Win for AMD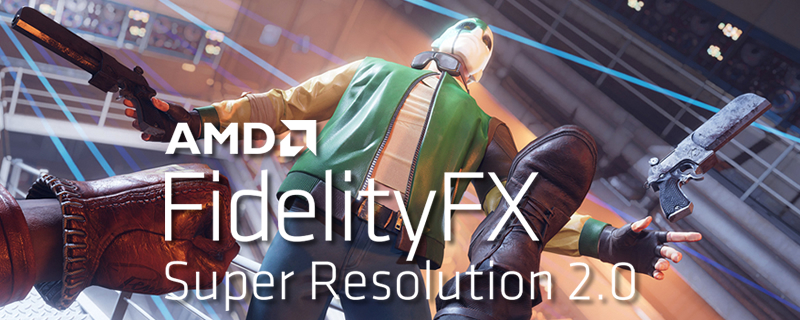 Introduction – What is Upscaling, and why does it matter to gamers
Let's face it, 4K screens have an absurd number of pixels, and 8K screens take things to even crazier levels. Gaming at high pixel counts is a challenge, especially if you target framerates beyond 60 FPS. High resolution gaming poses several challenges, especially now that features like ray tracing are making games more demanding. Simply put, gamers need much stronger hardware to play future games at high resolutions and framerates, or developers need to think of clever ways to start using today's hardware more effectively.
While every new generation of PC hardware promises higher performance levels, things have not advanced fast enough. Games are getting more demanding, and high resolution screens are becoming more commonly available at affordable prices. Upscaling is the industry's solution to these issues, acting as a solution that can allow developers to get more performance out of lesser hardware, and sometimes get better visual results while doing so.
The idea behind upscaling is simple, render a game at a lower input resolution and reconstruct that image at a higher resolution. If done well, you fake 4K (faux-K if you prefer) image will look just as good as a natively rendered 4K image, but at a much higher framerate. With high quality upscaling, gamers can get more performance out of their hardware while still achieving pleasing results.

Enter FidelityFX Super Resolution 2.0
FidelityFX Super Resolution 2.0 is AMD's second generation game upscaling solution. FSR 2.0 was developed from the ground up by AMD to deliver higher levels of image quality than FSR 1.0 and to be easily integrated into games across various platforms. Currently, FSR 2.0 supports DirectX 12, though a Vulkan version is planned. In the future, FSR 2.0 should be ported to consoles, allowing gamers outside of the PC ecosystem to benefit from FSR 2.0. 
With FSR 2.0, AMD has created an image upscaling solution that does not require AI or hardware from a specific manufacturer. FSR 2.0 is for everyone, not just Radeon users, and that is a critical advantage that AMD has over Nvidia. That said, Nvidia's DLSS tech is designed to sell Nvidia hardware, and FSR 2.0 gives gamers little reason to choose AMD or Nvidia (as with works with GPUs from both camps).
   AMD FidelityFX Super Resolution (FSR) 2.0 technology is our brand-new open source temporal upscaling solution. FSR 2.0 uses cutting-edge temporal algorithms to reconstruct fine geometric and texture detail, producing anti-aliased output from aliased input.

FSR 2.0 technology has been developed from the ground up, and is the result of years of research from AMD. It has been designed to provide higher image quality compared to FSR 1.0, our original open source spatial upscaling solution launched in June 2021.

Improvements over FSR 1.0
The primary benefit offered by FidelityFX Super Resolution 2.0 is its ability to offer gamers a higher quality output image. While FSR 2.0 is more demanding than FSR 1.0 from a hardware perspective, it has the ability to offer gamers more visually pleasing results. In some cases, this can give games a "better than native" look, effectively giving some FSR 2.0 users an image quality boost and a performance boost. That's a win-win for gamers. 
FSR 1.0 is a spatial upscaling solution, and only uses data from a single frame for its upscaling. FSR 2.0 is a temporal solution, using data from previously rendered frames alongside motion vectors to create more visually appealing upscales. This solution replaces a game's native Temporal Anti-Aliasing solution and provides developers with upscaling support. These factors make FSR 2.0 harder to integrate into games when compared to FSR 1.0, but the higher quality outputs speak for themselves. 
FSR 2.0 – Quality Levels
AMD's FidelityFX Super Resolution technology has multiple quality levels. These quality levels are used to define the level of upscaling that will be used by a game. Quality mode does a 1.5x upscale, turning a 1440p input resolution into a 4K output, with Performance mode doing a 2x upscale that will turn a 720 input into a 1440p output.
At higher quality levels, FSR 2.0 will have more input data to use to create output frames. This will result in clearer image outputs and higher levels of detail. Using a higher input resolution has a higher performance cost than using a lower input resolution, but that's what it takes to generate a high fidelity output.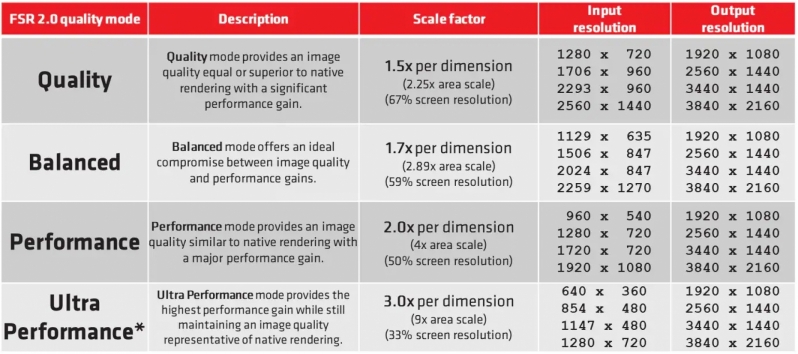 Testing 
To test FSR 2.0, we will be looking at the technology using both AMD and Nvidia hardware. To do this we will be looking at FSR 2.0 using AMD's Radeon RX 6800 graphics card and Nvidia's Geforce RTX 3070 Ti graphics card. This will allow us to test FSR 2.0 using a Radeon graphics card while also allowing us to do some FSR 2.0 VS DLSS comparisons using an Nvidia Geforce GPU. 
Full Test System Specifications
Below are the full specifications of our game testing system, which we built in mid-2020 to meet the needs of future games. Alongside this system, we will be testing using AMD's Radeon RX 6800
To help support the website, we have included Amazon affiliate links below should you wish to purchase the same or similar PC parts. You can read more about our games testing system here.

OC3D Game/GPU Test Rig (Affiliate Links Below)

AMD Ryzen 9 3950X Processor with Prescision Boost Overdrive
ASUS ROG Crosshair VIII Formula (X570) Motherboard 
Corsair Dominator Platinum RGB Series DDR4 3600MHz (2x8GB) Memory
Corsair RM1000i Power Supply
Corsair iCUE H150i RGB Pro XT All-in-One Liquid CPU Cooler
Corsair MP600 2TB PCIe 4.0 SSD
Corsiar Obsidian 500D RGB SE Case
Windows 10 x64