Corsair 240GB Force GT RAID0 Review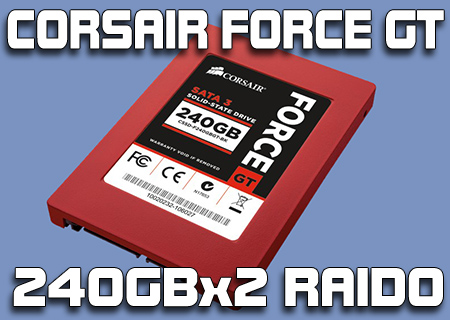 Introduction
Storage speeds make a mockery of the famous Moore's Law.
It was relatively recently that we moved from IDE to SATA and the speed benefits that brought. Yet within a very short timespan we've gone from 1.5Gbp/s SATA through 3.0Gbp/s to the 'available on everything' SATA 6Gbp/s. Whereas not long ago the Velociraptors were considered the titans of the speed world, we quickly had Solid State Drives, and they utterly redefined what we think of as fast data transfer.
It didn't even stop there as the companies launched into an ever escalating arms race to bring us ever faster SSDs and we've recently seen some extraordinary performance from drives such as the Kingston Hyper X and Samsung 830. With the Sandforce controller appearing at the head of the pack in pure speed terms then combining that with a SATA 6Gbp/s interface we've seen drives that get very close to 500MB/s in certain situations, but still well north of 300MB/s in actual use.

Enter Corsair with the Force GT range of Solid State Drives. It has all the boxes ticked for some amazing speeds. It uses a Sandforce SF-2281 controller which has lots of tricks up its sleeve to compress the data and really bring that performance up to incredible levels. It's on a SATA 6Gbp/s interface, so bandwidth shouldn't be an issue. The models we have on test today are the 240GB variants, and larger capacity SSDs generally have better performance than the smaller versions. Finally the key word in that sentence was models. Plural.
We have two Force GT 240GB drives here, set up in RAID 0 to really see how fast it's possible to go. Three years ago SSDs appeared with promises of 90MB/s. This set up should give us 1GB/s. Let's find out.
Technical Specifications
Certainly the data sheet is everything one would expect. Sandforce SF-2281 doesn't require cache and the drive has 25nm MLC NAND. Every potential ounce of performance available from current technology is squeezed into the red case.
| | |
| --- | --- |
| Unformatted Capacity | 240GB |
| Read Performance (max) | 555 MB/s |
| Write Performance (max) | 525 MB/s |
| Random Write 4k (max) | 85k IOPS (4k aligned) |
| Form Factor | 2.5" |
| Interface Type | SATA 3 6Gb/s |
| Onboard cache | NA |
| Operating Temperature | 0C to +70C |
| Storage Temperature | -20C to +85C |
| Operating Humidity | 10% to 90% RH (0° to +40° C) |
| Storage Humidity | 5% to 90% RH (-10° to +60° C) |
| Maximum Operating Altitude | 3,048 m (up to 10,000 ft.) |
| Maximum Non-Operating Altitude | 12,192 m (up to 40,000 ft.) |
For our testing today we're using a i7-2600K on a Z68 motherboard and putting the RAID 0 up against three of the fastest drives around. Can we get close to doubling the performance of a single drive?