Home Build Inspiration – Bengal Rig V3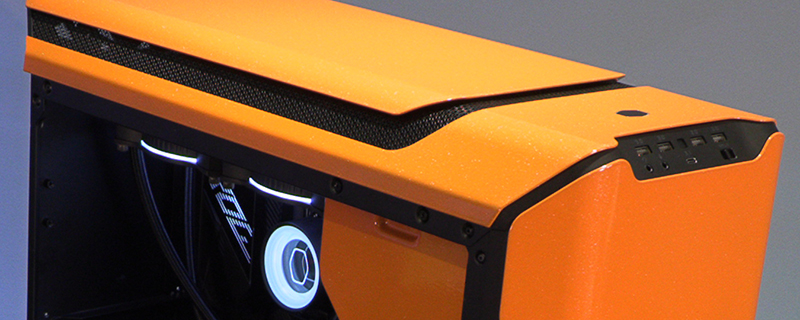 Introduction
We don't need to remind you that the world has been in chaos for the last 12 months or so. The pandemic has massively impacted everything from the minor things such as getting products into the shops, through us getting review samples, all the way through to the tragic deaths of so many loved ones. None of us have remained unaffected. Without wishing to give too much away I'm one of the people who are extra susceptible and thus have been forced to spend the last 12 months stuck in my house unable to see any of my loved ones or go anywhere. It doesn't take much to realise how this can dramatically impact anyone's mental health and things have been rough the last year for me.
Enter Tom who has gathered together an array of kind companies and his own system building skills to bring a brand new Bengal Rig to life and put a stupidly big smile on my face. It's so broad that the Cheshire Cat has sent me a cease and desist. For those of you who've been around here for a while will remember the current Bengal system which I still use every day. It is an NZXT Switch 810 housing an Intel Core i7-6700K, Maximus VIII Extreme, Palit GameRock GTX 1080 Ti and HyperX Predator 480GB. Not a bad system but clearly showing it's age. The new one though is much more up to date. What has the current pandemic to do with the new Bengal Rig? Well for that reason I haven't actually got it yet, so I'm looking at these pictures and specifications with all the covetousness I can muster.
We will show you a video in a moment for the impatient, but we'll also bring you photos in detail on the next few pages if you want to bask in the glory of that tremendous flake paint job and it's ceramic coating.

Part List
The first major change from my current system to this new one is the move from Intel to AMD. I've written loads about how much we love the Ryzen CPUs and Zen architecture, and it speaks volumes about the quality that we'd pick it over Intel right now. The old expression about putting your money where your mouth is and all that. Given how much abuse my system takes – it's only turned off when I am – and how reliable and fast it has to be – because without it nothing would get written – then it shows how far AMD have come in recent times in both those areas. Hence we have the 8 core Ryzen 7 5800X and that is plugged in to the special edition Dark Hero version of the outstanding ASUS Crosshair VIII. The Crosshair is fantastic, but in Dark Hero guise it's one of the most attractive motherboards around. It also has two NVMe sockets on it and they've been filled with Sabrent Rocket NVMe drives in both 4TB and 2TB models. As someone with 6TB of stuff spread across about 8 drives it will be lovely to consolidate it all onto just a pair.
The foundations are all Cooler Master and Sabrent. The case, which has been painted as you'll see on the next page, is the SL600. It's an extremely flexible case able to be built in a variety of configurations from regular to the chimney style, depending upon your preference. Into that go the MWE 850V2 fully modular PSU, perfect for ensuring the minimum extraneous cables. A Masterliquid ML360 AIO keeps everything cool and quiet. If you use your system as much as I do then silence is as important as cooling capability. Nobody wants to spend 16 hours sat next to a vacuum cleaner. Fan wise it's the Cooler Master MF120 Halo ARGB fans in both the top and bottom of the case to provide plenty of airflow whilst also giving you loads of lighting options to play with.
A system, especially one for someone who games in every spare moment like I do as a means of escapism, is all about the graphics card and following many happy years with the GTX 1080 Ti Palit GameRock the newest Bengal Rig has a Palit GameRock RTX 3080 OC. We've already reviewed this and found it to be one of the best RTX 3080s around, and it's particularly glitzy with a crystal effect RGB shroud. It's the type of thing that really needs to be shown off and so the card is mounted vertically. To this end we've obtained a PCIe 4.0 Riser from Amazon, and the link is below. You want PCIe 4.0 to make the fullest use of the X570 platform and abilities of the Ampere Nvidia GPU, and when so many are available we can guarantee the capabilities of the one we've linked to, so if you've been unsure of which to buy now you know.
PCIe 4.0 Riser Cable: https://geni.us/slhHrr
Coolermaster SL600 Case: https://geni.us/rN0Btnu
Coolermaster M120 Halo Fans: https://geni.us/J0hx
AMD Ryzen 7 5800X: https://geni.us/JZl8
Crosshair VIII Dark Hero Motherboard: https://geni.us/BsAz5QO
Sabrent Rocket 4 NVME 2TB: https://geni.us/EBmm
Sabrent Rocket Q4 4TB: https://geni.us/wk9hW17
Coolermaster MWE 850W PSU: https://geni.us/AQ7HBZV
Coolermaster Masterliquid 360mm Mirror AIO: https://geni.us/7o6hiBk
Gskill Royal DRAM: https://geni.us/8HhYNDV
Now you have links to the parts we're using in this build, and a quick overview of why they've been chosen, let's take a look at them in the flesh.