White ASUS ROG Helios Strix Z490 System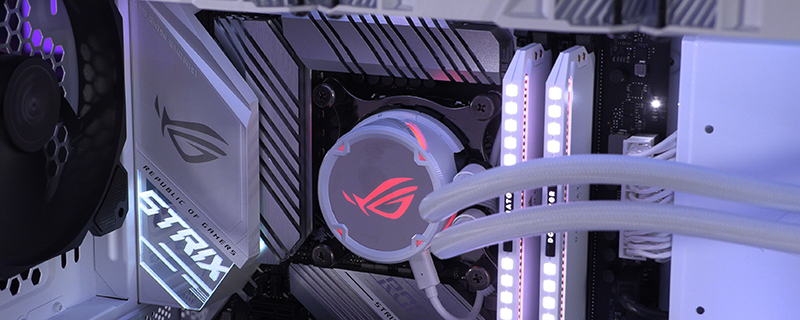 Introduction
As soon as we heard that ASUS were going to release a white version of their Helios case you can bet that we instantly downed tools and started building a dream specification list. We've always been fans of the white system builds here at OC3D and with the possibility for a white ROG case to go with the wide selection of other white ROG products available in their ecosystem we just couldn't wait to get on and build something that would show off all the palest components available on the market.
This isn't just a vanity thing though. The bane of any – non black – build is always that it's so tough to get something in a colour you want so you're always having to compromise. Knowing that between ASUS and Corsair there is a full range of white hardware around, and with the RGB options on modern systems we could build a full OC3D themed setup, we had to get down and dirty. It should come as no surprise to long term readers to know that we got into this because we loved building themed systems, so the chance to get back to that didn't take a lot to get us to throw our toys out of the pram and refuse to do anything else until we could finish this particular build. The fact it's been hotter than the Sahara at noon in the UK recently is a wholly separate thing.
For those of you who don't follow our Youtube channel you need to know that the majority of this build – the fun bit as it were – is all in that video. This accompanying article is like one of those 'how to' videos where they start with a big pile of timber, talk about it for 30 minutes, smash cut to a completed yacht and assume you can fill in the missing bits. We're gonna go straight from an empty case to a finished build here. It's like having your pudding before you main. So those of you with sugary fingers can get your fix instantly whilst those who prefer a meditative experience can put the video on – embedded somewhere in these hallowed pages – and enjoy the full cinematic experience of Tom putting things together.

Time for a specs list :
White* ROG Helios
Strix Z490-A
Intel Core i9-10900K
White Strix RTX 2080 Ti
Strix 850W PSU
Strix LC 360
ROG 10Gbe Network Card
White Corsair Dominator Platinum
Corsair MP510e 2TB
Corsair Riser Cable
* The Helios wasn't as white as we were hoping, so naturally we had to modify that so it looked the way it did when we were sketching out ideas over a socially distanced beer one steamy afternoon. Check the video for the full details on that particular step and be aware of it when looking at the upcoming photos.
Photographic Glory
Here it is after we've waved the magic spray can over it, and we think you'll agree that when you hear there is a white case coming, this is much more like what you'd expect to see. The etching on the window perfectly matches the design on the Strix motherboard we're using too. Harmony.
*record scratch* and here is the finished article after all that hard work. Doesn't it all blend together so perfectly. That's the benefits of mainly using one manufacturer for all your components, and that manufacturer sticking to one particular design ethos. Too often brands change their aesthetics, but the Strix range is adhering to a specific setup and it pays off in spades if you can afford to go down such a 'singular vision' route.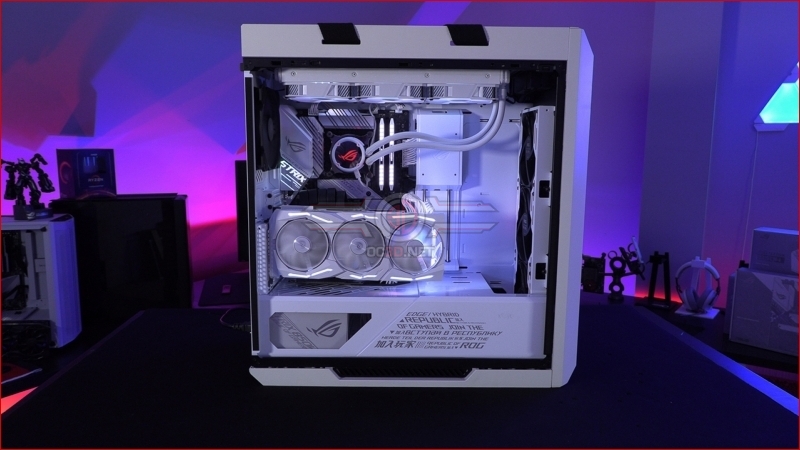 Â
We know that many people have to go with systems like the one on the left here, just because it's more cost effective and gives you a wider range of component options if you accept that you're gonna have a black rig and go with the RGB lighting to provide whichever colour you prefer. We think both of them look excellent, even if we're secretly in love with the OC3D themed colours on the white system.
Click on to see some closer shops of the components before we'll quickly run through a few benchmarks.