WIN Asus STRIX GTX780 6GB Custom System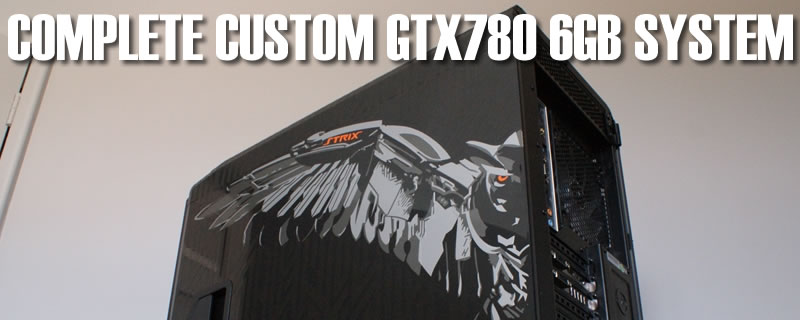 Many of the regular forum members and Facebookers will know we have been working on a custom Asus STRIX system that will be featured at the Insomnia Gaming Festival over the bank holiday weekend. What we have been bursting to tell you is that this is actually going to be given away to one of lucky readers anywhere in the world shortly after the show!
The entry form below will automagically go live at midday (BST) on the 22nd of August while the system is sat on show at iSeries! We are fully aware it's teasing putting the page live early but from previous show experience we did not want to risk the dramas of the internet at the event falling over where 3000 gamers will all be running speed test!
We have made a short video (by our standards) showing you round the system but the complete specs are:
Asus STRIX GTX780 6GB
Asus Z97 Pro
Intel 4690K
Corsair Vengeance Pro 16GB
Corsair LX SSD
Corsair RM750
Corsair Individually Braided Cables
Corsair H105
Corsair Custom 760T

If the entry box does not load….. Turn your ad blocker off!
Competition closes on Sunday 21st September at 23:59 GMT – 15:59 PST
Competition open to entries WORLD WIDE
Winner will be announced in the forum thread within 7 days of competition closing
Winner must claim prize within 14 days of competition draw or a new winner will be selected
Winners will be required to be able to be contacted via OC3D Forums for entry verification
Verified Forum Members get a bonus entry (registered forum email required to be used when entering for verification)
No Cash Alternative
Entrants must be 13 or older
Users must have liked OC3D Facebook page to enter