Creative Sound Blaster Roar Pro Bluetooth Speaker Review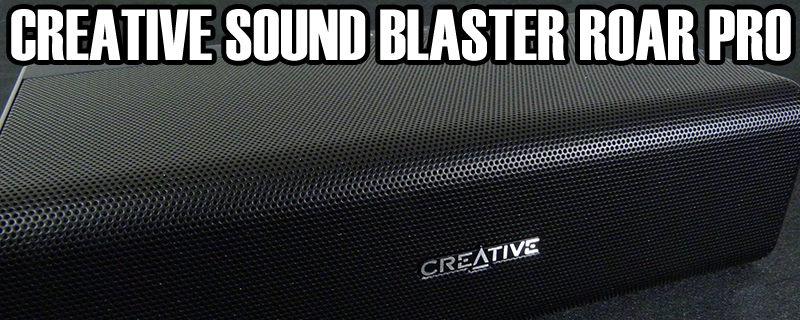 Introduction
For those of us of a certain age the ability to carry your entire record collection around with you is still something that takes a little getting used to. However, having your songs with you is meaningless if you haven't got a decent medium through which to share them. Anyone who is even vaguely aware of portable speakers must know how big the market for them has grown in recent years. Pop into your local music emporium and it's filled to the brim with everything from models which are cheap and have all the volume of mouse with laryngitis, through some offerings which sell largely because of the branding on the front, up to some seriously pricey affairs which might, if you're lucky, fill a room with sound.
We recently reviewed the Creative T50 Wireless speakers and they definitely had the big sound thing going for them. Two speakers though is never the most portable option. If you want audio you truly can just throw in your backpack and take wherever you want to go then you'll need a single box, preferably not too heavy, and definitely plenty loud.
To this end, enter the Creative Sound Blaster Roar Pro. There are three models currently in the Creative Roar range and the Roar Pro are aimed squarely at those who don't want to spend a fortune on features they might not fully exploit, but still demand high quality, high volume sound in a compact package.  

Technical Specifications
If you read our review of the Creative Outlier headset then the capabilities of the Roar Pro might be familiar. At approximately the size and weight of a bag of sugar the Roar Pro manages to support NFC connection, all the Bluetooth profiles you require including A2DP, AVRCP and HFP, and even playback from microSD cards if you want to just carry your music but leave your smart device at home. If your connection options are more limited, or you wish to utilise it as a static speaker at home or in your office then you can also connect with the 3.5mm jack or even plug the supplied USB cable into your computer and have the Roar Pro as your complete go-to sound solution.