ASUS ROG Hyperion GR701 PC Gaming Case Review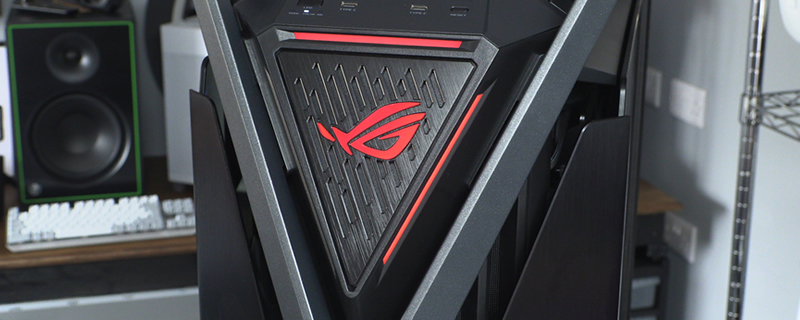 A massive PC case for ultra high-end PCs – Meet the ROG Hyperion
Earlier this year ASUS released their ROG Hyperion GR701, a colossal PC enclosure that's designed with airflow and huge components in mind. We have been interested in reviewing this enclosure since it launched, but high demand for the case, and some unfortunate events have prevented us from getting access to the case until very recently.
I a sense, the Hyperion is an answer to ultra-large PC enclosures like the Cooler Master Cosmos series, cases that can contain almost any conceivable hardware configuration, and can support the highest-end PC hardware. Want a huge graphics card? This case can fit it! EATX motherboard? Easy! Dual 420mm radiators? Yes! The ROG Hyperion is designed for be beefiest of PCs, and it is extremely over-engineered.
Looking at the exterior of the case and we can see a large set of aluminium handles that extend down the front of the enclosure in an X pattern, handles that can easily carry the weight of the case (with hardware) without flexing. ASUS has claimed that these handles can carry up to 80 kg of hardware without any issues, and we believe them. The front USB Type-C powers offer users 60-watt fast charging, and the case even has areas where users can store screw drivers, your spare PCIe brackets, and more. ASUS has thought of everything when designing this case, which means that this is going to be a lengthy review.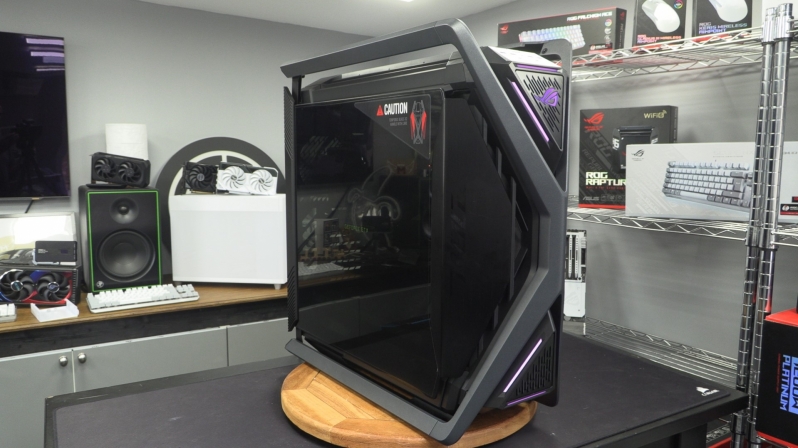 Out of the box, ASUS' ROG Hyperion ships with four 140mm fans; three of which can be found at the front of the case, and one of which acts as a rear exhaust. At the front of the case and at the top of it, the ROG Hyperion can accommodate 420mm liquid cooling radiators, which is great news for users of the largest all-in-one liquid coolers, and those who want to build a custom liquid cooling setup.Â
Between the motherboard tray and the front of the ROG Hyperion, there is a vertical installation area that can serve multiple purposes. Out of the box, this area has an ROG-themed lighting panel, and behind this panel is space where users can mount up to three 2.5-inch drives. Alternatively, these panels can be removed to allow up to three 120mm fans to be fitted, or a liquid cooling distribution plate of that size. If you are not using ASUS' ROG Themed lighting panel, you will be glad to know that it can be used outside of the case as desk-art or wall-art.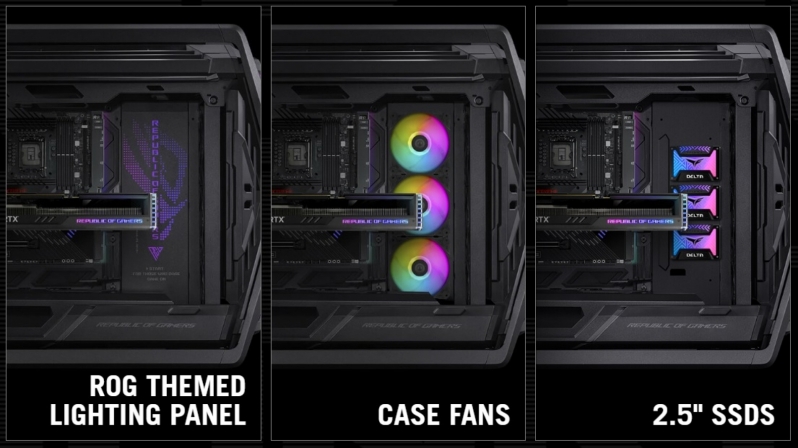 As you can see below, ASUS' ARGB ROG lighting panel can be displayed outside of ASUS' ROG Hyperion GR701 chassis. All it needs is power, and users can hang it on their wall, or otherwise display near your gaming PC.Â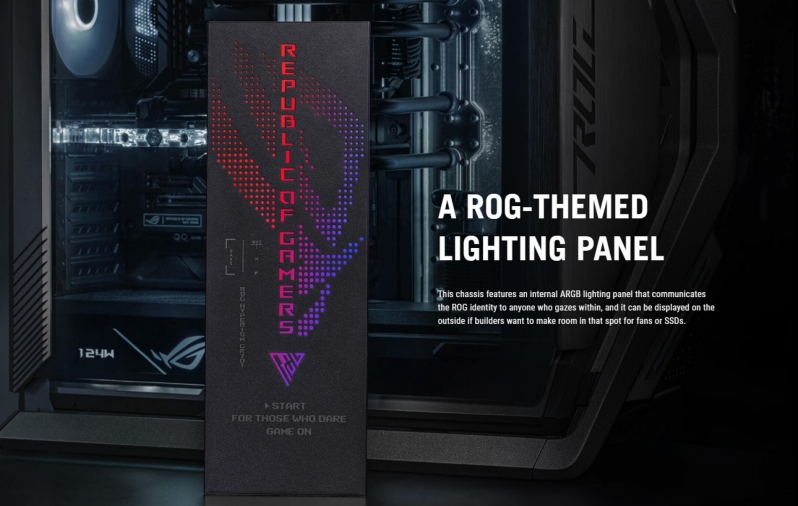 Up Close with the ROG Hyperion