be quiet! DARK BASE PRO 901 PC Case Review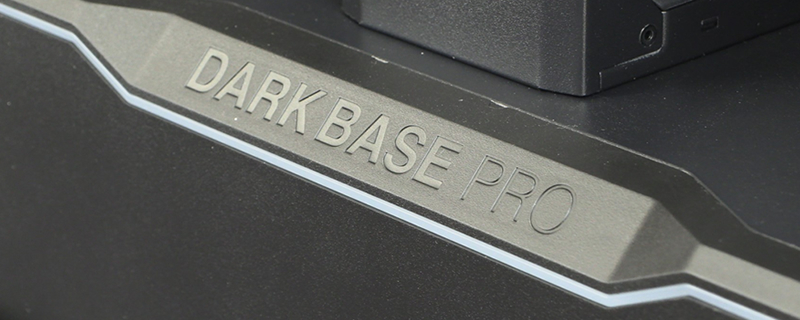 Meet the be quiet! DARK BASE PRO 901
be quiet! has a new flagship PC case, a successor to their DARK BASE PRO 900 that promises to more feature rich, easier to use, and more versatile than ever before. Today, we are looking at the DARK BASE PRO 901, a case that takes the feedback that be quiet! has received from the community and used it to create a new chassis that features both small and large design improvements. 
When compared to their older DARK BASE 900, the 901 looks more modern, but that does not mean that be quiet has clad their 901 with an insane amount of RGB lighting and a needlessly large amount of tempered glass. This case is more modern in design than the 900, but it remains an enclosure that is versatile enough to support almost any hardware configuration, regardless of how old or new your PC's hardware is.
be quiet's BARK BASE PRO 901 is design with huge graphics cards in mind, it's designed to support a large number of HDDs, it has space for a 5.25-inch disk drive, and it even features a 15W wireless charger for modern smartphones and tablets. Th DARK BASE PRO 901 is a case where both old and new hardware can come together, which is great news for anyone who still uses disk drives, and those who use large triple-slot graphics cards. 
Inverted layout option
be quiet's DARK BASE PRO 901 is effectively two cases in one, as PC builders can choose to invert their motherboard to give the chassis an entirely new look and feel. This is a great option for those of us who want to place our PCs on the left hand sides of our desks, as this inverted option places the 901's tempered glass side panel on the right of the chassis. 
As mentioned before, the be quiet 901 is a case that was designed with versatility in mind, and this case's inverted configuration is far from the only adjustable option that DARK BASE PRO 901 users have out of the box.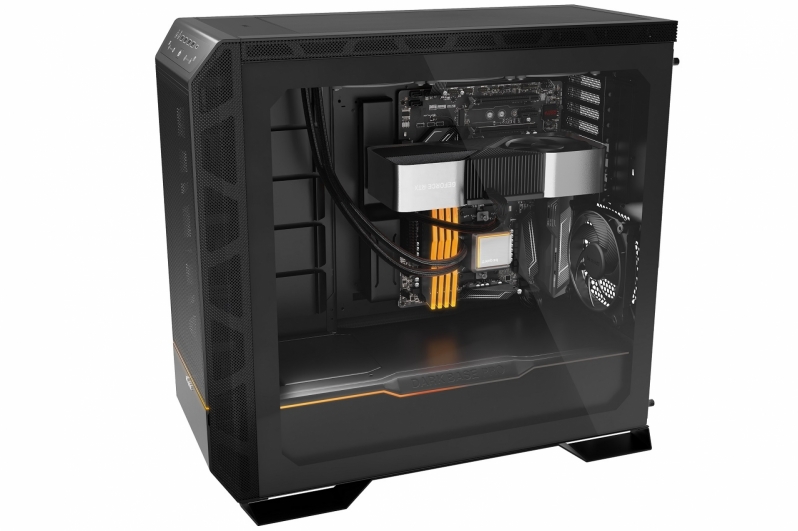 DARK BASE 901 users have the option to use this case's front panel with either mesh or solid front panels, favouring airflow or noise cancelling, the option to block off this case's top fan mounts with sound deadening foam to make the system quieter. The case has an optional 5.25-inch drive mount for users who want to use a disk drive, and the case ships with a GPU support bracket that can be used to hide GPU power cables and prevent GPU sag.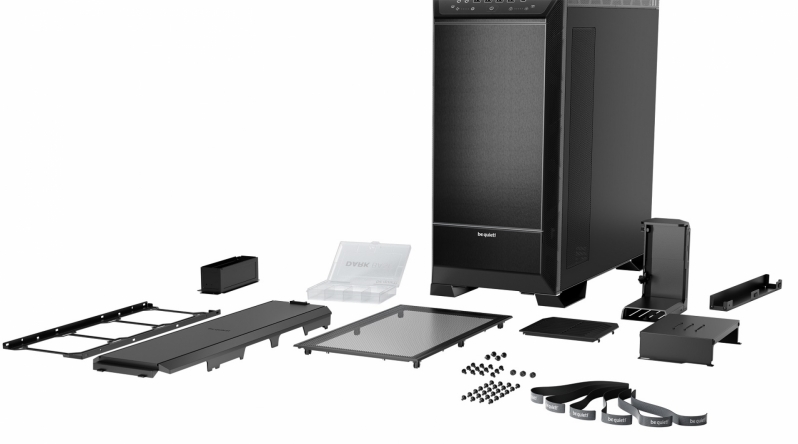 Improvements over the DARK BASE PRO 900 V2
The DARK BASE PRO 901 is be quiet's successor tot heir popular DARK BASE PRO 900 and its revision 2 model. With the 901, be quiet! has given users a new high airflow mesh front panel option, an integrated fan hub that supports more fans, upgraded Silent Wings 4 pre-installed fans, more I/O options, a dedicated GPU support bracket, a motherboard inversion option that requires fewer steps to re-orient, an enhanced 15W built-in wireless charger, and more.
be quiet! has clearly put a lot of thought and effort into this new case design, and it shows.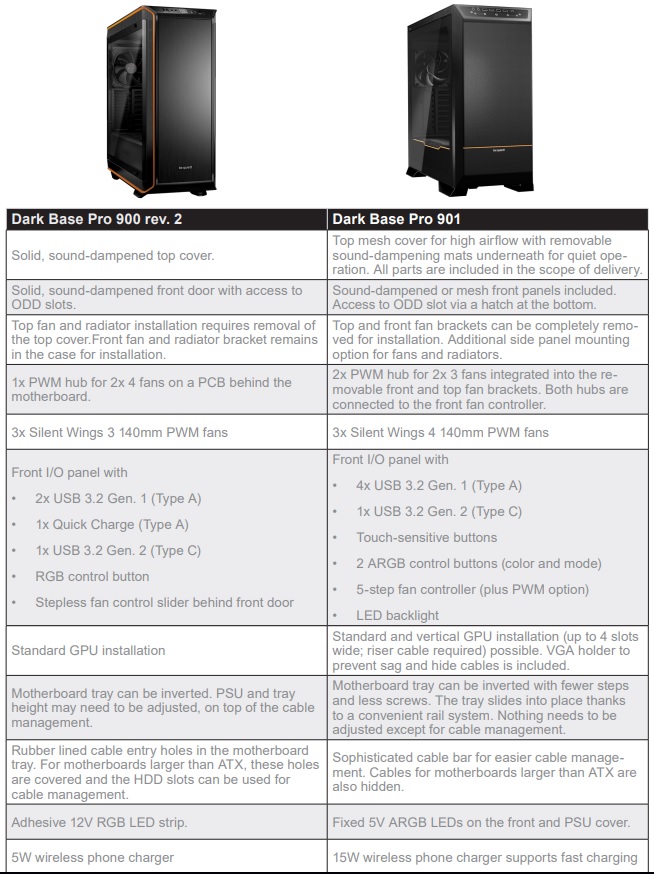 Up close with the DARK Base PRO 901