be quiet! DARK BASE PRO 901 PC Case Review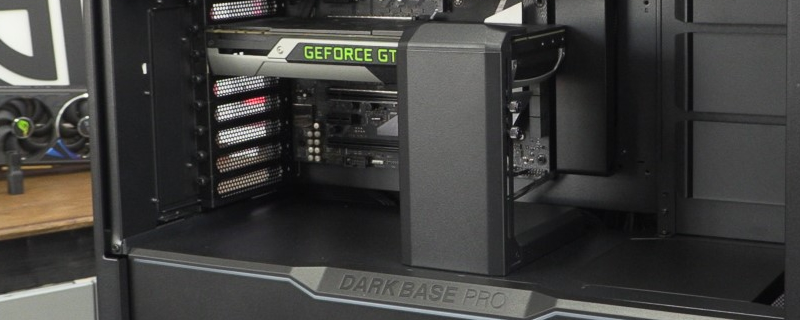 Cooling Performance Â
Thermal performance is an essential factor for any PC case. Your system may look fantastic and seem silent from the outside, but all of that is for nought if your PC has the internal temperature of an oven. Your PC case needs enough airflow for your components to remain cool under load and to prevent any form of thermal throttling. For our test, we used the following hardware using fixed fan speeds (so that only the case and its included fans can influence thermal performance).
Fractal North
Intel i9-9700K @4.8GHz at 1.2V
ASUS ROG Strix Z370-F Gaming @ 100% Current Capacity/ LL lvl16
Cooler Master Hyper 212 Black Edition @ 9V via Fan Speed Reducer
Nvidia GTX 980 Reference @ 60% Fixed Fan Speed
Corsair LP Vengeance LP (Grey) @ 3200MHz
Corsair MP500 M.2 NVMe SSD
Corsair RM550X Power Supply
The graph below showcases Delta temperatures with a controlled ambient temperature of 20 degrees Celsius.
Mesh Front VS Solid Front

Using this case's out of the box configuration with all of this case's fans running at their maximum RPMs (1900 RPM), we found that both front options gave us the same CPU thermals for our enclosed system. It is probable that this case's mesh front will provide stronger thermals when used with fans at lower RPMs, or the case is used with more fans at the front of the enclosure (where the case's solid front panel could be more restrictive).
be quiet has clearly designed this case so that its solid front panel will not have a huge impact on case airflow. Even with a solid front panel, this case's fans have plenty of room to breathe, which leads us to believe that this case's mesh front panel option is mostly intended to please reviewers of users who see solid case front panels and immediately think "Solid Front = Bad, Mesh Front = Good". Both options are great options for the DARK BASE 901, and users should simply choose which they find most aesthetically pleasing.Â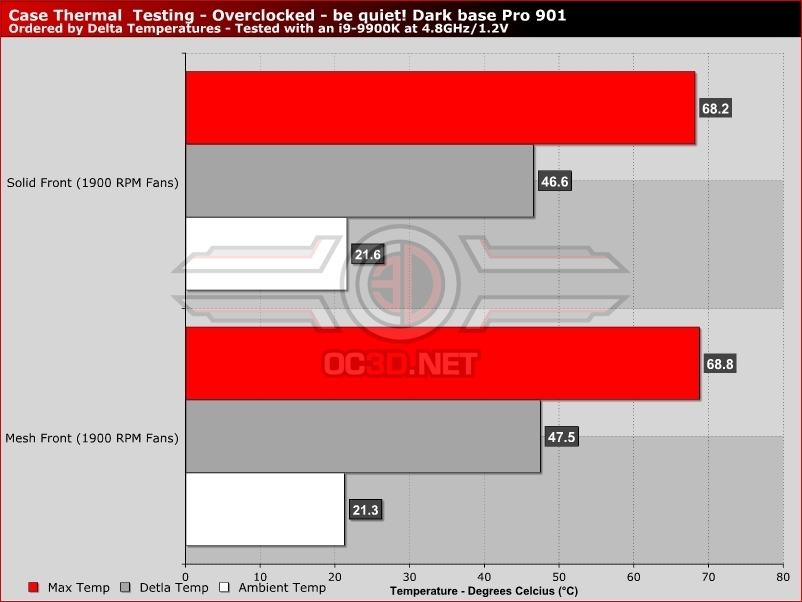 Solid Thermal Performance Out of the Box
Out of the box, be quiet's DARK BASE 901 is easily one of the best performing cases that we have had the pleasure of testing. The DARK BASE PRO 901 gave us solid thermal performance in our testing, both with its mesh and solid front panel options. Thermally, this case gives us nothing to complain about out of the box, and with more fans it is probable that this case's thermals could be lowered further.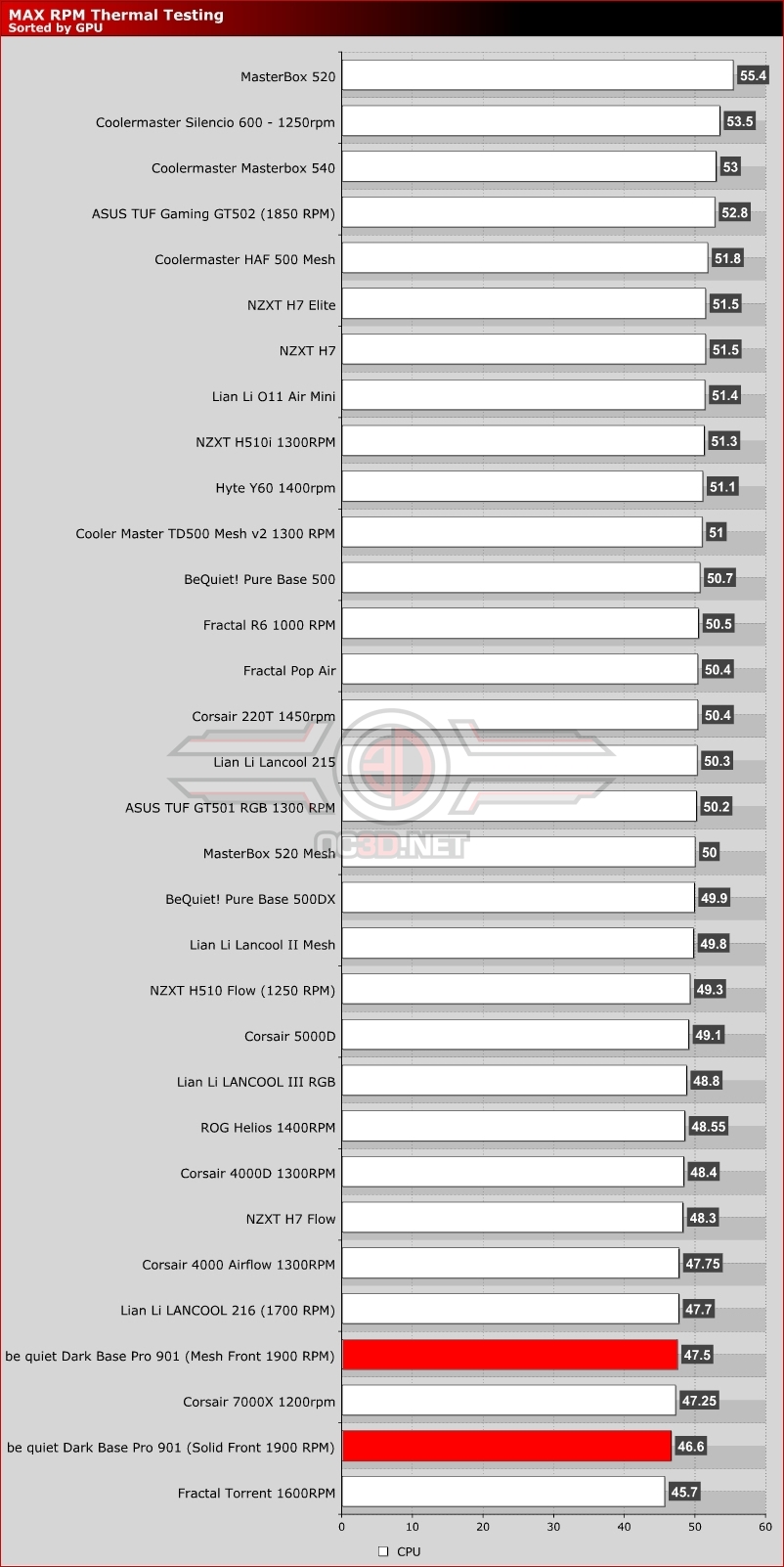 Â
Conclusion & Video – This case is outstanding