NZXT H7, H7 Flow, and H7 Elite Review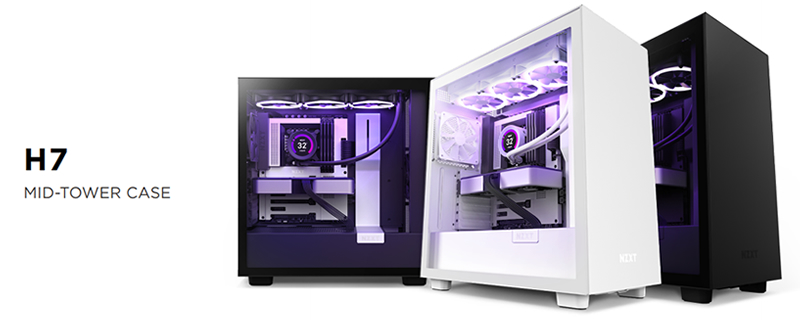 The NZXT H7 – The Baseline model
Let's start things off with NZXT's standard H7 model, which arrives with a plain front panel, two 120mm fans out-of-the-box and support for a full-sized 360mm radiator at the roof of the chassis.
At the front of the H7 is enough space for either three 120mm fans or three 140mm fans, with this case having one rear mounted 120mm fan and a single 120mm fan on the case's central fan mount. With the standard H7 and NZXT's higher-end Elite model, air is taken into the chassis through the case's front via air vents at the bottom and right hand side of the chassis. These vents are larger than NZXT's older H710 chassis, enabling more airflow than the company's last-generation enclosure.  Â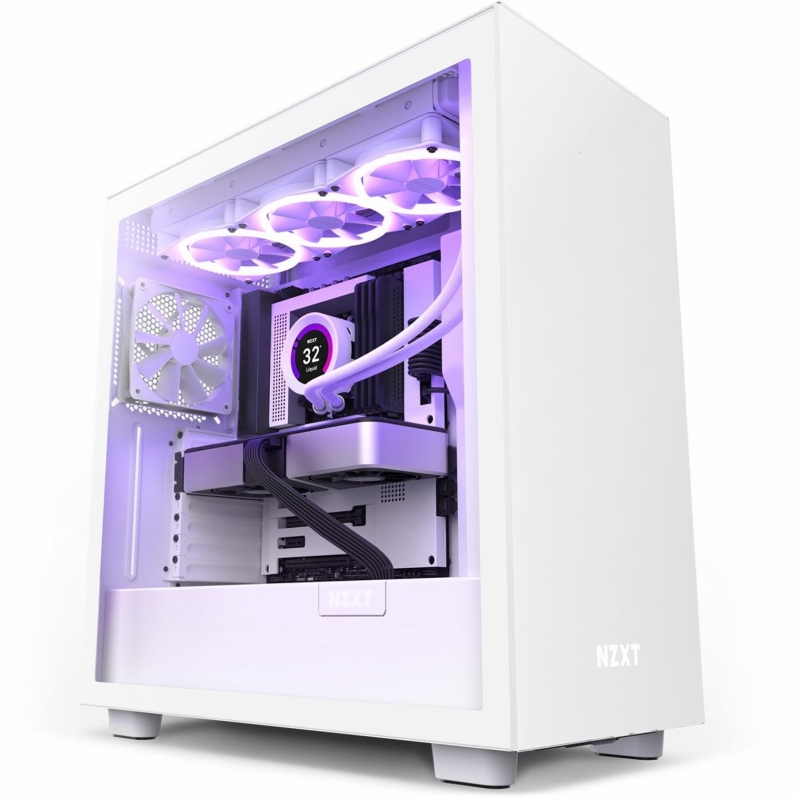 When talking about the NZXT's new H7 lineup, we will start by saying that NZXT's new H7 cases are incredibly easy to build in. Side panels can be added and removed with little effort, and cable management is relatively easy thanks to NZXT's integrated cable channels and generous number of pre-installed velcro ties for cable management. Beyond that, the inclusion of more top-mounted fan locations gives their new H7 lineup more versatility than the company's older H710 enclosures. The H7 gives PC builders more options than the H710, and it is a better case because of that.Â

On the top of all H7 models is two USB 3.2 Gen1 Type-A ports and a single USB 3.2 Type-C connector. An audio input/output combo jack is also included for audio headsets alongside a power button. While this is a basic allotment of cables, it is as many cable options that PC builders should even need to have easily accessible on this area of the case.  Â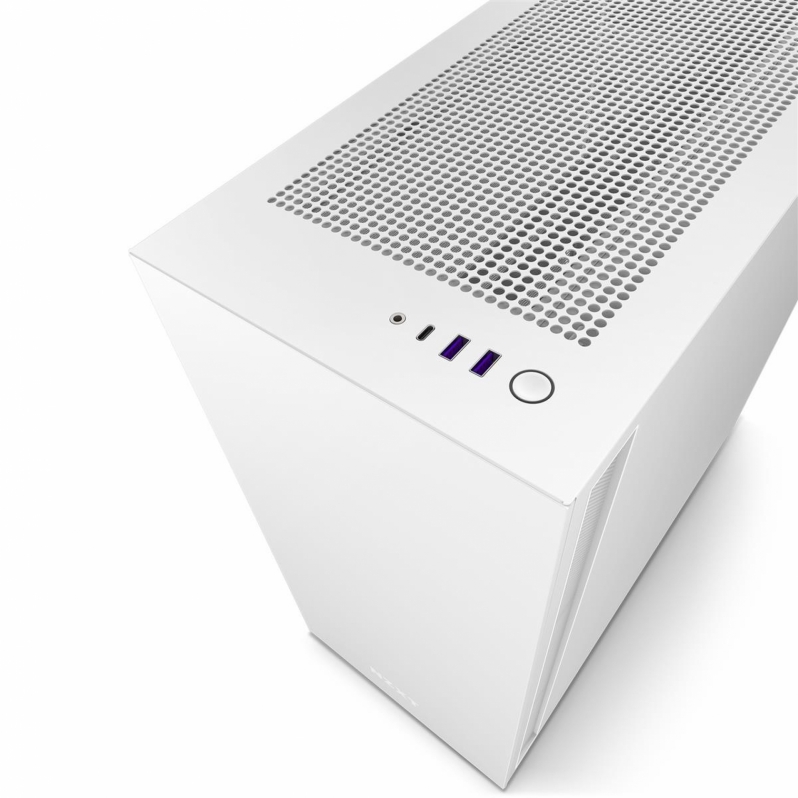 NZXT's H7 and H7 elite models both have fan filters at the same locations with all models having a top-mounted fan filter, a PSU fan filter and a tiny bottom mounted fan filter. Below, we can also see that the standard H7 and H7 Flow models include two 120mm fans out of the box, whereas the H7 Elite replaces these fans with larger 140mm fan models.Â
NZXT's H7 includes several removable mounts that can be used to make the installation of fans and liquid cooling radiators an easy process. Â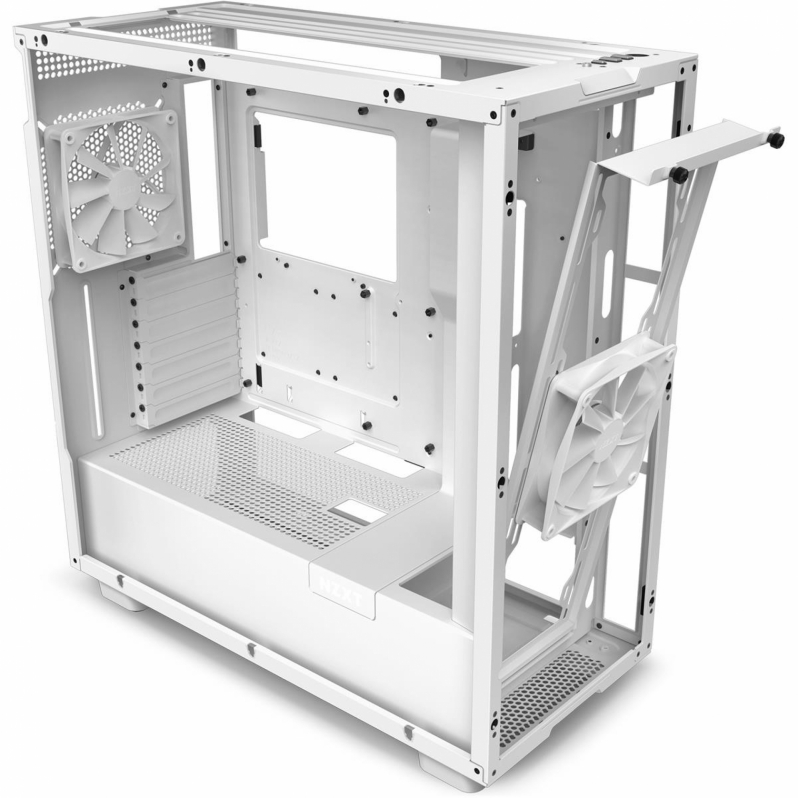 Below we can see the cable management options that the H7 series offers, giving users multiple cable routing channels, several velcro tie locations for easy cable routing/re-rounting. This case also has plenty of depth for cable management space, making cables almost criminally easy to manage in this chassis. If you have untidy cables in this case, it's your fault, not NZXT's.
If there is one flaw that the standard H7 has, it is that front airflow must move though a channel at the side of the H7's side panel. This is a must given the H7's plain fronted design aesthetic, and it is worth noting that there is also some air intake locations at the base of the H7, and that these air intakes are larger than NZXT's existing H710 chassis.
If you want more airflow, NZXT has already created an H7 Flow model for that. So if you want to complain about airflow, NZXT has already addressed that problem. The standard H7 is for those who want that plain-fronted aesthetic, and are willing to deal with the consequences.Â
 Â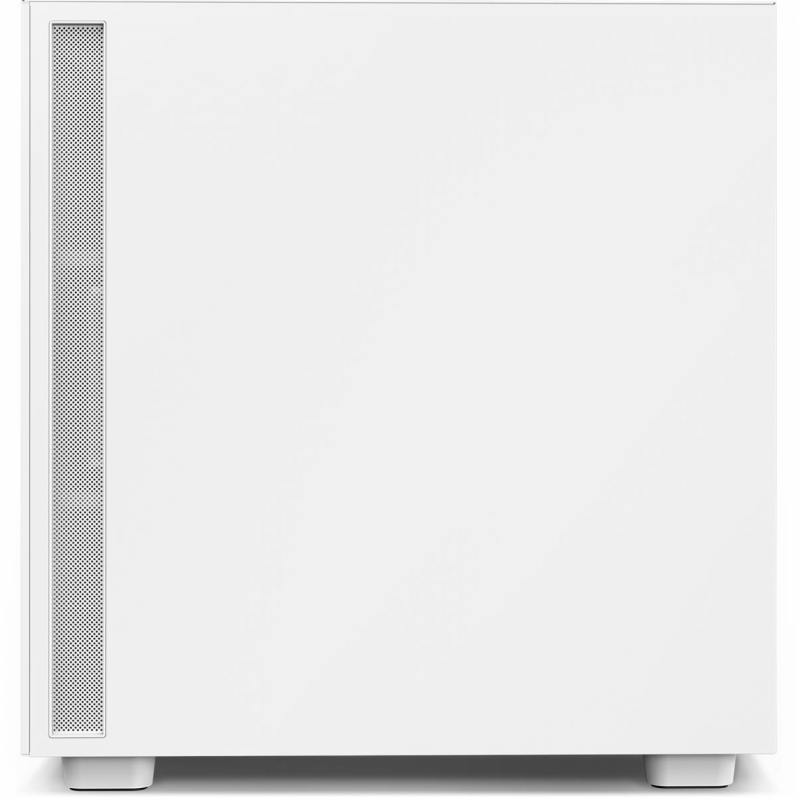 Â