NZXT PHANTOM 530 Review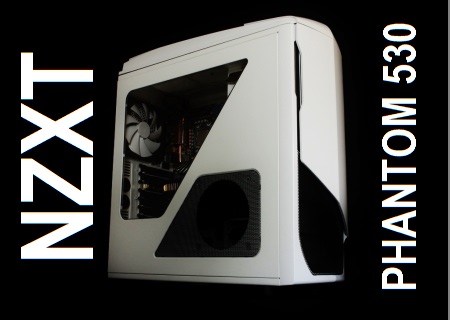 Â
Up Close:Â Exterior Overview and Front
The sample we have for review today is presented in crisp white. If blanco doesn't float your boat though it's not a problem as the 530 can also be had in Blood Red or a rather fetching Matte Black. Which ever colour you go for the thing you're most likely to notice first is that NZXT have finally released a Phantom with a reasonable size side window. Granted it's not full width, angling as it does away from the front as it sweeps down, but as the style and shape is identical to the one we cut into Project NZXSPC we can hardly berate it (we shall expect our design commission cheques from NZXT in the post)

Â
Elsewhere the styling of the 530 remains true to the Phantom Brand, with stealth lines and subtle yet striking cut away angles. The front of the case although given over in part to a fan grill is dominated by a large right side hinged door, opening as it does to reveal the external drive bays
Â
There are three 5.25″ bays in total with each having an easily removed plastic blanking plate. To the left of the catches there is a thin black strip, this is in fact back lit with LEDs giving power status and HDD activity
Â
Attention to detail and design nouse is shown in the form of a rebate in the reverse of the door, presumably to allow room for buttons and knobs on fan controllers etc. The reset button can also be found skulking away in here. No chance of it getting pressed accidentally in here is there!
Â
NZXT also display their name and logo so subly that it's hard to see and even harder to photograph. Personally we'd rather see it in here than plastered all over the exterior as is the want of many other manufacturers.
Â
The front air intake of the 530 is covered by a very fine mesh grill through which the white blades of the 200mm NZXT fan can clearly be seen. This intake is filtered, but you will have to take the front panel off to access it.
Â
Great, we've managed to persuade NZXT to give us what we want, big windows. All we have to do now is persuade them to stop putting fan intakes in the side panels. Although not too aesthetically disturbing it's hard to see what the point of it is, as it's too far back to be of any use to the HDDs which after all are being well looked after by the front intakes, and too low down to be of any real benefit to the GPUs
Â