ASUS Z170 Maximus VIII Extreme and Extreme Assembly Review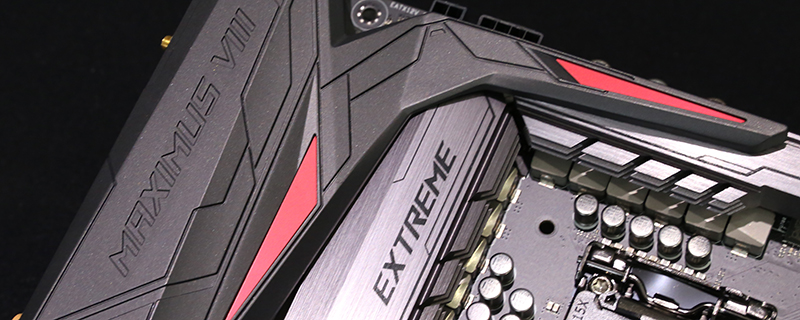 Introduction
The old way that ASUS used to produce their motherboards was to start with a monster offering which had everything you wanted, then as you gradually moved down the price range some features were removed. Usually nothing of extraordinary importance – a USB port here, a SATA port there – and you just hopped into the range wherever you could afford to do so. 
Whilst this is a splendid way of working for the company, it does mean that their higher priced offerings usually were difficult to justify purchasing unless you demanded the absolute top range, show-off in your signature, model.
The Maximus VIII range has seem a massive change in this approach, with each of the models from the Hero through the Formula and now the Extreme having something distinct to recommend them beyond the mere addition or subtraction of various inputs. Even today's pair of motherboards – the Maximus VIII Extreme and Maximus VIII Extreme Assembly – have enough differences to make them worthy of consideration, even if the main elements are very similar.

Technical Specifications
As you would expect from anything baring the Extreme moniker, the Maximus VIII in both guises is jammed full of technology. Both models in this particular form are similarly replete with technical wizardry. We will take a closer look at what differentiates them on the next couple of pages.
Working clockwise from the top right, the Extreme has all the hallmarks you'd expect to find on a motherboard designed for extreme overclocking. The ReTry button in particular is useful when you're on the ragged edge. If you've ever found that sometimes your system boots and sometimes, without changing anything, it doesn't then this button allows you to try a new boot until you strike it lucky and have one that works. When you're chasing world records this can save a ton of time. The memory supports up to 3866MHz DDR4, although we're sure that more can be squeezed out with some manual manipulation. The ASUS Pro Clock gives extremely fine control of your BCLK and widens the clock slew possibilities to allow you even more freedom when chasing impossible overclocks.
Connectivity is at the high-levels you would expect from a ROG Extreme motherboard. 20 total USB ports, 6 USB 2.0 front ports, 8 USB 3.0 ports split 50/50 between the front and back and 4 USB 3.1 ports (the monster 10Gb/s offerings) with 3 of the more common Type-A connectors and one Type-C. As if USB wasn't enough your storage needs are covered with eight 6Gb/s SATA ports, 2 SATA Express ones, an M.2 port and a U.2 port too. The BIOS can even handle creating a RAID partition between these and an add-in PCI Express drive, should your need for storage bandwidth prove unquenchable. 
SupremeFX audio has recently been capable of redefining what you expect onboard audio to be in terms of sound quality, and the SupremeFX 2015 fitted to the Extreme and Extreme Assembly take this ethos even further with the inclusion of a 24-bit Digital Analog convertor, a dedicated clock chip, a move to Nichicon capacitors and a RC4580 driver. If sound is something you're particularly demanding about then the Extreme Assembly comes with a dedicated headphone amplifier which we'll look at in a couple of pages.
Lastly all this performance and fine tweaking capability would be moot if it wasn't fed by a clean power section and both Maximus VIII Extreme models are supplied with MicroFine chokes, 10K Black Metallic Capacitors and OptiMOS MOSFETs which have greatly improved the RDSON when the FET is in saturation condition.
Time to see the Maximus VIII Extreme in the flesh.
Maximus VIII Extreme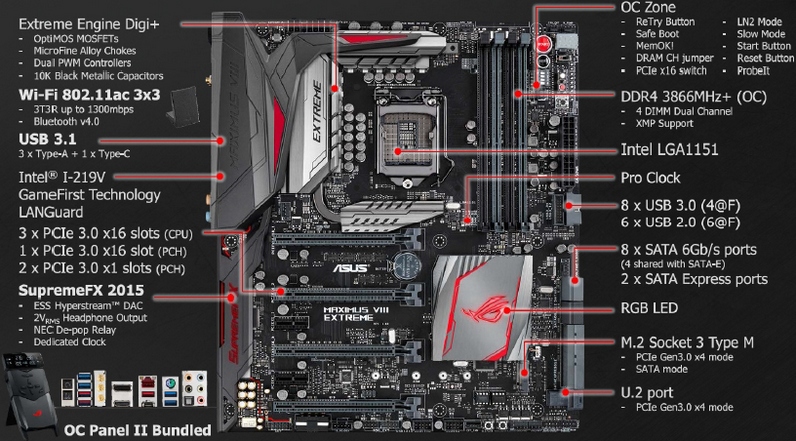 Maximus VIII Extreme Assembly