Gigabyte EX58-UD3R X58 Motherboard
Â
To ensure that all reviews on Overclock3D are fair, consistent and unbiased, a standard set of hardware and software is used whenever possible during the comparative testing of two or more products. The configuration used in this review can be seen below:Â
Â
Processor:
Intel Core i7 920 (2.66Ghz)
Motherboard:
Gigabyte EX58-UD3R

Memory:
6GB Corsair DDR3 @ 8-8-8-24 1600Mhz
Graphics Card:
NVidia GTX280
Power Supply:
Gigabyte Odin 1200W
CPU Cooling:
Stock Intel Cooling
Hard Disk:
Hitachi Deskstar 7K160 7200rpm 80GB
Graphics Drivers:
Geforce 180.60 CUDA
Operating System:
Microsoft Windows Vista Ultimate x64 SP1
Â
During the testing of the setup above, special care was taken to ensure that the BIOS settings used matched whenever possible. A fresh install of Windows Vista was also used before the benchmarking began, with a full defrag of the hard drive once all the drivers and software were installed, preventing any possible performance issues due to leftover drivers from the previous motherboard installations. For the 3DMark and gaming tests a single card configuration was used.
Â
Â
As you can see from the pictures above, clearance should not be an issue for either over sized CPU heatsinks or memory modules. With the UD3R only catering for four memory slots there is plenty of room around the modules should you wish to add additional cooling. Looking at the memory area, I can only assume Gigabytes reason for not including six memory slots was a cost cutting exercise as this is a sparse area of the motherboard with only a couple of capacitors obstructing the area.
Â
To guarantee a broad range of results to best evaluate the motherboards performance, the following benchmark utilities were used:
Â
Synthetic CPU Test
• Sisoft Sandra 2009
• PassMark CPU test
• SuperPI 1m, 8m, 32m
Memory Test
• Sisoft Sandra 2009
• Everest 4.60
File Compression & Encoding
• Sisoft Sandra 2009
• 7-Zip File Compression
• River Past ViMark
Disk I/O Performance
• HDTach 3.0.4.0
• Sisoft Sandra 2009
3D / Rendering Benchmarks
• Cinebench 10
• 3DMark 05
• 3DMark 06
• 3DMark Vantage

3D Games
• Crysis
• Far Cry 2
• Call of Duty 4
Overall System Performance
• PCMark Vantage

Â
Â
Power Consumption
Power consumption is an aspect often forgotten when it comes to enthusiast motherboards but in todays climate, with rising utility bills special consideration needs to be taken when choosing you components as over a period of time, one components can prove to be much more expensive than another over its lifetime. Power consumption was measured at the socket using a plug-in mains power and energy monitor. Idle readings were taken after 5 minutes in Windows. Load readings were taken during a run of 3DMark Vantage.
Â
Â
Â
Â
Overclocking
Here's a couple of the obligatory CPU-Z screenshots at stock:
Â
Â
Using a respectable Vcore of 1.40v set in the BIOS, the remainder of BIOS voltage settings were left in their stock state to ensure equality throughout the testing. Here's what I managed out of the motherboard:
Â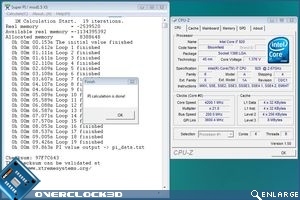 Â
Â
As with the majority of motherboards on test, specifically the other Gigabyte motherboards, the UD3R topped out with a maximum overclock of 4.2GHz, confirming my earlier suspicions that this is indeed a CPU limitation rather than a motherboard. There have however, been a few boards which have surpassed this value slightly but by no great margin.
Â
BIOS recovery was very good, with the motherboard resetting itself back to stop settings but withholding the failed settings in memory for you to adjust slightly rather than resetting the whole BIOS. This is a good little feature of the Gigabyte boards which saves both time and patience when attempting those high clockspeeds. On no occasion was IÂ required to use the on-board jumper to reset the BIOS which is an achievement in itself as the Gigabyte boards were by far the best at recovering from failed overclocking attempts.
Â
Vdroop was minimal with 0.024v differential when under load, despite having loadline calibration enabled. Vdrop was pretty much none existent at 1.4v set in the BIOS.
Â
Returning the Gigabyte EX58-UD3R and the CPU to their stock settings I then ran the standard suite of benchmarks and compared the boards performance to a number of other X58 motherboards. Let's see how it got on… Â Â