MSI MAG B550M Mortar Review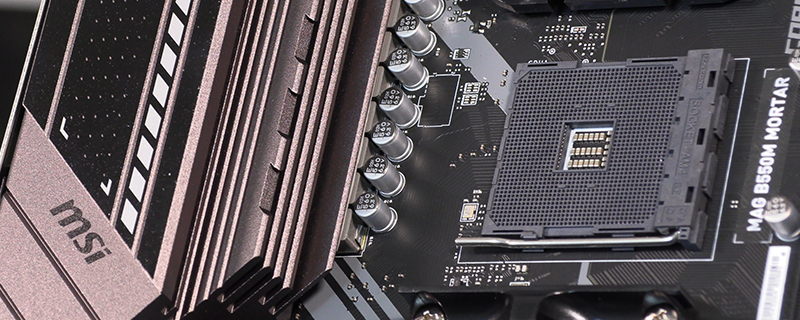 Introduction
We've already been impressed by the capabilities of the MSI MAG B550 Tomahawk, and the Mortar appears at first glance to be the mATX version of that. Whilst we didn't quite know what to expect from the Tomahawk our time with it means that we go into our review of the MSI MAG B550M Mortar with heightened expectations. Beyond the form factor difference the main change is a drop from 10+2+1 power phases on the Tomahawk to 8+2+1 on the Mortar, although still 60A power stage. Hopes are high.
Whereas the ATX size always looks the part, for most of us it's just two or three PCI Express slots that sit and gather dust. Why not reduce the footprint of your PCB, and thus the case you have to buy, and go for a system which still brings you all the joys of a high core 3rd Gen Ryzen CPU and blazing fast PCI Express 4.0 storage and graphics, without putting too big of a hole in your budget? If you're a dedicated gamer then the MSI MAG Mortar could be the very motherboard that gives you everything you want, nothing you don't, and doesn't look cheap in the process. No, we shouldn't judge our motherboard on its looks but given that nearly all cases have windows and most systems have RGB lighting to show off, we'd like the backdrop to our aesthetic efforts to look the part too and the Mortar does.
But we're getting ahead of ourselves, let's look through the important specifications and fan header options before looking at the Mortar in the flesh.

Technical Specifications and Cooling
The main difference we can see at this early stage between the X570 chipset and the B550 is the reduction in the number of PCI Express 4.0 lanes you can play with. Given how few of us own nothing but PCI Express 4.0 M.2s – because to do so you'd need an X570 motherboard so why are you here? – then having one blisteringly quick OS drive and enough bandwidth for your GPU is all that the regular user requires, and the Mortar nails that with PCI Express 4.0 support on the main PCI Express slot and M.2, with the 'hardly slow' PCI Express 3.0 used for the rest. It's a good compromise. You still get plenty of USB ports for your peripherals and 2.5G LAN for rapid data transfer. Think of it like buying the base model of a car, you get all you need and don't pay for anything you won't fully utilise.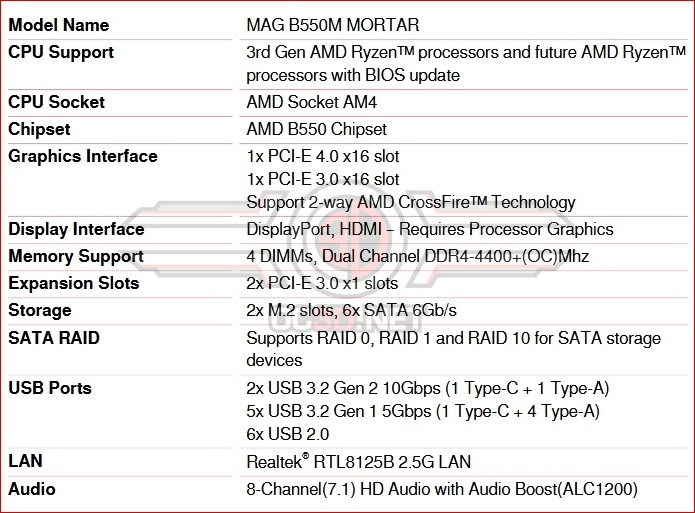 mATX motherboards always have reduced cooling options when compared to their ATX counterparts, but the MSI Mortar still gives you enough fan/pump headers to run an AIO and still feed your graphics card with the cool air it requires to push polygons at a prompt pace.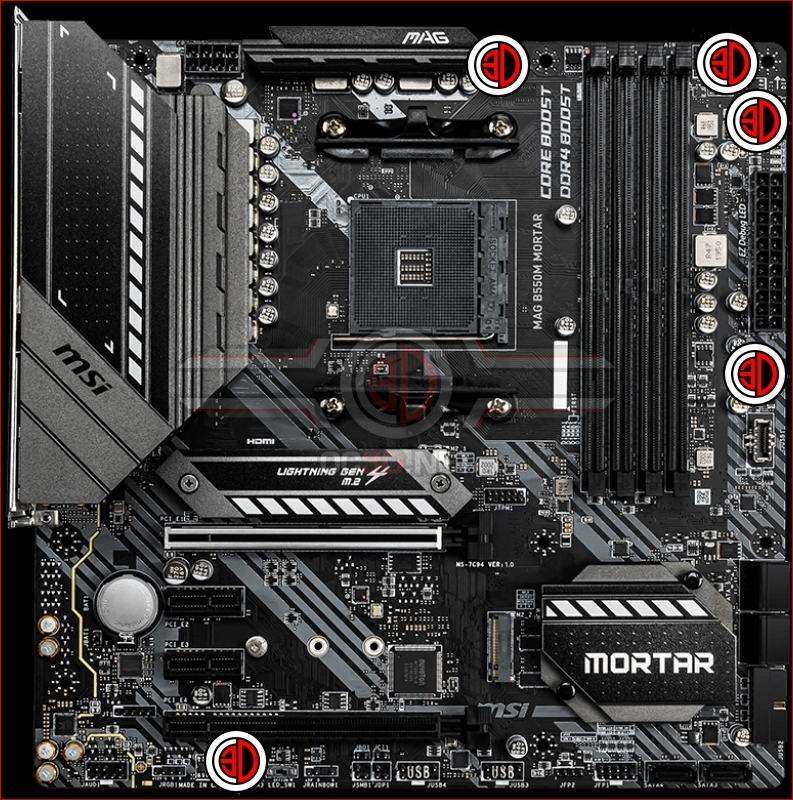 Â