MSI X99A Gaming Pro Carbon Edition Review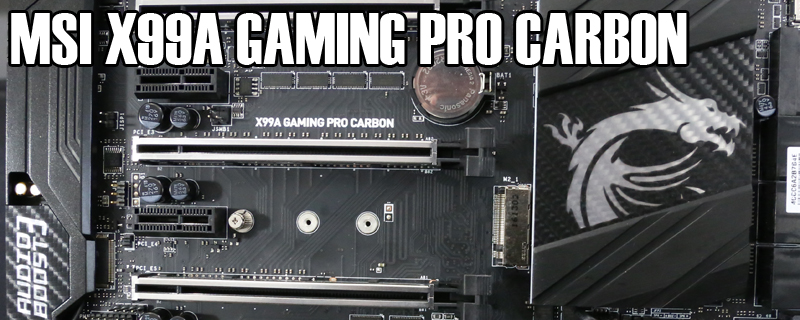 Introduction
When the first MSI Gaming range motherboard appeared we were blown away by the aesthetics. A complex heat sink combined with excellent colour choices to win our hearts. As time passed MSI seemed to back away from such a glorious looking thing to something more sedate and, well, ordinary. 
Thankfully with their latest range of motherboards, both Pro Gaming and Godlike, they've grabbed the bull by the horns and focussed just as much on the looks as the performance.
Which brings us neatly to the X99A Pro Gaming Carbon Edition. Combining metal PCI Express slots, carbon backing for the logos and an all black aesthetic which is neutral enough to allow you freedom of colour choice with the full-RGB Mystic lighting system, the X99A PG Carbon is a rapid return to form for MSI in terms of the looks of the motherboard. It's not just in the design department that MSI have upped the ante as we'll see in the specifications.

Technical Specifications
With the latest version of the X99 chipset, something which already had a swathe of technology built into it, the MSI X99A Pro Gaming Carbon ticks every box. Connectivity is handled by all the high bandwidth hardware you can think of, U.2 and M.2 drives bring barely believable speeds of up to 32Gb/s. USB 3.1 of both A and C types bring massive speed to the Universal Serial Bus we all know and love. The inclusion of a front panel USB 3.1 is a particular highlight. For the more common storage solutions the X99A PG Carbon has both the 10 Gb/s SATA Express as well as the usual 6Gb/s SATA ports. 
Bringing something new to the party is the Mystic Light system. Full RGB lighting has taken the hardware world by storm and it was only a matter of time until it found its way into every manufacturers product line and the MSI range is no different. With full-spectrum LEDs on the motherboard and a header which supports 5050 RGB strips you can change your system lighting as often as you desire. The ability to control it via a smartphone app only adds to the level of control provided.
Beyond that we find all the MSI and X99 hallmarks. DDR4 support for up to 3466MHz, Intel Gaming LAN, and MSIs Audio Boost 3 sound options are backed up by their Military Class 5 components ensuring smooth and reliable power delivery for both overclocking and longevity.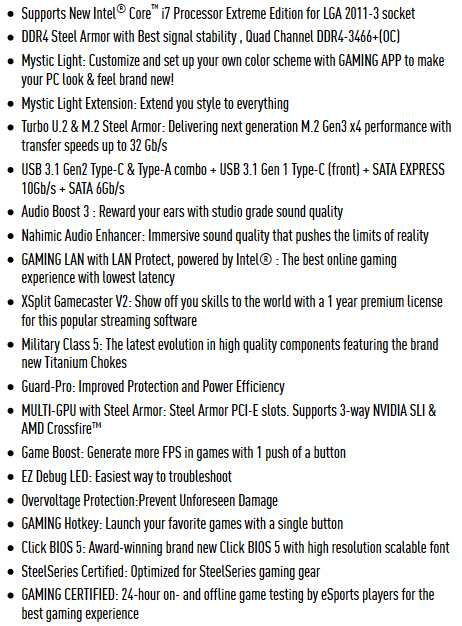 The MSI website gives a clear indication of the benefits to their Mystic Light RGB control and the possibilities therein. Full spectrum lighting is definitely the technology of the moment and with four different areas, as well as the 2A RGB strip support, you're guaranteed to find a setup that suits your personal preference.