Gigabyte G1 GTX980 Super Overclock Review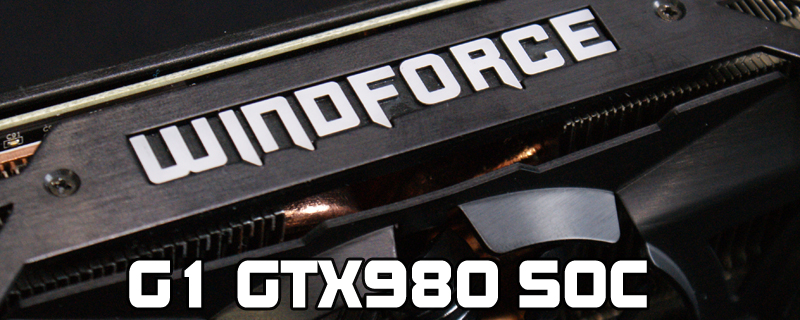 Introduction
So far the Maxwell GPUs have proven themselves to be as fast as a Kepler GPU card, with far better power consumption and better overclocking potential.
This overclocking capability has taken something we liked at first because of the energy efficiency and taken it to new heights, with the ASUS Strix topping many of our charts when overclocked.
Enter the Gigabyte G1 Gaming GTX980 Super Overclock which aims to take the fierce overclock the GTX980 is capable of and apply it at the factory, allowing you to own a card capable of enormous performance whilst retaining the warranty.

Add into this the Windforce cooler and all the potential is there for a very good card indeed.
Technical Specifications
We know how many people either buy a "fast out of the box" card, or just prefer something that's quick but doesn't require any manual fettling. For those of you who fall into that category the Gigabyte G1 SOC should definitely tick your boxes, with a huge factory overclock in place, ensuring it should be just the thing for the plug and go brigade.
| | |
| --- | --- |
| Chipset | GeForce GTX 980 |
| Core Clock | Base / Boost clock 1228 / 1329 MHz |
| Process Technology | 28 nm |
| Memory Clock | 7Gbps |
| Memory Size | 4 GB |
| Memory Bus | 256 bit |
| Memory Type | GDDR5 |
| Card Bus | PCI-E 3.0 |
| DirectX | 12 |
| OpenGL | 4.4 |
| PCB Form | ATX |
| Digital max resolution | 4096 X 2160 |
| Analog max resolution | 2048 x 1536 |
| Multi-view | 4 |
| I/O | Dual-link DVI-I / DVI-D / DisplayPort*3 / HDMI*1 |
| Card size | L=312mm, W=129mm, H=43mm |
| Power requirement | 600W(with two 8-pin external power connectors) |