iiyama ProLite E2473HDS Review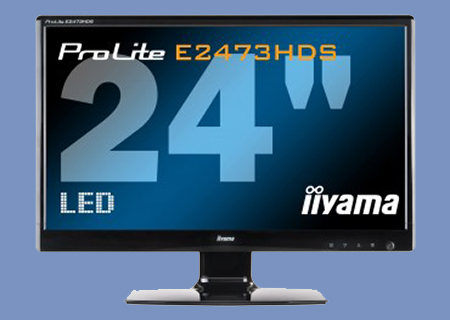 Introduction
Monitors have come a long way in a short space of time since the original move from CRTs to flat-panels.
When the TFT monitors first appeared on the scene they had a limited amount of inputs and very poor response times when compared to their CRT counterparts as well as being eye-wateringly expensive.
Since they first became a viable option a few years ago the technology has moved along at a huge rate. The first big change was the switch to widescreen aspect ratios and then the inevitable move to bigger and bigger screen sizes. Of course at the top end the panels are as good as ever, but down with the TN panels which about 95% of us own due to their attractive pricing we've seen a raft of changes and the major one is the switch from a CCFL backlight to the more uniform LED type.

As with any new technology there was a huge premium to pay initially, but now with the iiyama ProLite E2473HDS you can have a full HD, 24″ LED backlit monitor for £160. With more graphics cards capable of triple-screen gaming goodness it is definitely time to take a look and see if the performance of the iiyama matches its eye-catching feature set.
Technical Specifications
As with all monitor specifications there is a certain amount of 'taking with a pinch of salt' especially when it comes to Contrast ratios and response times. The response time quoted here is for a grey-to-grey switch in the 'overdrive' mode which gives a gaudy number, but it's actually of much use especially as more often than not you'll be desiring black to white switching and the 5ms response of the iiyama in standard mode gives a far better image than the overdrive attains. However iiyama are by no means the only company to enhance their figures with selective quoting as it's an industry-wide practise. As ever, caveat emptor. 
Diagonal: 23.6″
Panel: LED-Backlit
Display area: h x w 293.2 x 521.3 mm; 11.54″ x 20.51″
Response time: 2 ms
Contrast: 1000 : 1 typical
Contrast: 5 000 000 : 1 ACR
Brightness: 300 cd/m² typical
Connections: D-Sub, DVI-D & 2x HDMI
Viewing zone: horizontal/vertical: 170°/ 160°; right/left: 85°/ 85°; up/down: 80°/ 80°
Display colour: 16.7 million
Pixel pitch: h x v 0.2715 x 0.2715 mm
Native resolution: Full HD 1080p, 1920 x 1080 (2.1 megapixel)
Horizontal sync: 24 – 80 KHz
Vertical sync: 55 – 75 Hz
Synchronization: Separate sync
Aspect ratio: 16 : 9
3yr On-site Warranty