iiyama ProLite E2473HDS Review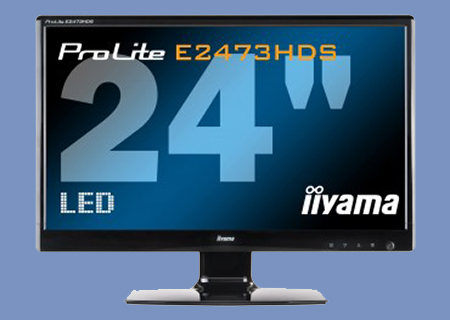 Up Close
Visually the iiyama ProLite E2473HDS looks very similar to just about every other monitor out there, but that's not a bad thing. After all, the screen has to be rectangular and you don't want distracting bits for the sake of it. Anyone remember the Phillips Ambilight? Ugh. So instead of going for form over function, the iiyama ProLite takes the route of having everything you need, exactly where you'd expect it, and no frippery.Â
LED backlights allow manufacturers to get thinner and thinner on their monitors and whilst the E2473HDS isn't a sheet of paper it's pretty thin, even by flat screen standards.

At the front is the obvious power button and the OSD adjustments. All the usual OSD options are available such as sharpness, contrast, colour, brightness etc.
Round the side we have an always useful headphone jack along with the second of the two HDMI ports. Having one round the side helps in two ways. Obviously if you wall mount the monitor it allows you to keep that flush factor that's so important, but equally you can plug something else in like a camera or console without needing to drag your screen away from the wall.
Round the back the ProLite is equipped with an HDMI, a VGA and a DVI-D to make sure that you can plug in anything no matter how old your GPU is. There is also a audio-in if you wish to take advantage of the built-in speakers.
One thing we like very much is a power switch next to the standard 'kettle lead' power socket. It's always nice to have a big off button on something so kudos to iiyama for providing one.
If you want to eschew the default stand and install one that has more than a tilt adjustment, or perhaps mount the ProLite to your wall, it comes equipped with a VESA mount.
At only four and a half kilograms it's surprisingly portable, should you need to.