Up close with AMD's Radeon RX 7900 XT/XTX and XFX's RX 7900 XTX MERC 310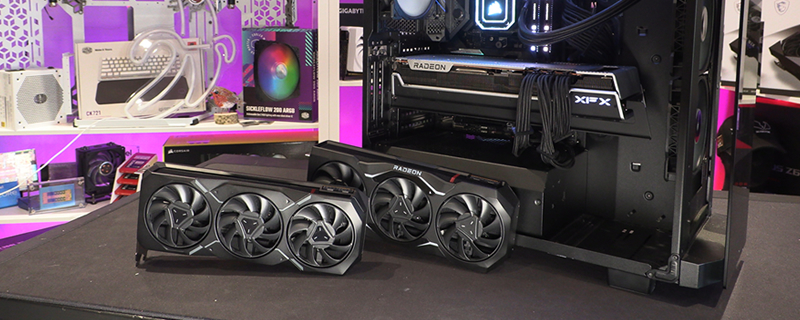 It's time to have a look at AMD's Radeon RX 7900 series – RDNA 3 is here
It's unboxing day, and right now we have three new Radeon RX 7900 series graphics cards to show you. We have AMD's reference RX 7900 XT, AMD's reference Radeon RX 7900 XTX, and XFX's new RX 7900 XTX MERC 310. 
With AMD's RX 7900 series, AMD's new RDNA 3 architecture is coming to gamers, promising huge efficiency and performance gains over today's RX 6000 series. AMD's RX 7900 series promise gamers more VRAM, more compute performance, enhanced encoding capabilities for video work, chiplet design, and a huge generational leap in gaming performance. 
If you want a look at XFX's RX 7900 XTX MERC 310, turn over to the next page of this article.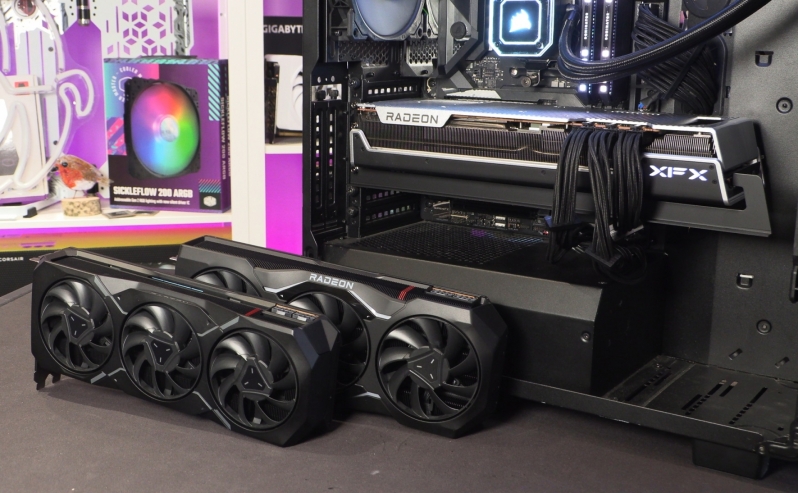 Let's start with their specifications
AMD's RDNA 3 architecture brings many changes to Radeon's product line. For starters, compute performance is increased in a huge way, thanks to RDNA 3's new compute unit design, AMD has doubled their FP32 throughput thanks to their latest CU redesign. This is a big deal for gaming and computational workloads. That's why RDNA 3's TFLOPS numbers are much higher than RDNA 2. In a sense, we could say that AMD's RX 7900 XTX effectively has 12,288 stream processors, as AMD's GPU shaders are now designed to do two FP32 calculations at once. 
 


AMD Radeon
RX 7900 XTX

AMD Radeon
RX 7900 XT
AMD Radeon
RX 6900 XT
Architecture
RDNA 3
RDNA 3
RDNA 2
CPU Silicon
Navi 31
Navi 31
Navi 21
CU Count
96
84
80
Stream Processors
6144
5376
5120
Game Clock (Default)
2300 MHz
2000 MHz
2015 MHz
Boost Clock (Default)
2500 MHz
2400 MHz
2250 MHz
Peak Single Precision Compute
61 TFLOPS
52 TFLOPS
23.04 TFLOPS
GPU Memory (GDDR6)
24 GB
20 GB 
16 GB
Memory Speed
20 Gbps
20 Gbps
16 Gbps
Memory Bus Size
384-bit
320-bit
256-bit
Memory Bandwidth
960 GB/s
800 GB/s
512 GB/s
Infinity Cache Size
96 MB
80 MB
128 MB
With AMD's new RDNA 3 flagship, AMD has also increased the clock speeds and memory bandwidth that they can deliver. This enables higher levels of memory bandwidth, faster rates of computation, and larger frame buffers for heavy gaming and productivity workloads. 
The only downside with RDNA 3 appears to be AMD's lowered Infinity Cache size, but this downside is countered by AMD's increased Infinity Cache bandwidth, and the fact that RDNA 3 GPUs also have a wider GDDR6 memory bus to utilise with faster GDDR6 memory. In all, RDNA 3 offers gamers a lot of solid upgrades in many areas, and the specifications chart above only scratches the surface.
AMD's Reference RX 7900 XT and RX 7900 XTX designs
AMD's RX 7000 series MBA (Made By AMD) designs are stealthy grey/black graphics cards that can fit well into most gaming systems. Being smaller graphics cards than Nvidia's RTX 4080 and RTX 4090 Founders Edition designs, these GPUs are a lot easier to fit into existing gaming systems, and that is before you consider Nvidia's use of 12VHPWR connectors, connectors that most PSUs do not natively support.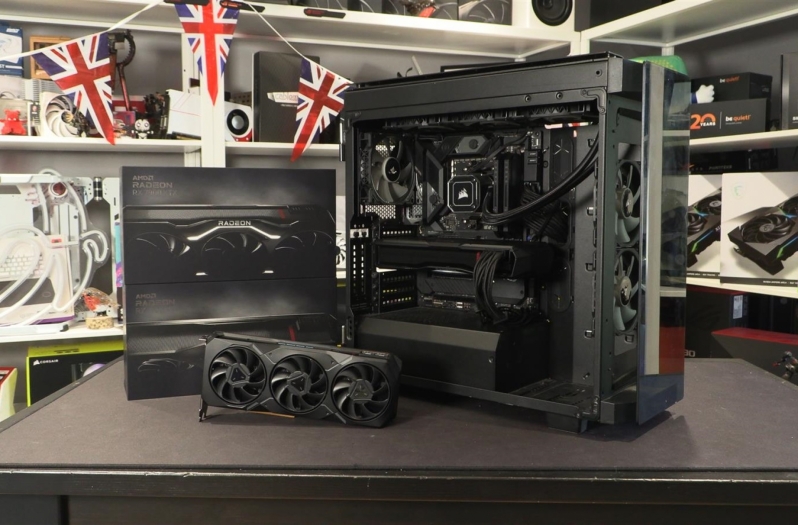 With two 8-pin power connectors, AMD's RX 7900 XT/XTX graphics cards can act as drop-in replacements for older graphics cards, giving AMD's MBA designs great case and PSU compatibility.
With a few red highlights and some Radeon branding, AMD makes sure that PC gamers know that they are installing a Radeon graphics card within their system. Its dark and angular heatsink gives the graphics card an almost Batman-esque aesthetic, which is a great look for a stealthy non-RGB PC build.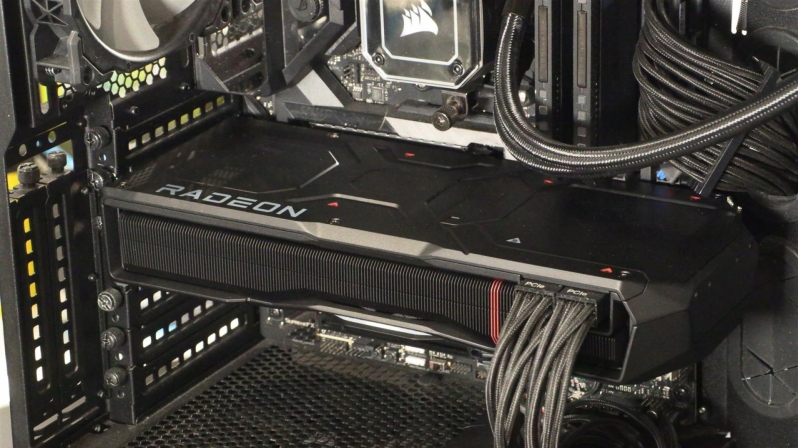 While both AMD's RX 7900 XT and RX 7900 XTX graphics cards feature similar designs, AMD's RX 7900 XTX is a taller graphics card that features a larger overall heatsink. Both GPUs are 2.5 PCIe slots wide, and are the same 287mm length.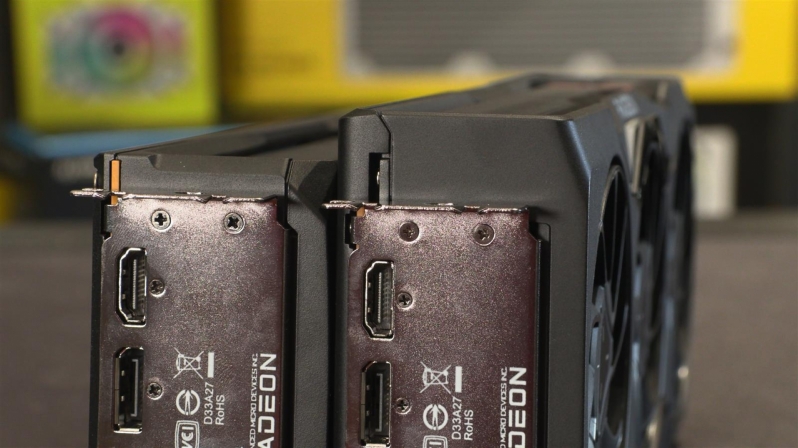 Below are AMD's RX 7900 XT and RX 7900 XTX odels at a different angle. Again, both GPUs feature similar overall designs, though the XTX model does feature a larger overall heatsink design.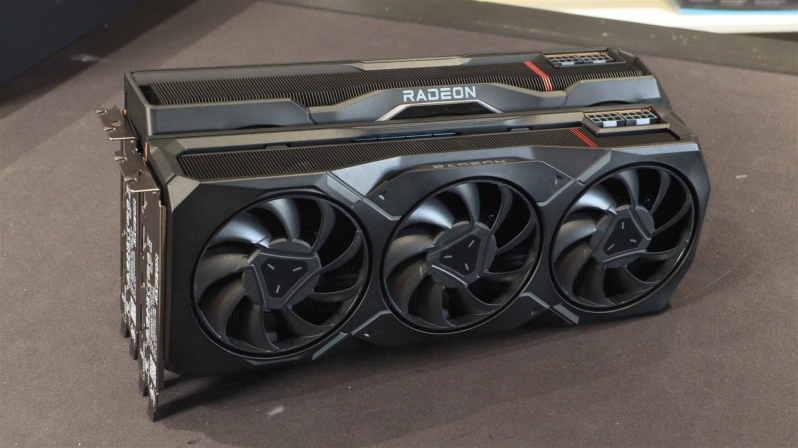 AMD's MBA GPU models feature an HDMI 2.1 connection, two DisplayPort 2.1 outputs, and a USB Type-C display output. AMD AIB partners are able to replace this connection with an additional DisplayPort connection, but AMD wanted to give gamers the option to use USB Type-C. Perhaps AMD expects VR headsets to use this type of connection in the future.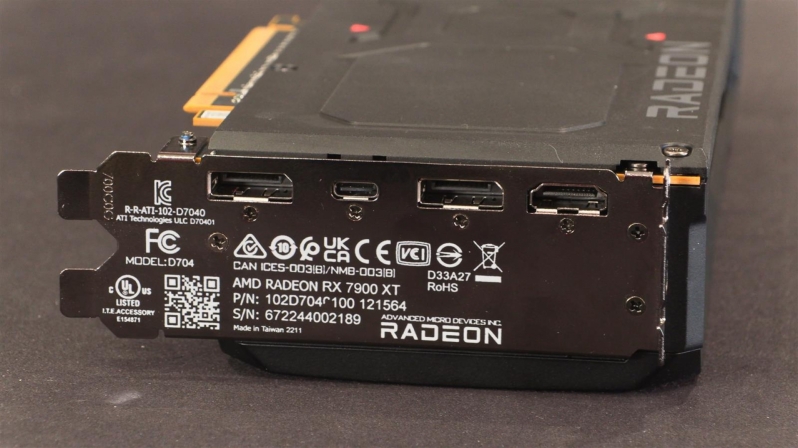 AMD's Radeon RX 7900 XTX design is both modern and stylish, and the upside over Nvidia's RTX 40 series Founders Edition GPUs is that you do not need a colossal PC case to be able to install this graphics card into your system.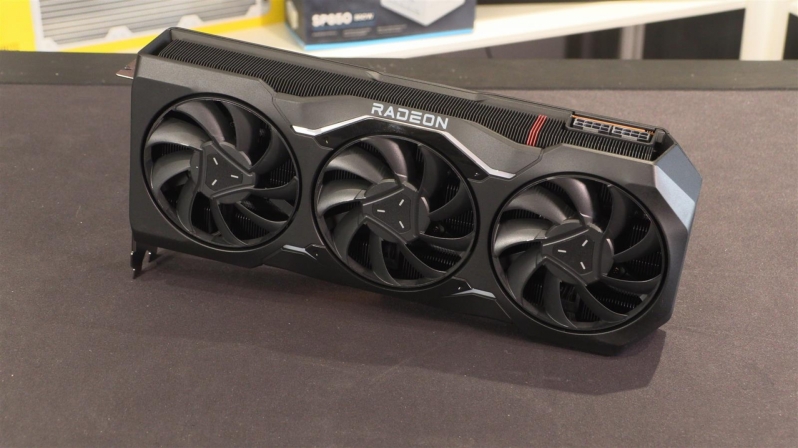 With our current GPU test system, AMD's RX 7900 XT and RX 7900 XTX blend in nicely, giving your system a neat and stealthy look, especially once we re-install this case's tinted side panel window.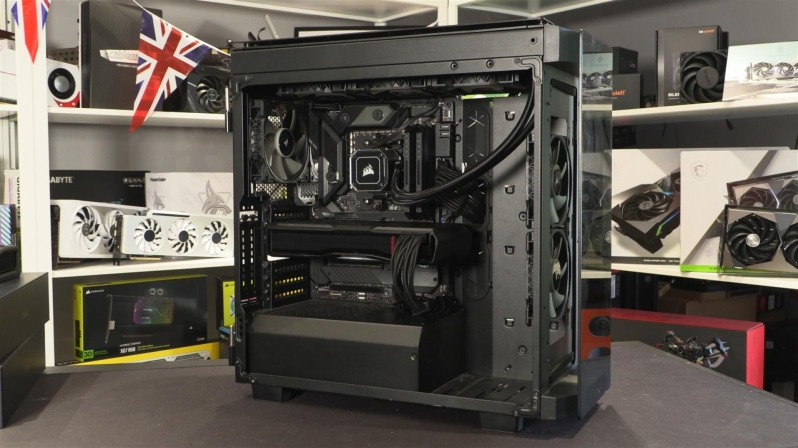 Head over to page 2 to see XFX's RX 7900 XTX Speedster MERC 310.
Video and a look at XFX's RX 7900 XTX MERC 310