Zotac GTX1060 AMP! Review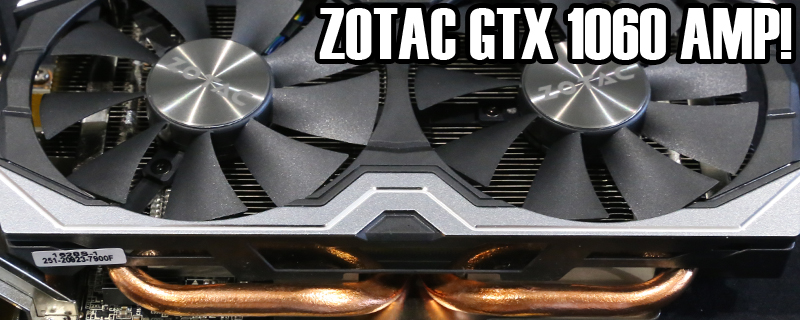 Introduction
So far we've seen two different takes upon the GTX 1060. 
The nVidia Founders Edition utilised a short PCB but a full size cooler married up to a stock GPU Boost speed. The ASUS GTX 1060 Strix went with a full length PCB allowing them to use their DirectCU III Cooler and a hefty factory overclock.
Zotac have two versions of the GTX 1060 available, the Mini and the AMP!. We're looking at the AMP! today, which combines the short PCB with a short cooler, to give a card size suitable for all systems. In addition they've included a mild overclock above the nVidia reference clock speeds.

With such compact dimensions and a nice little boost above a stock card, let's see how it performs.
Technical Specifications
If you've been reading along with us today then you'll know that the Pascal GPU that beats at the heart of the GTX 1060 has half the Graphics Processing Clusters of the GTX 1080 but, thanks to a curious decision by nVidia, no SLI Bridge to enable you to overcome this relative lack of architectural power. However, it is still a Pascal GPU so that means you get all the efficiency and technological benefits of the latest nVidia cards, without the wallet-emptying expense.
The Zotac AMP! has a small factory overclock. Less than the ASUS Strix but more than the Founders Edition.