SteelSeries 6Gv2 Keyboard Review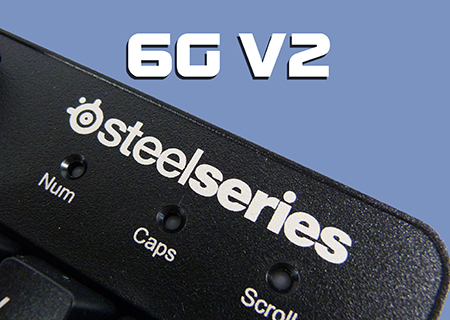 Up Close
The packaging of the 6Gv2 is as good as we've seen for a keyboard and right on a par with the 7G. Inside the ever-classy SteelSeries packaging there is a very sturdy cardboard box surrounding the 6Gv2.
Once the keyboard is out it feels very similar to the 7G, which is still used as the keyboard on our P67 bench rig. It's got some serious heft to it, and not an inch of space is wasted around the keys. The centrally mounted cable ensures that the 6Gv2 maximises its usability regardless of which side your tower is mounted. Rather than some flimsy feet the 6Gv2 is raised with two seriously wide platforms, helping to maintain the general sturdiness of the keyboard.

The only concession to features that go beyond the pure typing experience are the media controls on the F keys. A SteelSeries logo'd key is on the left hand side where one would normally find the Windows key, and this combines with the F keys to control your media player of choice.