SteelSeries 6Gv2 Keyboard Review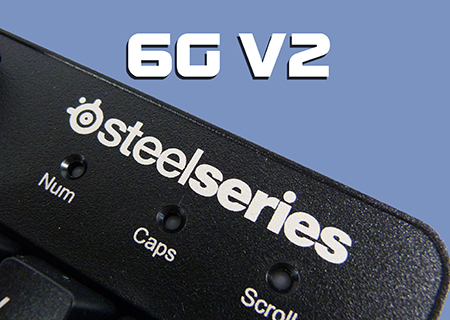 Differences between 6Gv2 and 7G
Purity of typing definitely is the theme of the 6Gv2. No lights nor program launchers to be seen. Just acres of none-more-black typing joy.
So what are the changes between the 7G and 6Gv2? The most obvious is that the 7G comes with a full-cover wrist-rest which is absent on the 6Gv2. This is a tall enough keyboard that one would be advisable, but they're cheap enough. In terms of actual keys the only change is the ¬ key which on the 7G is up with the backspace, meaning that you have a single-key sized backspace key and a full size right shift.

On the 6Gv2 this is moved down the right shift, so you have a full size backspace and a 2/3rds right shift key. This is a preferable layout as for typing it doesn't really make a difference, and when gaming you're focussed on the left shift anyway because of the WASD left-hand dominance.
The other change is round the back. The 6Gv2 doesn't have either the audio ports or the USB ports that the 7G comes equipped with, so both the back of the keyboard is sleek, and the cable only has a single USB cable, rather than the PS2/USB/Audio affair on the 7G.