WaterCooling UK Case Modding Services
The Subject
Â
Browsing the pages of eBay for a suitable candidate for a premium paint job, we came across a rather mistreated Cooler Master Praetorian PAC-T01. For those who don't know, this case is a good 5 years old and is in fact one of the first luxury cases I ever purchased. In its heyday the case would have set you back around £160+ thanks to its sexy Mercedes paint job on the top and side panels, but unfortunately the cases previous owner didn't seem to show it much respect.
Â
A winning bid of just £15 sealed the deal (despite our attempts to end the auction early by waving £35 in the sellers face) and we wasted no time in getting the case shipped directly to WCUK from the eBay seller
Â
Â
Â
On arrival at WCUK they got straight to work cleaning the case up and stripping it down to to individual panels. At this point we really needed to decide what colour paint we wanted on the exterior of the case. Unlike the fairly limited RAL based colour charts used for powdercoating colours, the choice of spray paint colours is only limited by your own imagination and finishes such as Pearl, Chameleon, Flake, Metallic and Thermochromic just make the decision process even more difficult.
Â
Shown below are just but a few of the paint additives and finishes that WCUK were able to perform without having to place any special orders:
Â
Â
Â
Â
In the end we decided on a BMW Schwartz Black paint with medium density Purple Holographic flake along with a powdercoated black interior to finish the look. However, before Watercooling UK would go ahead and spray the entire case, they performed a test spray on one of the drive bezels and sent us a photograph for final approval.
Â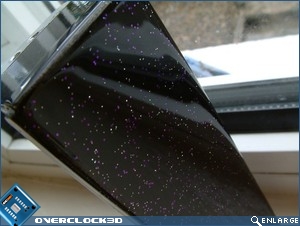 Â
Yep, that gets a big thumbs up. So let's see what it looks like applied to our Praetorian over on the next page…