Enermax ECO80+ 350w ATX PSU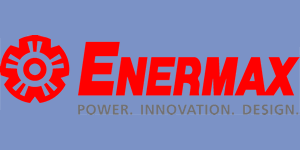 Founded in 1990 by a group of young professionals, Enermax is one of few PSU manufacturers that can boast having their very own production line. This, combined with a dedicated team designers & developers has enabled Enermax to produce a whole host of award wining products over the years which have indisputably positioned them as one of the 'top dogs' in their field.
Recently we had a chance to take a look at both their high-end
Revolution85+ 950w
 unit and the more modest 
Liberty ECO 500w
. Both proved to be excellent contenders walking away with our Editors Choice and Recommended awards respectively. However today, having already covered the high and medium ranges we're going to take a look at an entry level unit  designed for those with less demanding energy requirements.
Branded simply the ECO80+, it is immediately apparent that this unit is all about being eco friendly. Therefore it comes as no surprise that the unit is only available in low wattage models ranging from
350-620w
 with the
350w
actually being the only model listed on Enermax's UK website (other models coming soon). Here's what Enermax had to say about the unit we're going to be taking a look at today:
80PLUS® efficency
80-86% efficiency at 20-100% load. ECO80+ is certified by 80PLUS® organisation
Magma fan inside!
Integrated Magma fan guarantees best possible and ultra silent cooling, due to patented Twister Bearing Technology and BATWING blades. Self-lubricating bearing material enhances life expectancy up to 100.000 hours
Intel ATX12V v2.3
ATX12V v2.3 support for latest Intel® Core 2 Duo™ / Quad™ / Extreme™ / i7™, AMD® Athlon™ 64X2 and Phenom™
SpeedGuard
Patented fuzzy logic 12cm fan speed control for optimal cooling and minimum noise

AirGuard
Patented air-inlet with optimal aero-dynamical design reduces noisy air turbulences.
SafeGuard
Industry-leading octuple protection circuitry (OCP, OVP, AC UVP, DC UVP, OPP, OTP, SCP, and SIP)
Non-Stop @ 40°C
Non-stop industrial class performance at 40°C/104°F ambient
EMC ready!
Full-scale electromagnetic filtering protects your system against radiation interferences (CE EMC EN61204 compliance)
Dimensions (W x H x D)
150 x 86 x 140mm
Warranty
3 years vendor warranty
All in all the specifications are pretty much what we've come to expect of Enermax. You get a unit with 80-86% efficiency depending on load, support for the latest motherboards, various safety and noise reduction features, assurance that the unit can maintain its stated output rating at 40°C and of course a 3 year warranty. Enermax has also used one of their very own Magma Twister fans inside the unit which retail at just shy of £10 each in the shops. Not bad at all!
Enermax ECO80+ 350w Rail Layout
DC Output
+3.3V
+5V
+12V1
+12V2
+12V3
+12V4
+12V5
+12V6
-12V
+5VSB
20A
20A
17A
17A
–
–
–
–
0.6A
3A
Max Power
110W
324W
7.2W
15W
350W (385W Peak)
Moving on to the power distribution, everything is once again pretty much standard. The ECO80+ 350w has a total of two +12v rails each rated to a maximum of 17A with a combined output of 324W (27A). It's certainly not going to power any high-end gaming systems, but it should be more than capable of powering any modern system minus the monsterous GPU or 10 disk RAID array. The +3.3v and +5v rails also share a reasonable amount of the power with a total of 110w to divide between them.
Now lets see how the ECO80+ arrived at our office…