OCZ Summit 250GB SATA2 SSD
Â
The test setup we will be using today for evaluation of the OCZ Summit drive is fully optimised for compatability and performance for testing SSD drives:
Â
Processor:
Intel Core i7 920 @ Stock Speed
Motherboard: Gigabyte UD4P X58
Memory: 6GB Corsair XMS2 1600Mhz
SATA Controller: On-board ICH10R Southbridge
Chipset Drivers: Intel 9.1.0.1007
Operating System: Windows Vista x64 Ultimate SP1 + most recent Updates
Â
Most people who will be considering the upgarde to an SSD drive will likely be making the jump from one of the many 'favourite' mechanical hard drives. With this in mind we will be assessing the OCZ Summits capabilities in comparison to the following drives with the previous results of the OCZ Vertex thrown in for good measure:
Â
Â
OCZ Summit
OCZ Vertex
WD Velociraptor
Samsung F1
WD Caviar Black
Read Seek Time
4.3ms
8.9ms
12.2ms
Write Seek Time
4.7ms
8.9ms
12.2ms
Average Latency
5.5ms
4.17ms
4.17ms
Read Transfer Rate
220MB/s
250MB/s
120MB/s
175MB/s
106MB/s
Write Transfer Rate
200MB/s
180MB/s
120MB/s
175MB/s
106MB/s
Capacity
250GB
120GB
300GB
1TB
750GB
Cache
128MB
64GB
16MB
32MB
32MB
Â
At the time of writing the review there were no publicly available firmware updates available for the OCZ Summit. Various Operating system and BIOS tweaks were however performed to obtain the absolute maximum operating conditions for the OCZ Summit SSD. These tweaks are:
Superfetch: Off
Indexing: Off
Search indexing: Off
Defrag: OffÂ
SATA Mode in BIOS was set to IDE for all hard disks
Drive was formatted with a 4096 cluster size
Enable Enhanced Performance was selected in device manager for all hard disks
Â
Â
While synthetic benchmarks such as HDTune offer a good insight into the performance of a mechanical disk drive, these figures do not always translate directly into real world performance, this is especially so for Solid State drives. I encountered numerous problems with HDTune Pro, especially with regard to the write speeds of the drive which were sporadic at best and demoralising at worst (see screenshot below).
Â
Â
Despite numerous formats and tweaks, write speeds remained inconclusive so after two days worth of troubleshooting, I had to concede defeat and put this down to an incompatibility issue. For this reason I have not included the results of HDTune nor taken them into consideration when scoring the drive in the conclusion.
Â
Before we get on-board with the testing, let's perform a run of HDTach, again not the best utility to use on SSD's but it should give us an idea of the performance to expect:
Â
Â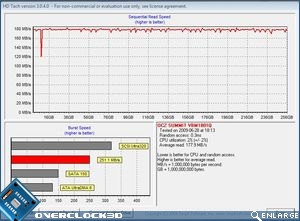 Â
Not too shabby at all. with a sustained read speed of almost 180MB/s. This reading however is below the advertised speed of 'up to' 220 MB/s which is a little concerning. I'll wait and see what the other benchmarks report before commenting on this further.
Â
Along with many other synthetic benchmarks run today, I adecided to perform several day-to-day operations (such as file transfer and Windows startup) in addition to the synthetic benchmarks. The full set of tests can be seen below
Â
Synthetic Benchmarks
ATTO Disk Benchmark v2.34
PCMark Vantage HDD benchmarks
CrystalDiskMark 2.2.0f
File Write & Manipulation
Random file creation (15GB)
Sequential file creation (100GB)
OS & Gaming
Windows Vista Startup time.
Windows Vista Shutdown time.
Unreal Tournament III map load time.
Â
Let's see how the OCZÂ Summit performed…Â