OCZ Vertex 120GB SATA2 SSD
Introduction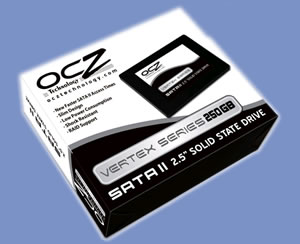 Back in July '08 Overclock3D got its first introduction to the Solid State Disk. Supplied in a 32GB capacity, the very first OCZ SSD to hit the market failed to impress our team with performance levels below that of the Western Digital Velociraptor 300GB mechanical hard disk. Not only that, but price and capacity were also major downfalls of the SSD due to lack of space after installing the bloated Vista operating system, and a price tag that although reasonable in comparison to other SSD's on the market, still couldn't be justified. As a result the OCZ 32GB SSD left Overclock3D awardless with it's tail between its legs.
However, unfazed by this OCZ continued to pursue perfection in the SSD arena, coming out with several revised versions of their 'Core' SSD series in an effort to improve performance and compatibility. Now, almost a year after our initial review, OCZ have a full range of new SSD's (Solid, Core, Apex & Vertex) aimed at all areas of the market from the budget to the high-end. Today we'll be taking a look at the latter of these disks in the form of the Vertex 120GB SSD, and what better place to start than some snippets from OCZ's website:
Description
Offering your system the incredible performance of flash-based technology, The OCZ Vertex Series delivers the performance and reliability of SSDs at less price per gigabyte than other high speed offerings currently on the market. The OCZ Vertex Series is the result of all the latest breakthroughs in SSD technology, including new architecture and controller design, blazing read/write speeds, and 64MB of onboard cache. OCZ continues to place solid state technology within reach of the average consumer, and delivers on the promise of SSDs as an alternative to traditional hard drives in consumer targeted mobile applications…..
The OCZ Vertex drives feature a durable yet lightweight alloy housing, and because OCZ SSDs have no moving parts, the drives are more rugged than traditional hard drives. Designed for ultimate reliability, Vertex Series SSDs have an excellent 1.5 million hour mean time before failure (MTBF) ensuring peace of mind over the long term. All Vertex Series SSD drives come backed a two year warranty and OCZ's legendary service and support. Vertex series SSD drives are available in ample storage capacities of 30GB, 60GB, 120GB, and 250GB.
Specification

• 64MB Onboard Cache
• Seek Time: <.1ms>• Low Power Consumption: 2W in operation, .5W in stand by
• Shock Resistant 1500G
• RAID Support
• MTBF 1.5 million hours
• 2 year warranty
Starting with the basics, the Vertex series is available in sizes 30GB – 250GB. This is a massive improvement over the sizes available last year and thankfully prices have also taken a nosedive too. OCZ claim that the Vertex has an MTBF (Mean time between failure) of 1.5million hours which roughly equates to 170 years, but unfortunately for only two of those years is the drive actually under warranty. Power consumption is extremely low using only 2w during operation and 0.5w in standby, offering marginally increased battery life for laptop users.
Interestingly read and write performance figures vary depending on the capacity of the drive. Naturally you'd expect the smaller drives to have the best performance, but from the specs OCZ provide this is simply not the case, with the fastest drive being the 120GB version and the 250GB coming in a close 2nd.
30GB Max Performance
Read: Up to 230 MB/s
Write: Up to 135MB/s
Sustained Write: Up to 80MB/s
60GB Max Performance
Read: Up to 230 MB/s
Write: Up to 135MB/s
Sustained Write: Up to 70MB/s
120GB Max Performance
Read: Up to 250 MB/s
Write: Up to 180MB/s
Sustained Write: Up to 100MB/s
250GB Max Performance
Read: Up to 250 MB/s
Write: Up to 160MB/s
Sustained Write: Up to 100MB/s
Now that we've got all of the paper specs out of the way let's take a closer look at the drive.