OCZ Vertex 120GB SATA2 SSD
Packaging & Appearance
In keeping with the packaging used on the original SSD and Core SSD drives, OCZ has placed the Vertex 120GB in a box of similar dimensions to a CD Jewel case (albeit thicker). This, combined with the light weight of the drive inside should result in fairly cheap delivery costs – providing your selected retailer passes the savings on.
The packaging design is extremely simple with the primary colours used being black and white. This gives an extremely fresh and professional appearance to the Vertex, but doesn't exactly scream "pick me up" if placed on a retailers shelf. The front of the box offers some basic specifications along with an image of the drive, while the back of the box contains much of the general blurb found on OCZ's website.

Opening the outer packaging up we see a rather nice interior box that folds out into two sections, one holding the drive itself and the other a compartment holding an installation manual. Unfortunately it would appear that OCZ haven't listened to our cry's in previous SSD reviews for a 2.5″ to 3.5″ drive converter and some screws to be included in the package. After all, the majority of users will more than likely be installing the Vertex in a desktop PC rather than a laptop.
The drive itself is essentially the same design on the outside as the Core series with a matte black aluminium top and silver brushed aluminium base. This theme is also carried along the Apex and Solid series albeit with different coloured logo stickers.
Removing the 4 screws at the base of the disk reveals the main PCB with a total of 8 NAND IC's neatly arranged in two rows on one side of the PCB and a similar arrangement also on the underside. Going in for a closer look we can see the IC's are manufactured by Samsung and carry the markings K9HCG08U1M. A quick search of the net reveals these to be 48-pin MLC large block IC's capable of operating at 2.7-3.6v with a 25ns speed.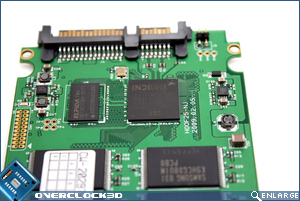 Â
Nearest to the SATA power and data connectors is the Indilinx Barefoot IDX110 ARM-Based controller along with 64MB of 133MHz SDRAM cache from Elpida. This combination of controller and cache replaces the JMicron JMF602 controller used in many of OCZ's earlier SSD drives and will hopefully rid the Vertex of the 'stuttering' issues that many SSD adopters reported with drives from various manufacturers using the JMicron chip.