Aria Gladiator HD2-K Review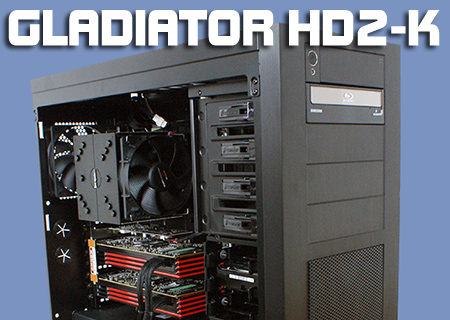 Introduction
We've recently taken a look at some bundles from Aria which were all the basic bits you'd need to build a rig around.
Today we're moving away from the pre-overclocked CPU/Motherboard/RAM combinations and into a full system, the Gladiator HD2-K.
This is a seriously specced bit of kit, only requiring a monitor, keyboard and mouse to be up and running.

Technical Specifications
Often pre-built systems have a selection of hardware that you feel are a compromise to get the system down to a price, or even if it's at quite a steep price you end up with bits you're unhappy with.
The HD2-K has got a seriously good selection of parts. It starts with the i5-2500K, the best performance per pound processor on the market. That's mounted in an ASUS Sabertooth P67 motherboard, the best P67 motherboard in the world. Mushkin provide the 8GB of DDR3 and an OCZ SATA 6Gbp/s SSD runs the Windows 7 OS. There is also a 2TB WD Caviar for your storage so there is no lack of either performance or capacity.
Gaming performance is handled by two Radeon HD6870 in Crossfire. With a Samsung Blu-Ray player and the excellent Asus Xonar soundcard you've got all the HD Media dealt with too.
• FREE CPU Overclocking up to 4.80GHz*
• Intel Core i5-2500K (Sandybridge) Socket LGA1155 Processor
• 2x ATI Radeon HD 6870 1024MB GDDR5 PCI-Express Graphics Card in CrossFire
• 8GB Mushkin Ridgeback #996987 (2x4GB) DDR3 1866MHz 9-11-9-27
• OCZ Solid 3 120GB 2.5″ SATA-III Silent Solid State Hard Drive
• 2TB Western Digital WD20EARS Caviar Green 3.5″ SATA II Silent Hard Drive
• ASUS Sabertooth Intel P67 (REV B3) Socket 1155 DDR3 PCI-Express Motherboard
• 680W Be Quiet! Straight Power CM BQT E8 ATX2.3 Silent Power Supply
• Corsair Obsidian 650D Midi Chassis
• Be Quiet! Dark Rock Pro Dual Fan Silent CPU Cooler
• Arctic Silver 5 Thermal Compound
Extras Supplied:
• Windows 7 Home Premium 64-Bit Pre-Installed
• Samsung Blu-Ray SH-B123L/RSBP 12x BD-ROM / 16x DVD Writer Drive
• Asus Xonar DX 7.1 PCI-Express Sound Card
The asterisk upon the overclocking is to indicate that, because not all processors are equal, you'll get between 4.6 and 4.8GHz as your overclock. Kudos to Aria for being up front about this rather than just highlighting the maximum they've ever obtained and hoping nobody notices if your own isn't quite up to snuff.