DIY vs Prebuilt – White Gaming Rig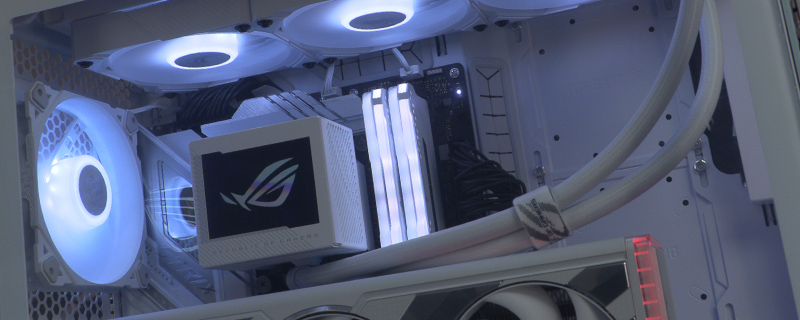 Parts List and Video
The OCUK system rocks up at £4699.99, with all the relaxation that purchasing a pre-built system can have. Instead of a courier arriving and you playing a few days later, you're an hour, tops, away from being up and running if you take this route. As you could see from our first page here, they have a great attention to detail in their build quality and component choice, and we highly recommend them.
However, if you want to follow our setup, you can save £416 by building it yourself. Not inconsiderable if funds are – all things being relative – tight. In fact if funds are especially tight you can swap the Strix RTX 4090 out for the Strix RTX 4080 and save another £600, or a grand in total.
Intel Core i9-13900K – £548.99
Samsung 990 Pro 2TB M.2 – £188.99
ASUS ROG Strix RTX 4090 – £2099.99
or ASUS ROG Strix RTX 4080 – £1499.99
Cablemod ASUS Cables – £67.99
Kolik PCIe Riser Cable – £29.99
ASUS ROG Strix Z790-A D4 – £329.99
ASUS TUF GT502 Case – £159.95
ASUS ROG Loki 850W PSU – £244.99
ASUS ROG Ryujin III 360mm AIO – £409.99
ASUS TUF TF120 ARGB Fans – 3 Pack £49.99
Corsair Vengeance RGB Pro 32GB – £89.99

For a grand total of £4220.83 with the RTX 4090, or £3620.83 if you choose to go for the RTX 4080 based system. Not bad at all considering how glorious it is to look at and how futureproofed you'd be.
Of course if you prefer to have the security and warranty of the OCUK Gaming Radiance Drift, then we wouldn't blame you in the least. We're always busy too.
HERE
Discuss the White Gaming Rig in our OC3D Forums.