be quiet! Dark Base 701 PC Case Review
Up Close with the Dark Base 701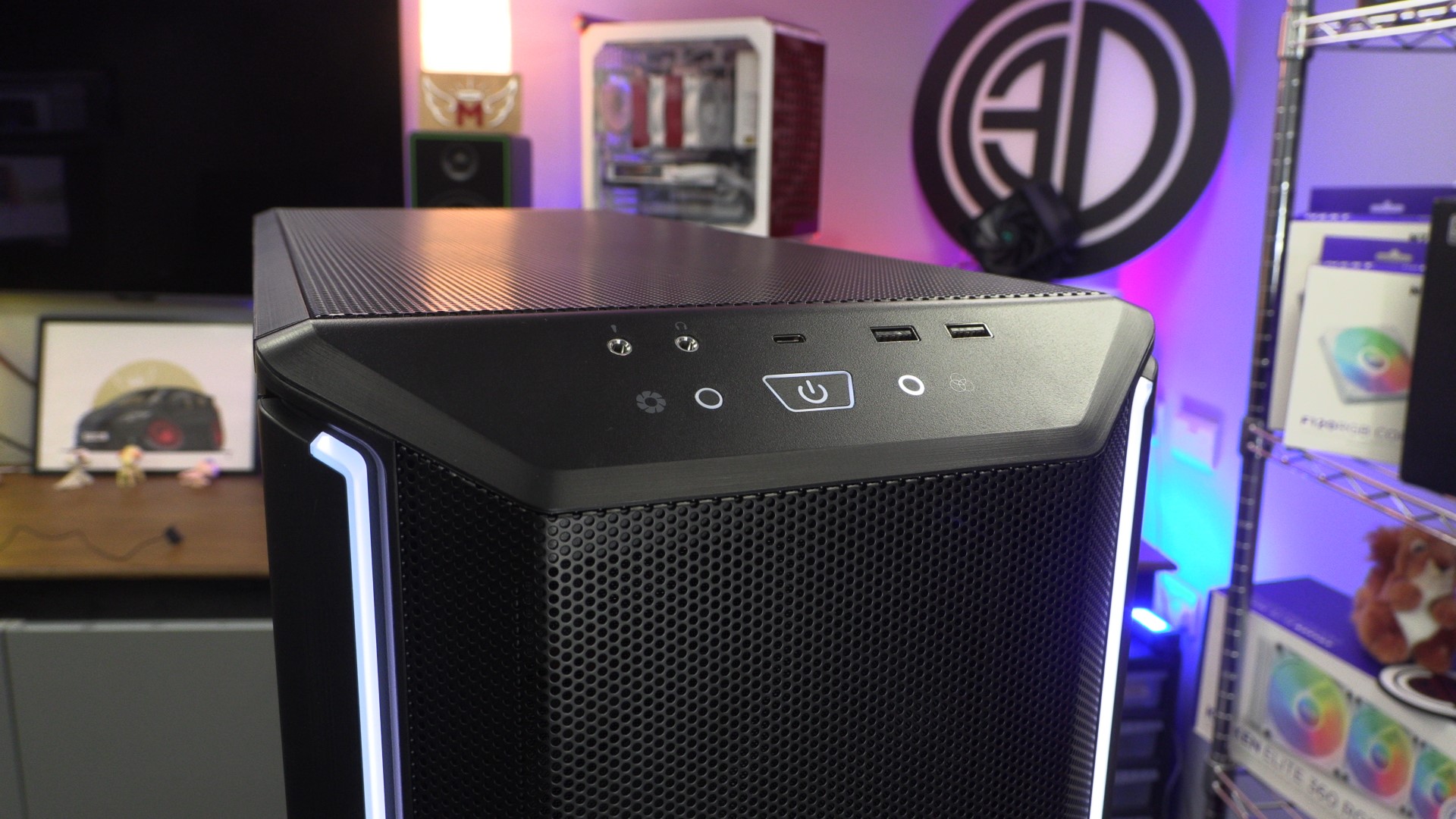 A closer look at the Dark Base 701
Starting at the front of the case, we can see that be quiet's new 701 chassis features one USB 3.2 Gen 2 Type-C input, two USB 3.2 Gen 1 Type-A ports, HD audio in/out connections, a 3-step fan controller button, and an RGB control button.
At the front of the Dark Base 701, we can see two strips of ARGB LEDs at either side of the case's primary air intakes. Users can control these LEDs and make them whatever colour they want. Rainbow lighting effects are also possible.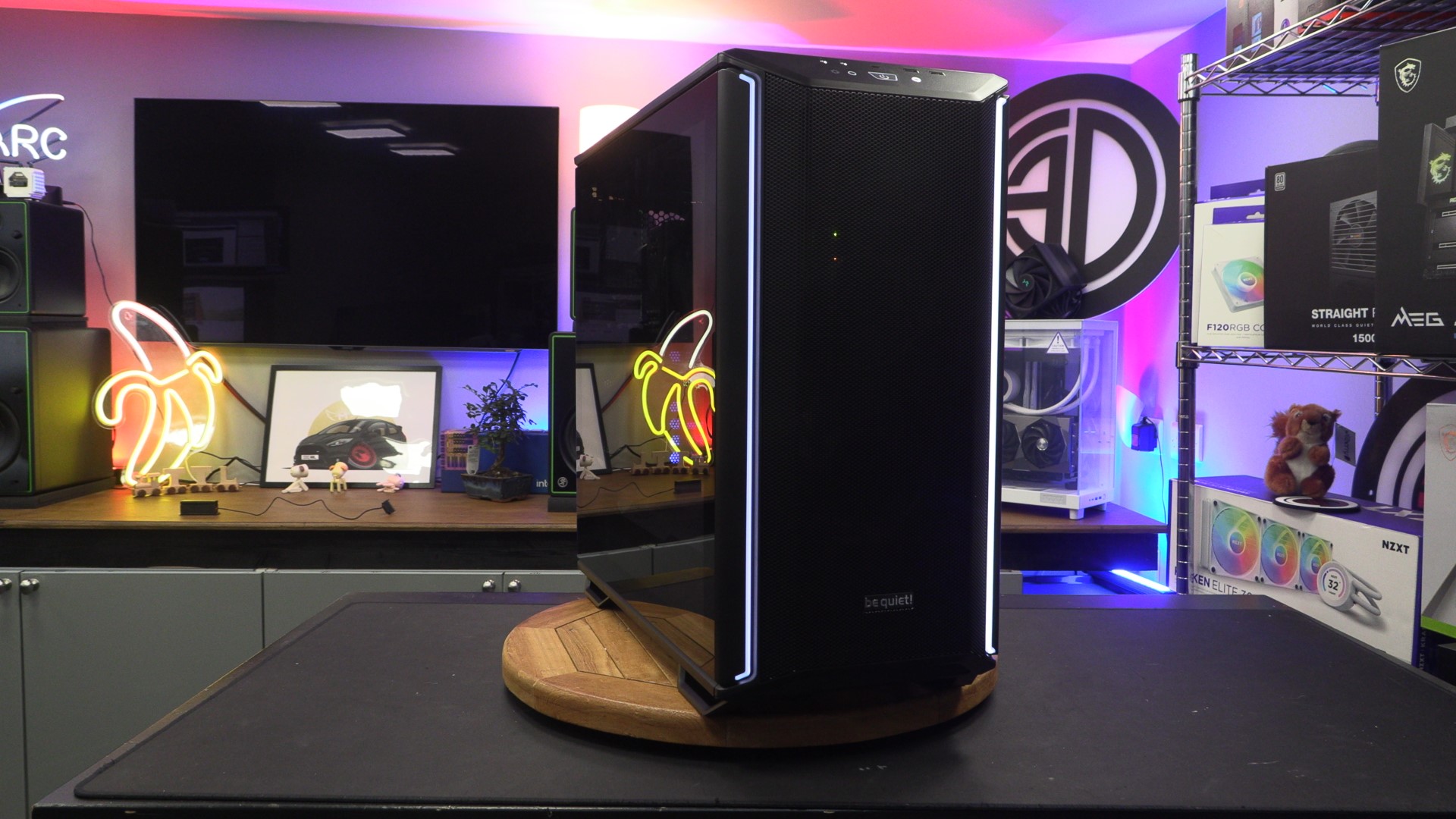 be quiet's 701 chassis features a lot of removable parts. Using the two top screws in the image below, users can quickly remove the top of the chassis. This gives users easy access to the fan mounts below.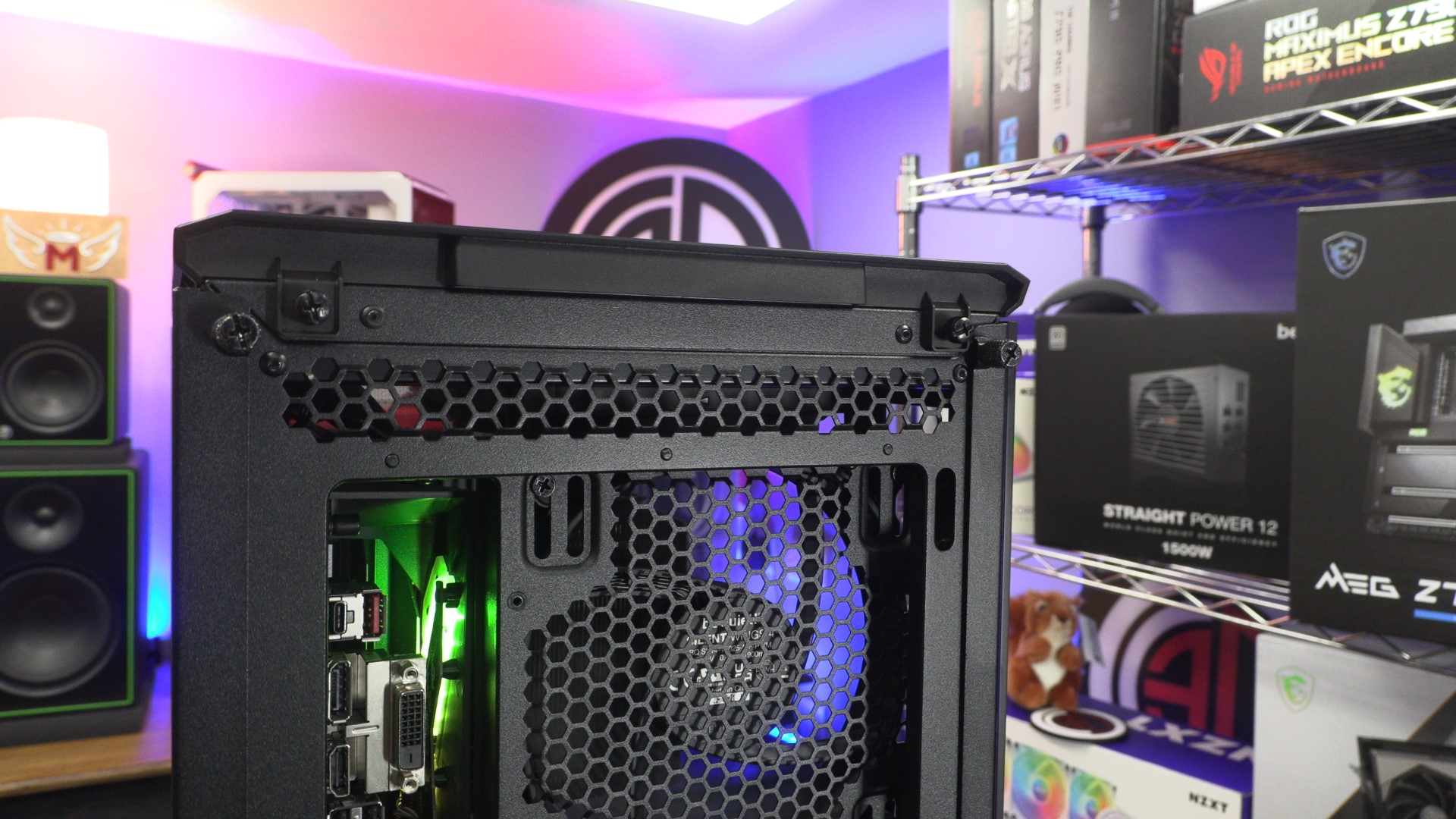 Below you can see the top fan/radiator mounting plate of the 701. This can accommodate up to three 120mm or 140mm fans or up to a 360mm liquid cooling radiator.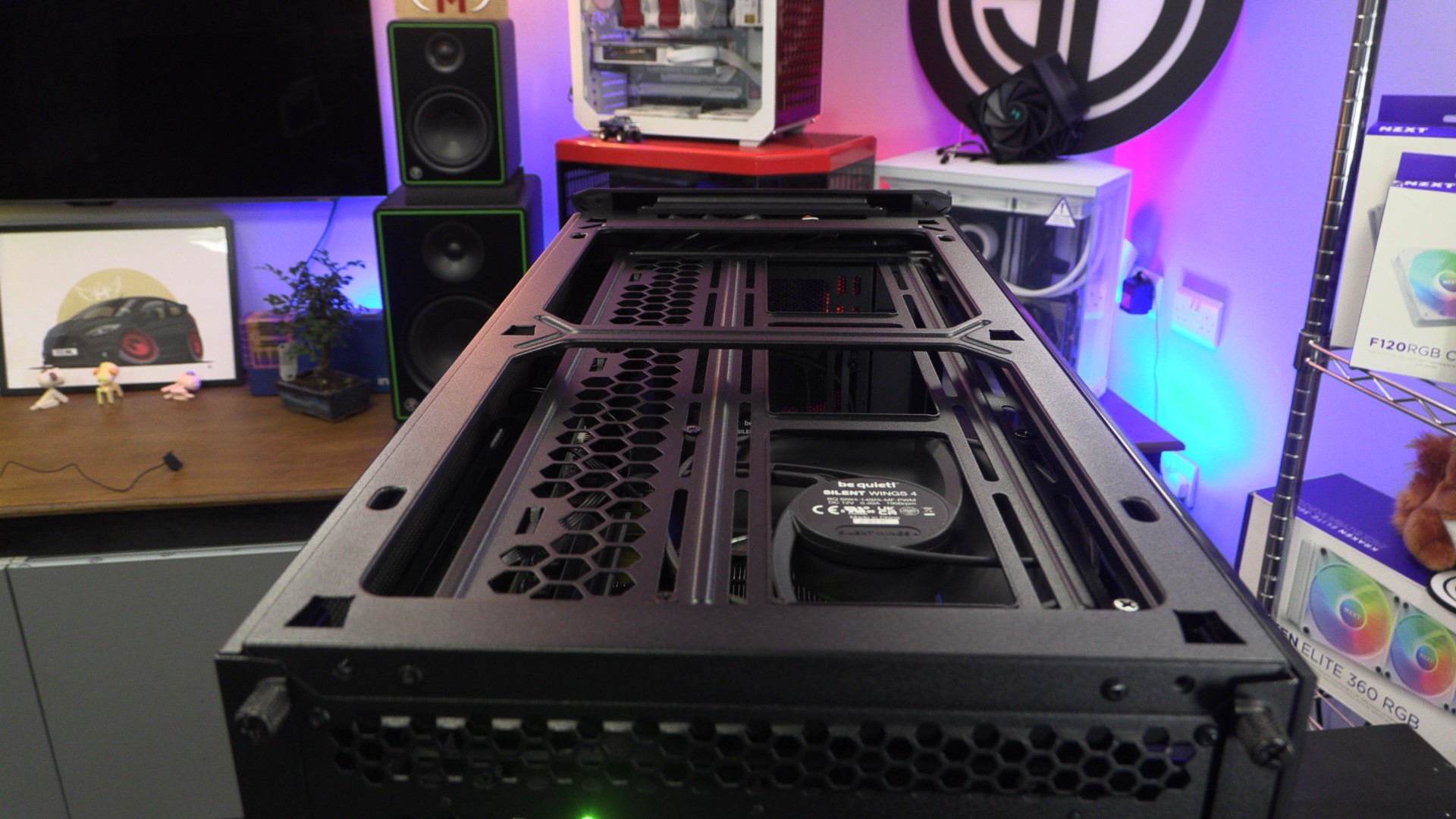 Front RGB lighitng
The 701's integrated RGB lighting is on the subtle side. None of the case's three pre-installed 140mm fans include RGB lighting. Users can control this case's RGB lighting using their motherboard or using the case's integrated fan/RGB controller.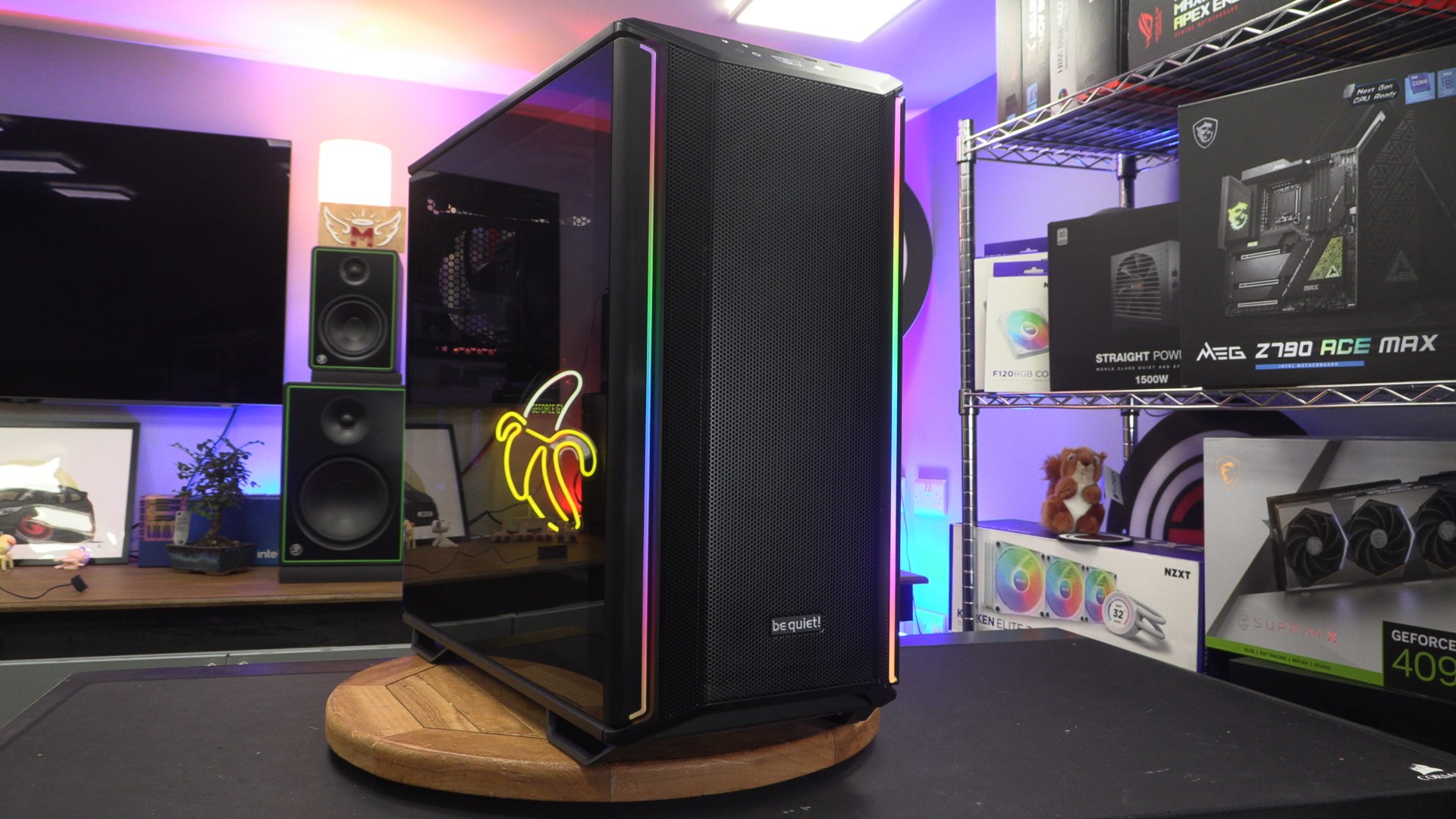 The Dark Base 701 has seven standard PCIe slots and three vertically oriented PCIe slots. This case supports vertically mounted GPUs that are up to three slots wide. GPUs that are any wider than this get very close to this case's tempered glass side panel, which will limit GPU airflow and increase thermals. If you want to vertically mount a wider GPU, you will need to install a GPU mounting solution that mounts over this case's standard PCIe lanes.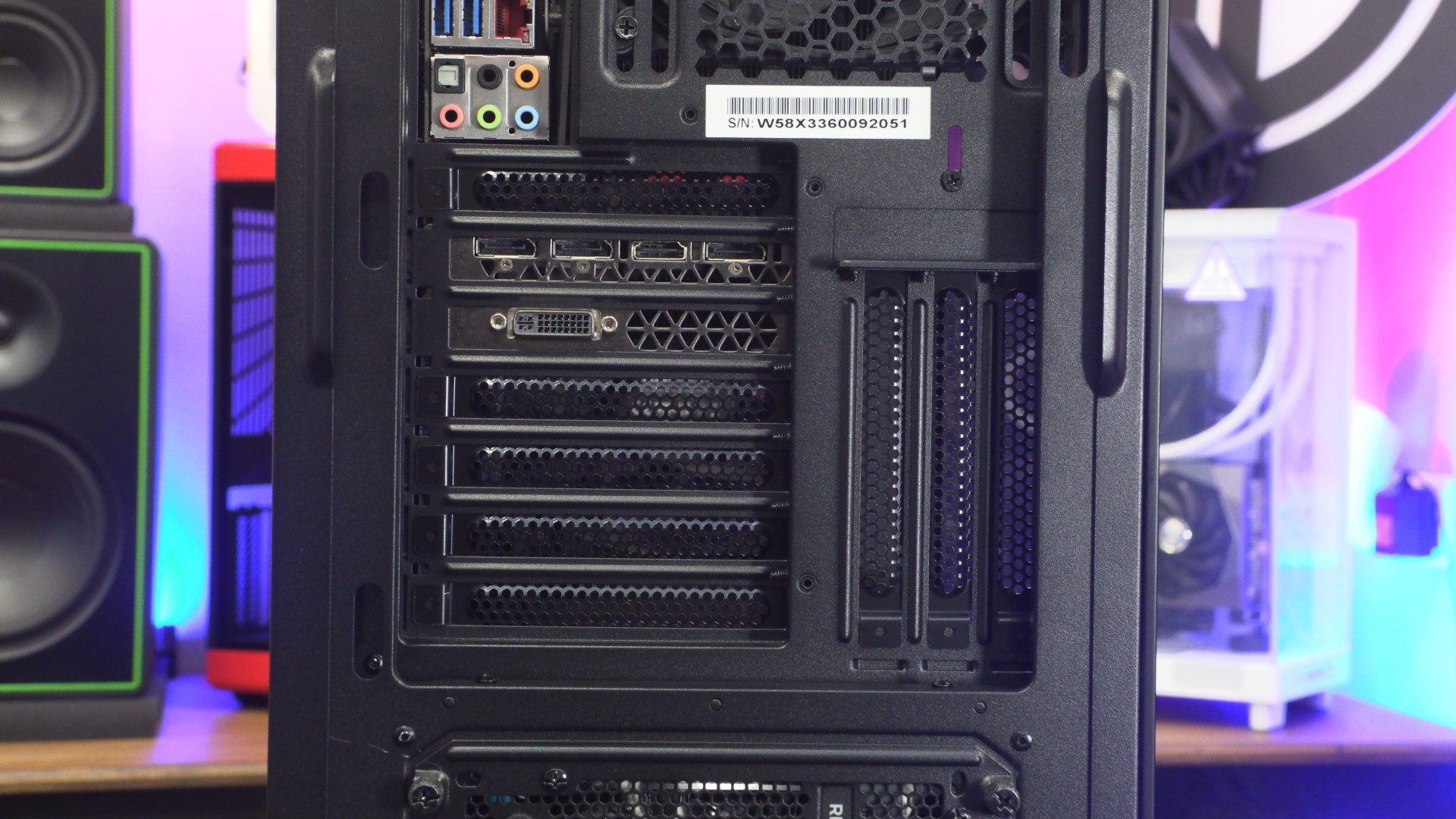 Users of the Dark base 701 can install their power supply from the rear of the system using the mounting plate pictured below. This makes it relatively easy to add or remove a power supply, and to add additional cables to modular PSUs when required.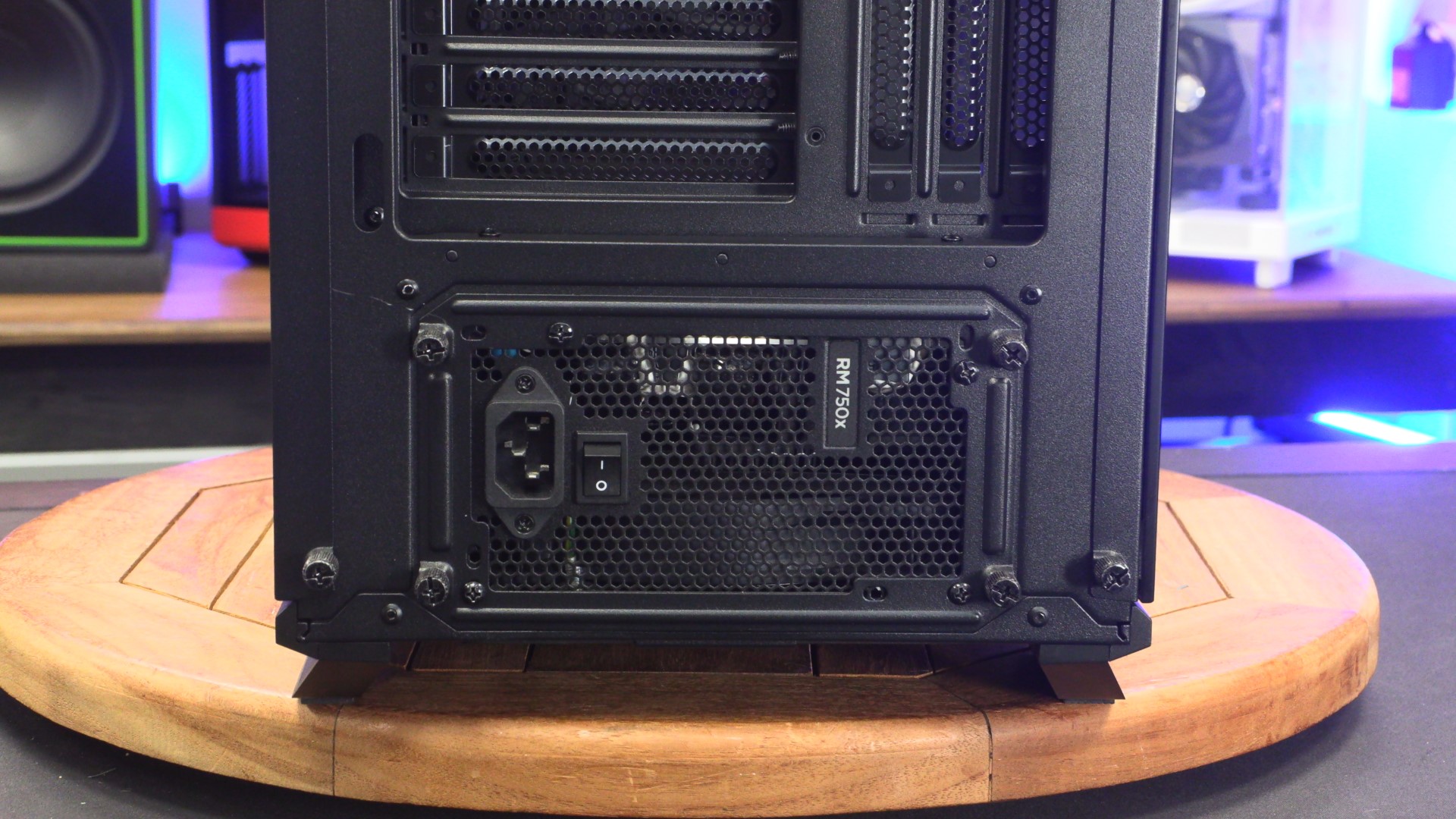 Be quiet's Dark Rock 701 features two large air filters on the front and bottom of the chassis. These filters can be easily removed for cleaning and cover all of the case's major air intakes. Out of the box, the Dark Base 701 ships with only a single fan at the front of the case. We have added an additional fan for our testing.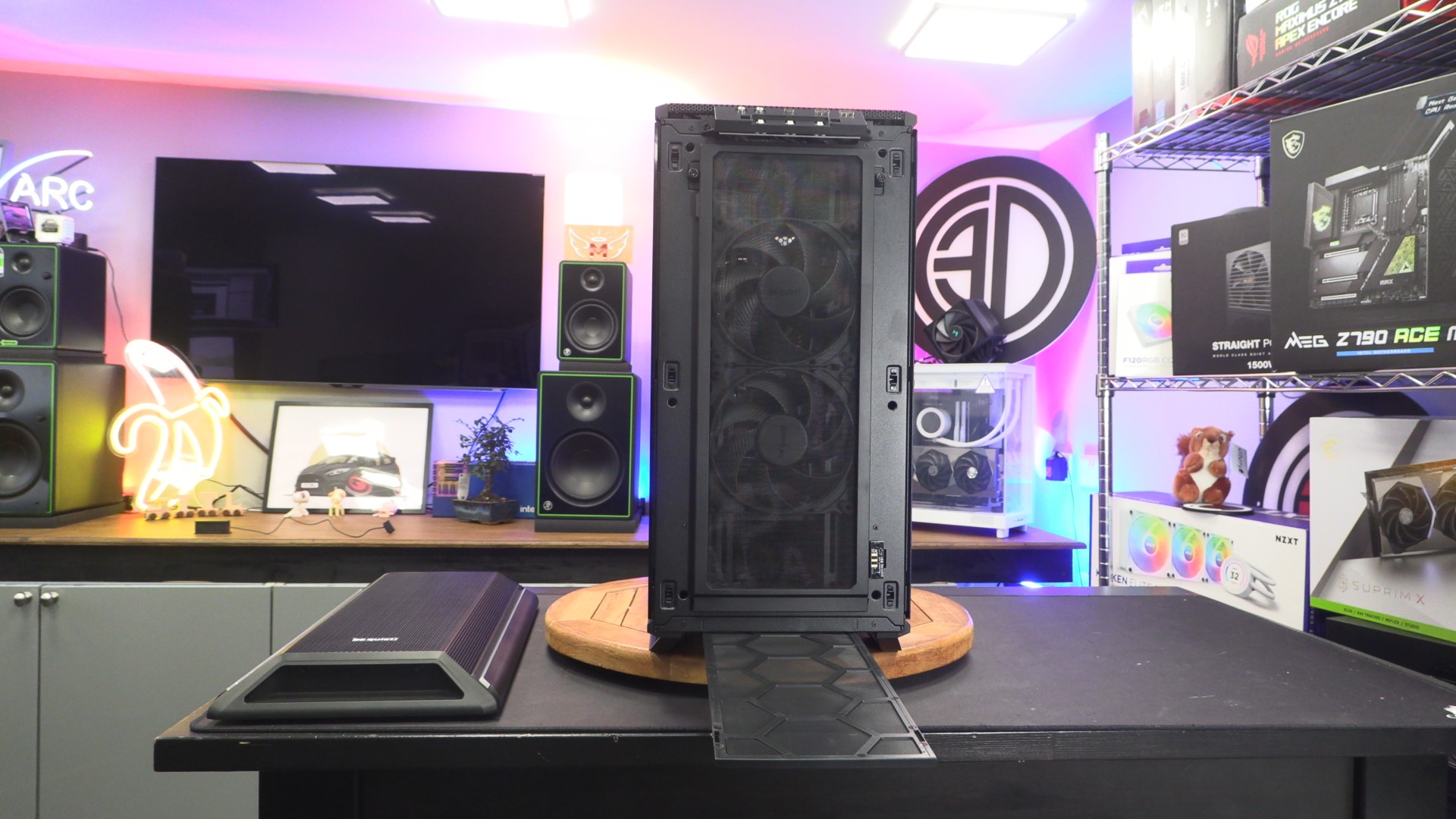 Like the case's top fan/radiator mount, the 701's front fan/radiator mount can be removed. This makes radiator/fan mounting an easy process, and makes it easier to install larger graphics cards.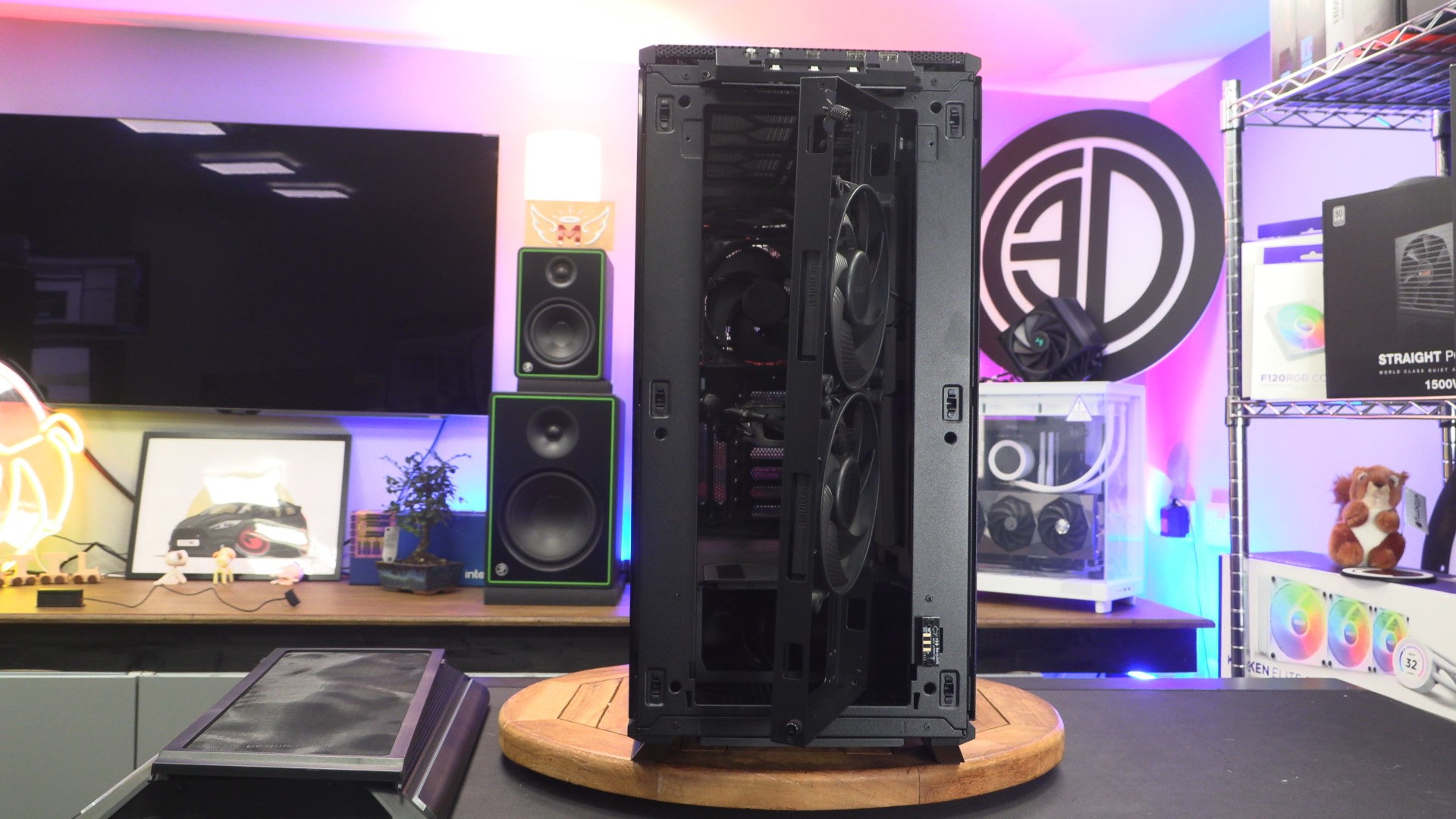 Cable Management
The be quiet Dark Rock 701 has plenty of space for cable management, and space to install up to five 2.5-inch drives or three 3.5-inch drives. The case comes pre-fitted with a fan/ARGB controller, which can be controlled through buttons on the case itself of through your PC's motherboard.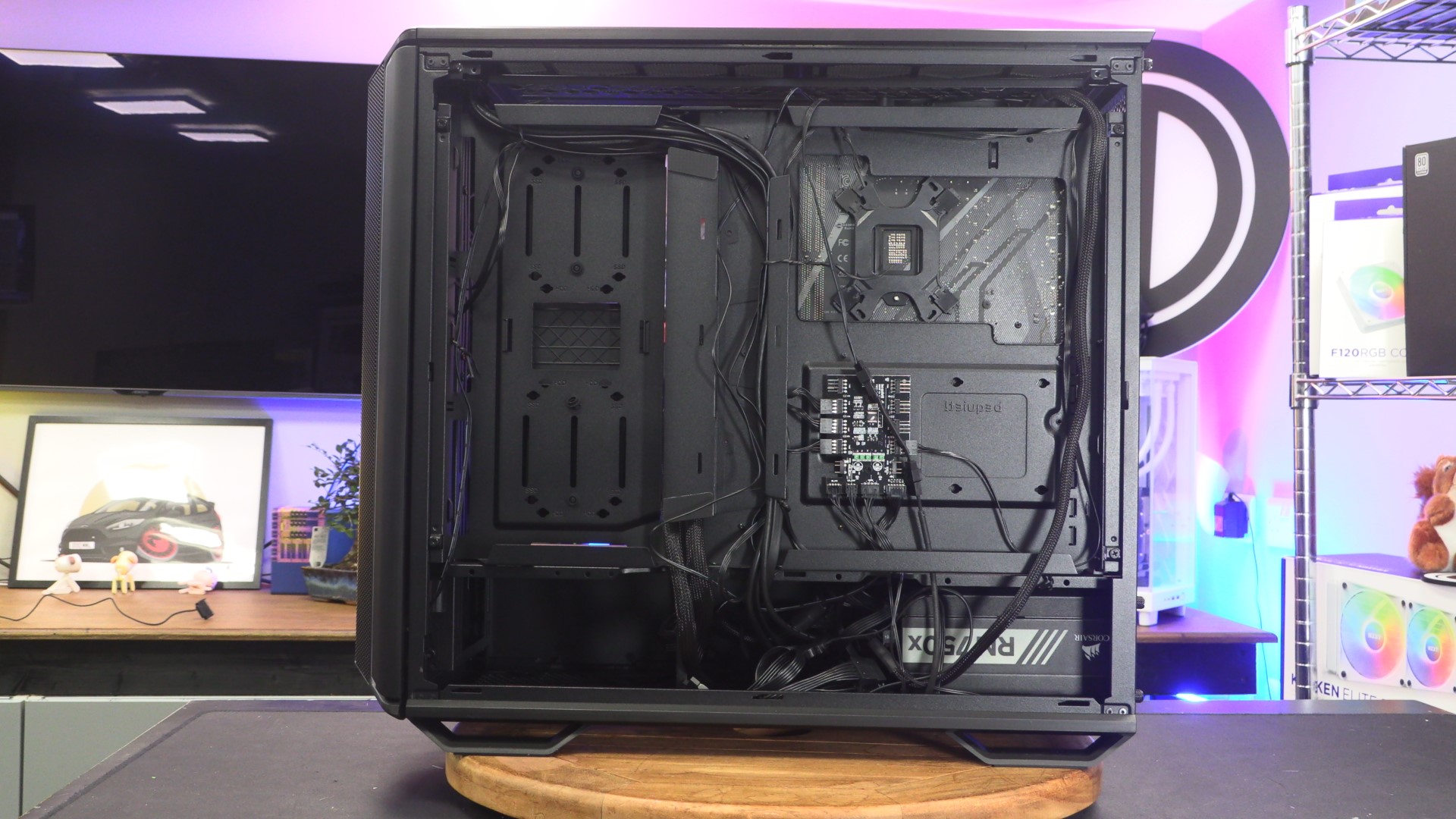 As you can see, be quiet's integrated fan controller has eight PWM fan outputs and two 3-pin 5V ARGB outputs. Since most RGB components of this type can be daisy-chained together, the lack of additional RGB control ports is not a major issue.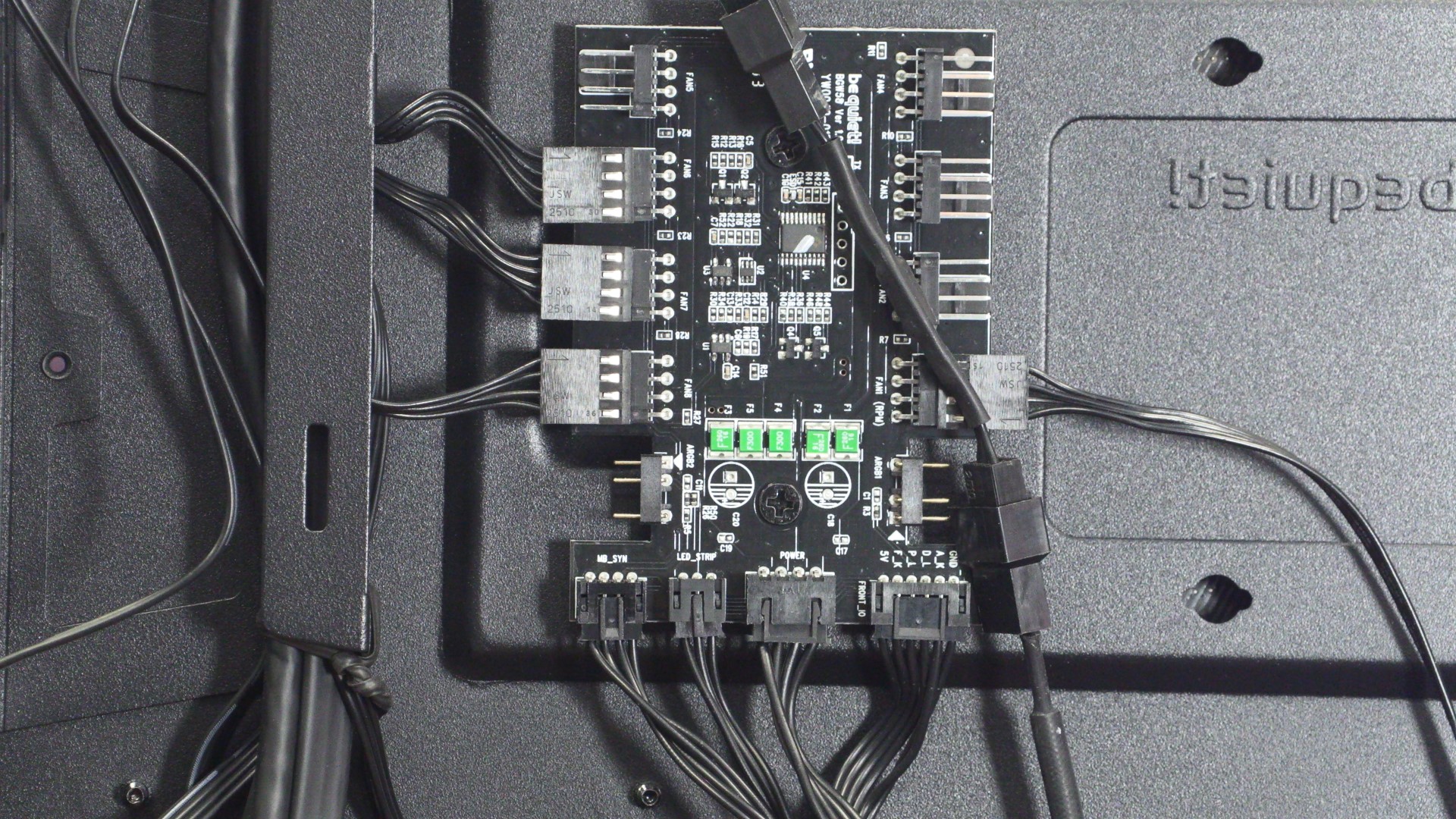 The Dark Rock 701 has enough space to accommodate large PC components. This includes PSUs that are up to 250mm long, EATX (up to 275mm wide) motherboards, and GPUs that are up to 430mm in length.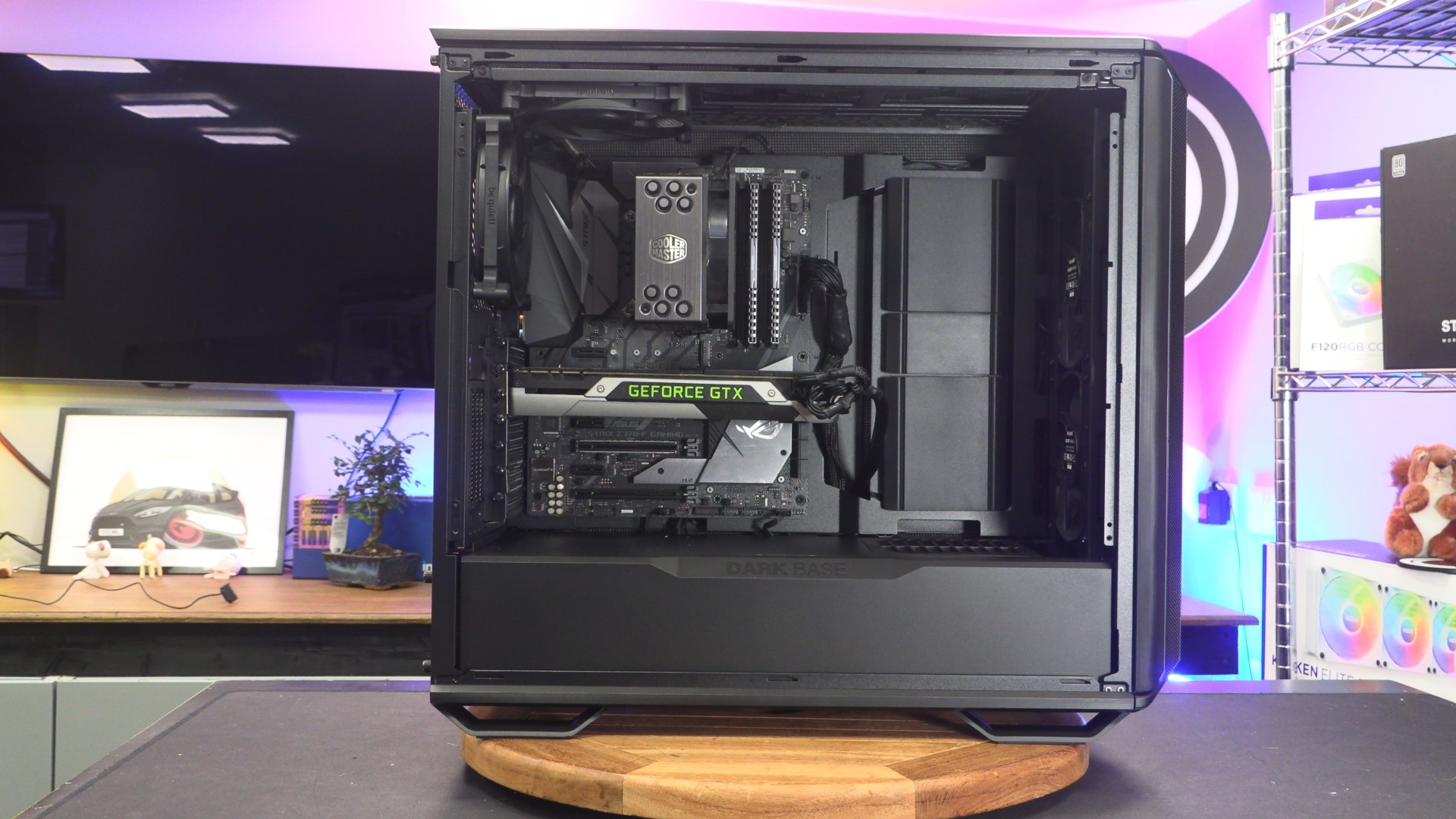 Underneath this case's PSU shroud is more than enough space for hide away your cable management sins. At the front of the case we also have a bottom mounted 120/140mm fan mounting location. This mount can be used to intake additional air.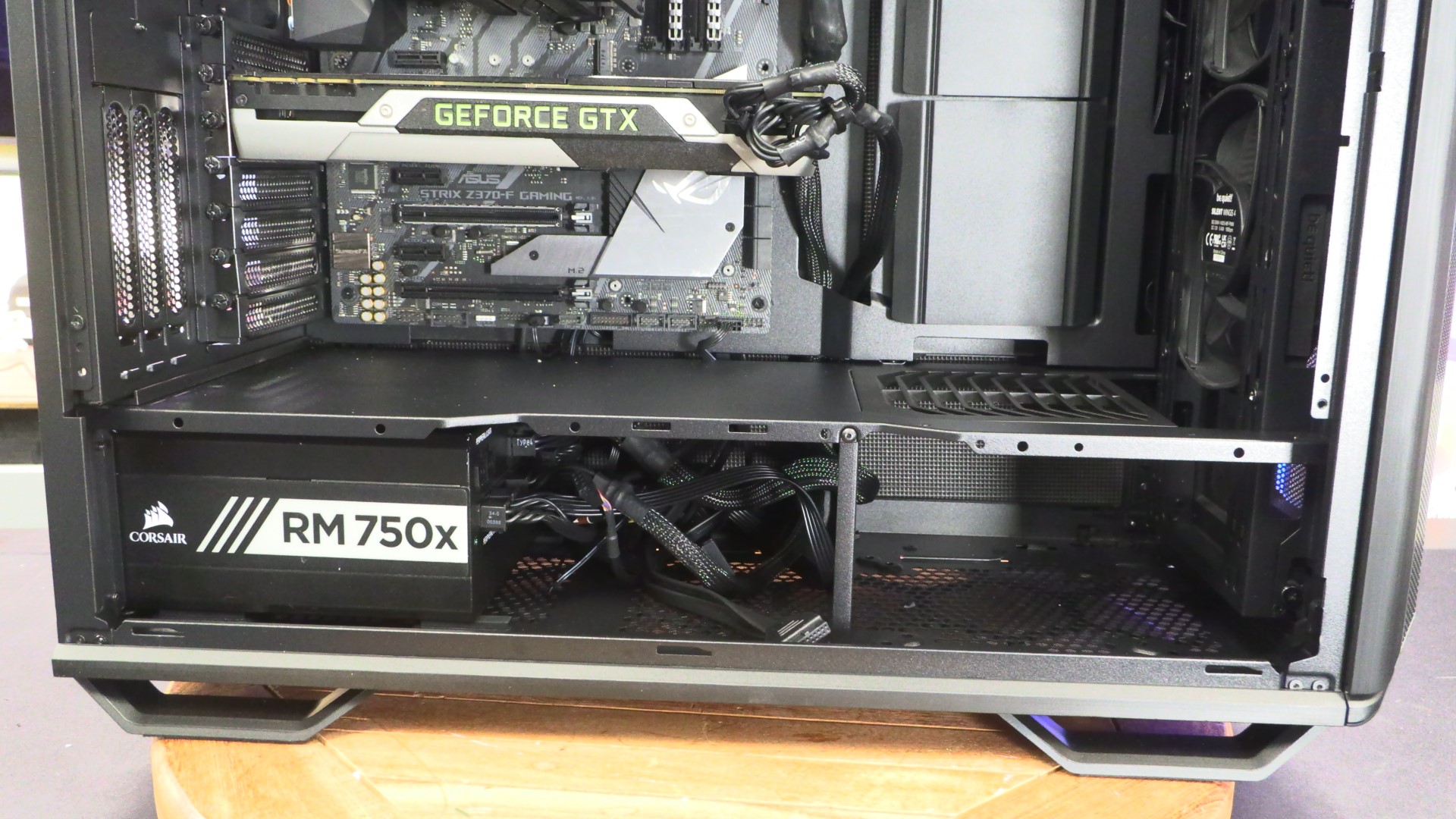 The Dark Rock 701 features two covers for the area below. There is the perforated cover, which is shown below, and a plain cover with no perforations. Sadly, when this cover is removed be quiet have not made the space this cover occupies large enough to accommodate a 120mm thick radiator. This means that users are restricted to radiator thicknesses of around 30mm at the front of the 701. Users can easily "fix" this with a Dremel, but it is a shame that be quiet didn't give us a few extra mm of clearance.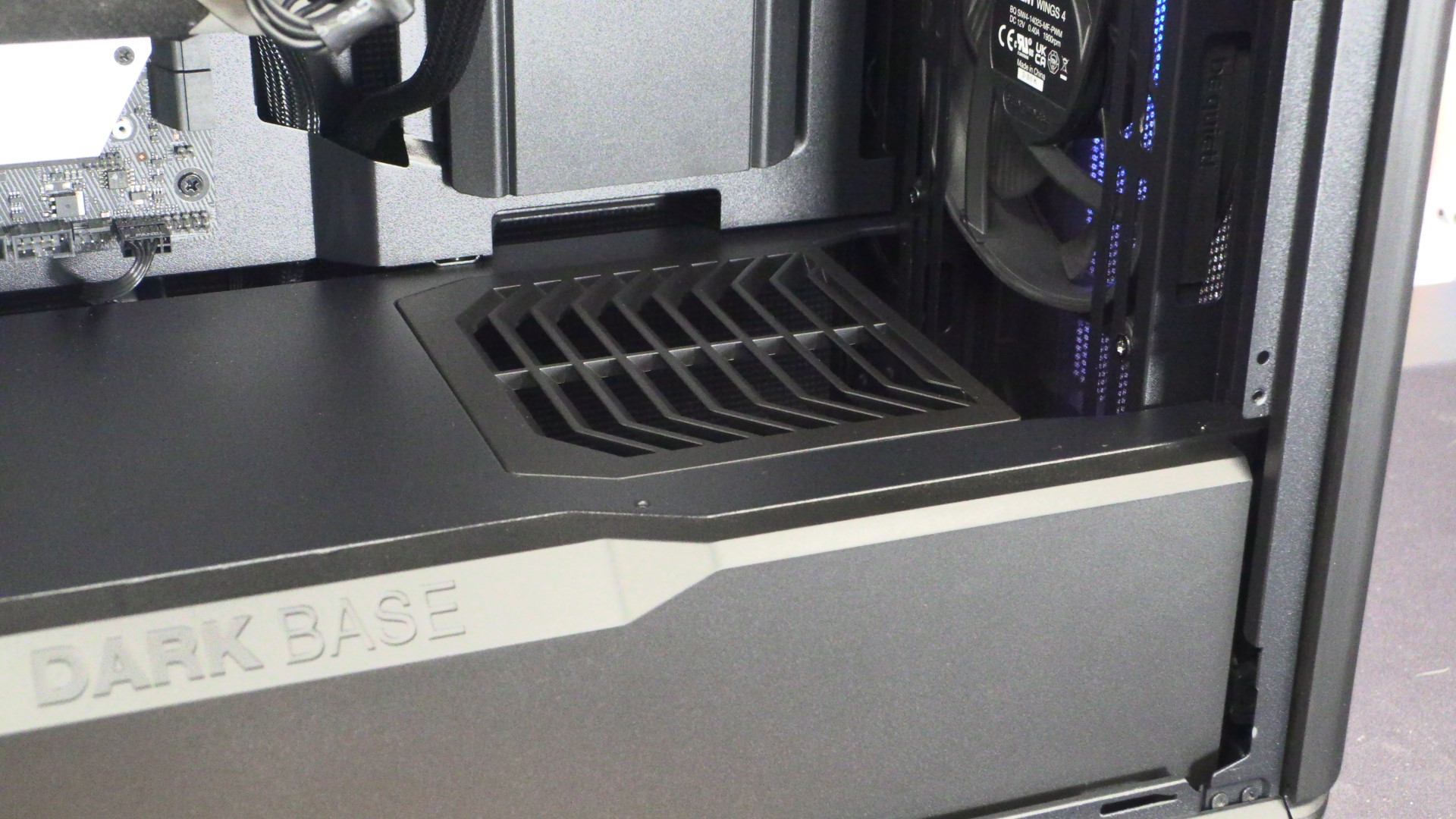 Case inversion
Users of the Dark Rock 701 can invert this case's motherboard to give the case an entirely new look. This option is great for users who want to set their PC at the right hand side of their desk, as it allows them to look into their case's window with ease. If you do not want this option, you don't need to use it, though it is a nice party trick.