be quiet! Dark Base 701 PC Case Review
Conclusion & Video Review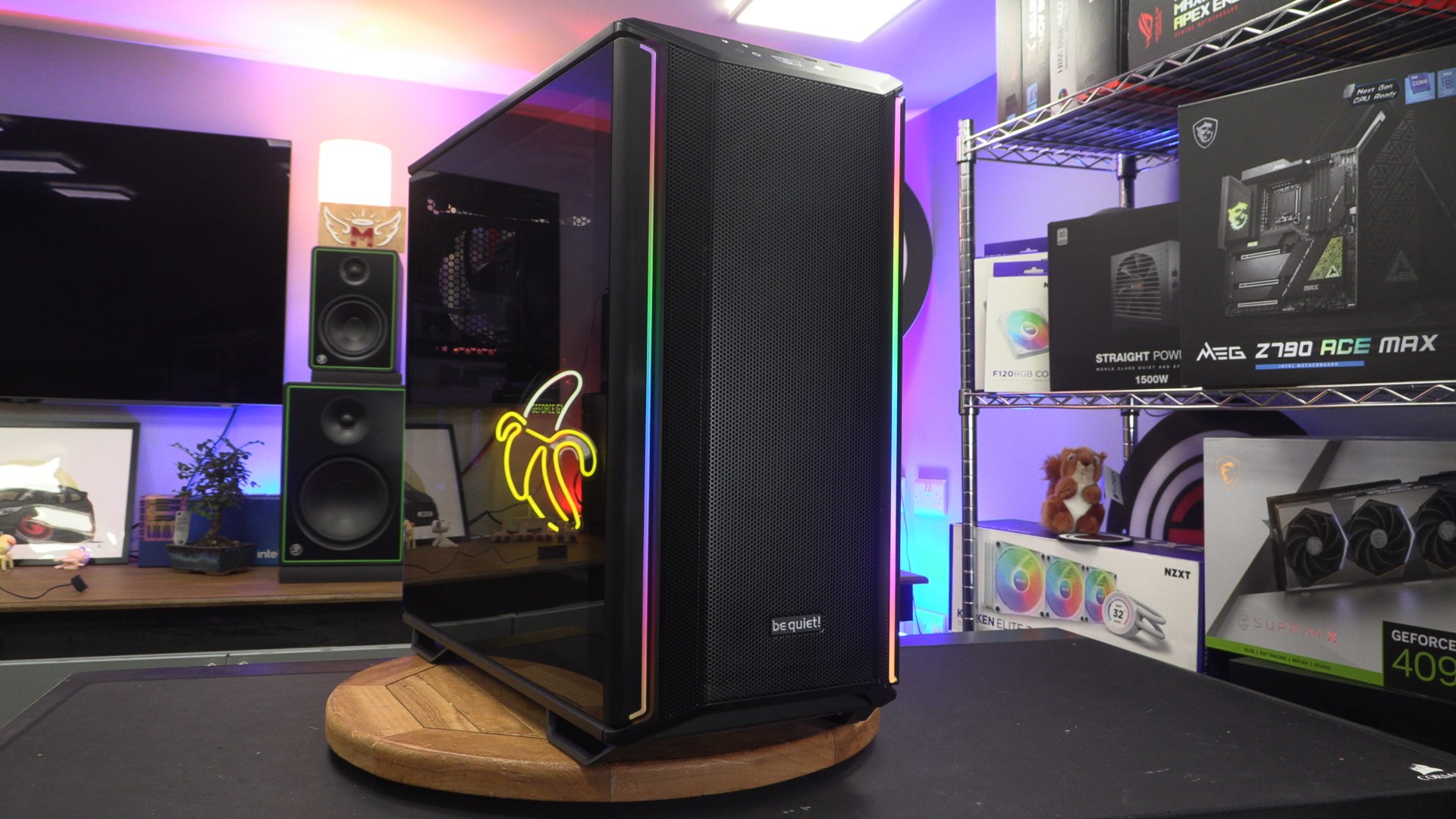 Conclusion – The Dark Base 701 is a solid design, but the Shadow Base 800 series muddies the water
In recent months we have reviewed both the be quiet! Dark Base PRO 901 and the Shadow Base 800 FX. Why are we mentioning this first? Simply because the Dark Base 701 is the "lower-end" version of the 901. Strangely, the Dark Base 701 is higher up in be quiet's case lineup than the Shadow Base 800 series, offering features like case inversion amongst other additions.
The reason behind the Dark Base 701's existence is because of changes within the wider PC market. GPUs and CPUs are now a lot more power-hungry than they were when the Dark Base 700 launched. Modern PC cases require more airflow than before, and that meant that case designs needed to change. Nvidia's GTX 1080 Ti had a TDP of 250W. A baseline RTX 4090 has a TDP of 450W. Those watts become heat, and that heat needs to be moved away from your components. This alone is a major reason why be quiet has revamped most of their case lineup this year.
A lot of space for large components
The 701 has a lot of space for large PC components, from EATX motherboards to 430mm long graphics cards. This case is capable of containing a beefy set of PC components, and its understated look makes it ideal for workstation PCs.

Noise-wise, this case's stock fans are quiet. be quiet definitely lives up to their name here. Out of the box, this case ships with three fans, though we expect most users to add more fans to this system. This case can accommodate up to eight 140mm fans, and it makes sense for these mounts to be used. This is especially true if you plan to use high powered PC components.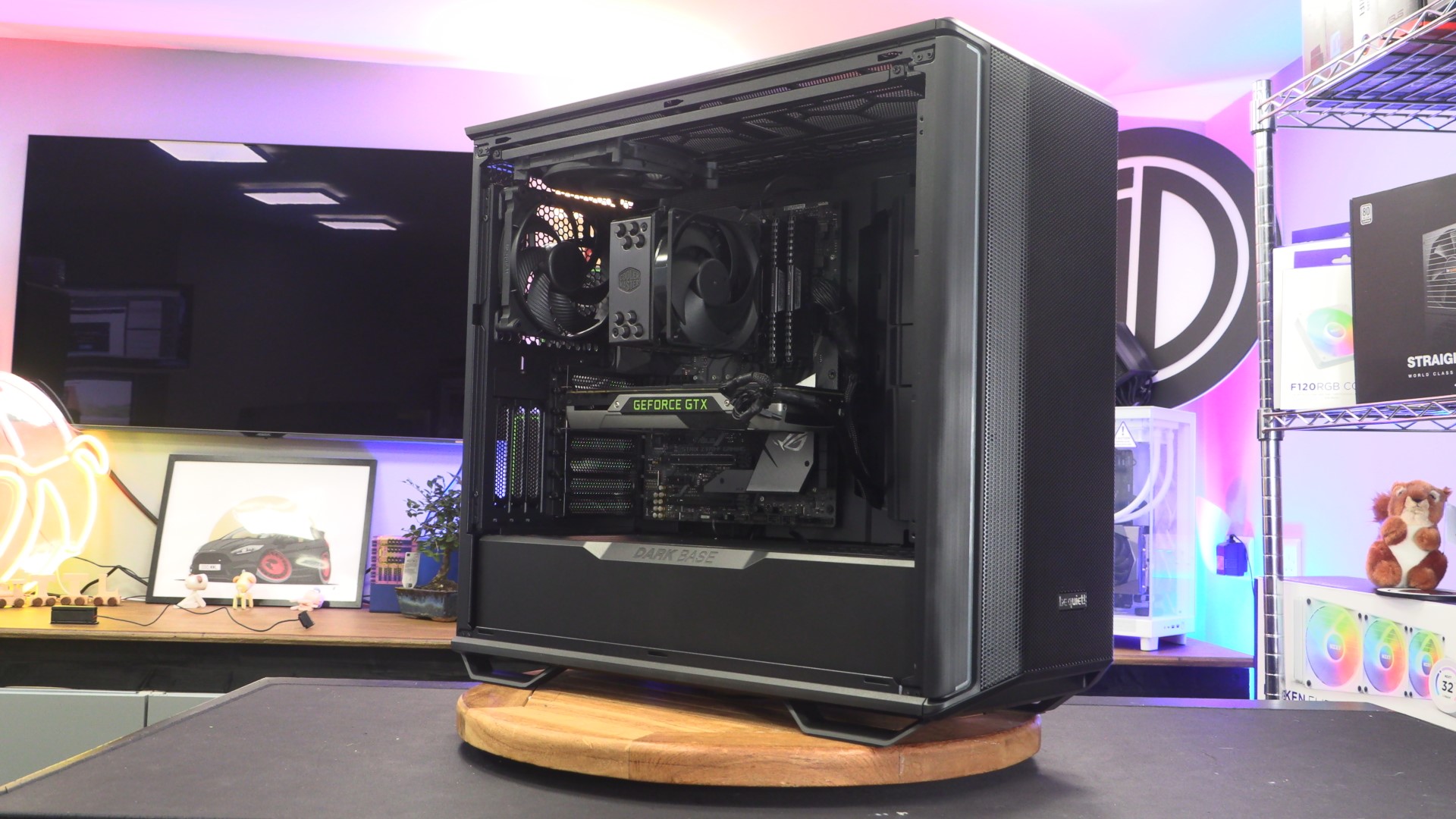 If you don't want to invert the Dark Base 701, you should consider the Shadow Base 800 series
Our only problem with the Dark Base 701 is that most purchasers should probably consider buying a case from be quiet's Shadow Base 800 lineup. The Shadow Base 800 has a similar feature set to the Dark Base 701, and all models within that series are more affordable. Yes, the Dark base 701 is better built, is somewhat larger, and has more options. That said, once your PC is built both cases are incredibly similar, unless you plan to use the 701 in its inverted layout.
Don't get us wrong, we like the Dark Base 701. The case is a joy to use, and it is very easy to build a PC with it. With more removable radiator plates, dedicated vertical GPU mounting slots, and a larger overall size, it is definitely an upgrade over the Shadow Base 800 series in many regards. Even so, every case in the Shadow Base 800 series is more affordable, and both cases have similar levels of GPU/motherboard support. Unless you plan to invert the 701, it is hard not to consider be quiet's Shadow Base 800 series as a viable alternative.
Overall, we like the Dark Base 701. This case is a great option for anyone who is considering large components and wants plenty of airflow options. We tested this case with two 140mm intakes, and you can add two more if you are using hotter hardware. Later this month, AMD will be launching their Ryzen Threadripper 7000 series processors, and the Dark Base 701 is an ideal case for a new high-performance Threadripper workstation. With this in mind, the be quiet! Dark Base 701 is more than deserving of the OC3D seal of approval.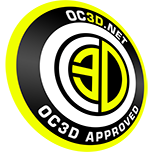 You can join the discussion on be quiet's Dark Base 701 PC case on the OC3D Forums.