Cooler Master MasterLiquid 360L Core ARGB White and PL360 Flux White Edition CPU Cooler Review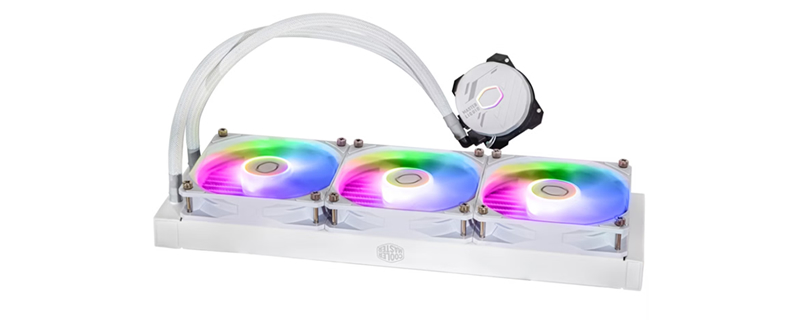 Thermal Testing – Solid performance for such a low cost ARGB AIO
As always, our CPU cooler testing has been conducted on an overclocked i9-9900K that is clocked at 4.8GHz at 1.2V. Using this configuration, we test the thermals of our processor using various CPU cooler under heavy loads under OCCT for 30 minutes. This testing is repeated at various fan RPMs, allowing us to create the chart below. 
Today the highlight of our testing is Cooler Master's new MasterLiquid 360L Core ARGB White CPU liquid cooler, which costs £109.99 in the UK. This is a lot less than most modern 360mm AIO liquid coolers, especially those that feature a full set of ARGB fans. For example, EK's Nucleus CR360 (360mm) Lux D-RGB AIO costs £189.99, making it over 72% more expensive. Below, you can see that Cooler Master's MasterLiquid only sees our i9 processor running three degrees hotter when both AIOs have their fans running at 1500 RPM. That's solid performance given the 360L Core's pricing. 
On their higher-end of Cooler Master's product stack is their MasterLiquid PL360 Flux White Edition, which can be purchased for around £159.99 in the UK. Again, this is cheaper than EK's Nucleus CR360 (360mm) Lux D-RGB AIO, and its cooling performance is very similar. Yes, the EK AIO delivers stronger cooling performance, but the MasterLiquid PL360 Flux delivers very similar results at a lower price. This AIO is a great middle-ground between EK's Nucleus CR360 and Cooler Master's impressive MasterLiquid 360L Core ARGB White liquid cooler.


Conclusion – Great value for money?