Flat Packed PC Case! – Cooler Master QUBE 500 Review
Introduction – Cooler Master has created the first mass market flat lacked PC case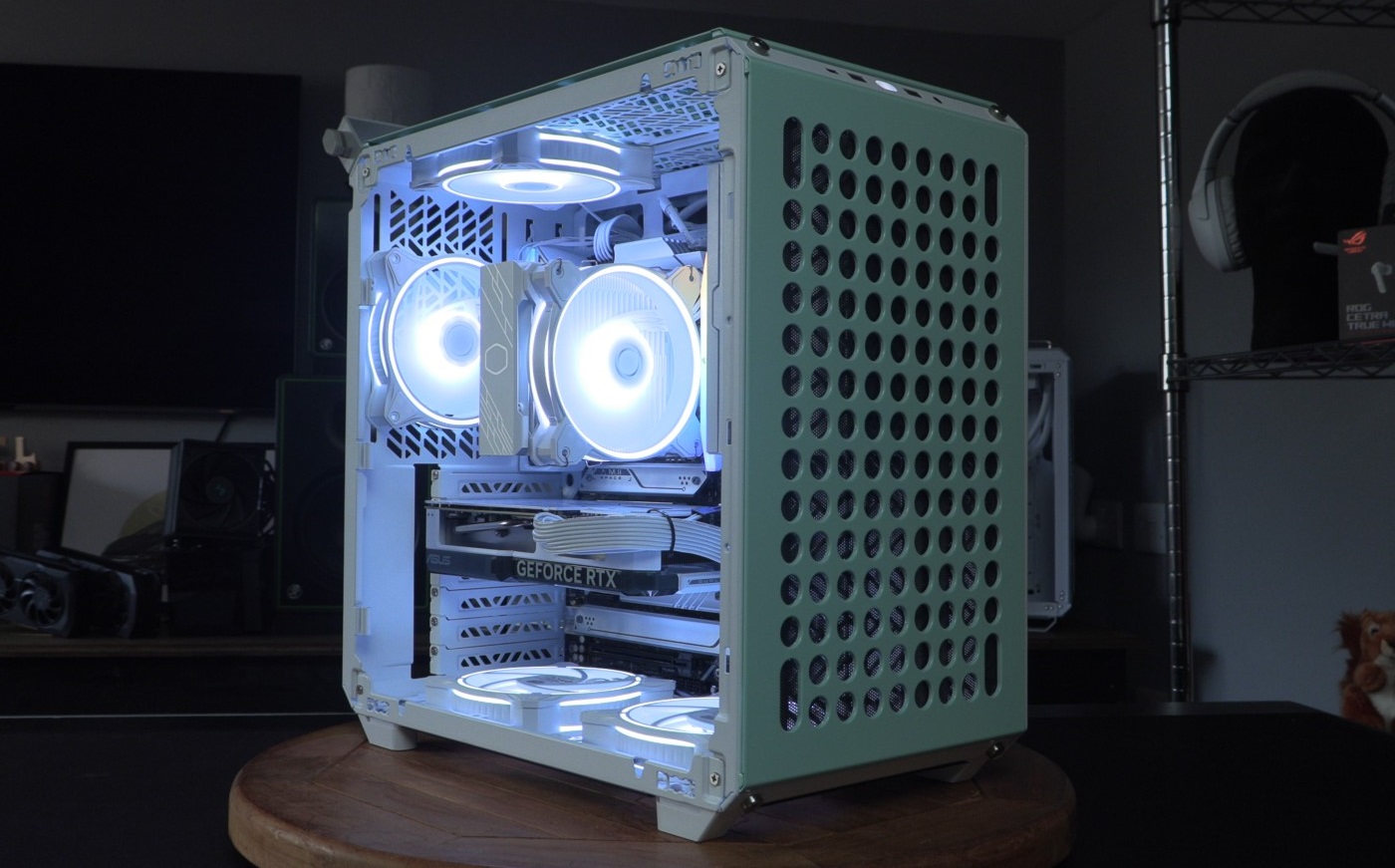 Cooler Master takes PC case design in a bold new direction
Cooler Master has taken a bold step with their new QUBE 500 PC case. They are asking you to build their newest case design, not to build a system inside of it. You see, the Cooler Master QUBE 500 is a flat packed PC chassis, and this design decision has a lot of benefits.
Eco-consciousness was high on Cooler Master's list of priorities when making their QUBE 500. Flat packed PC products can be stored and shipped more easily. Beyond that, Cooler Master says that if they shipped this case assembled, it would require 45% more packaging.
So is this case design a simple cost-cutting exercise from Cooler Master? No, it isn't. The QUBE 500 isn't much cheaper to produce than a normal PC case. Simply put, this case's panels to be more rigid than normal PC cases to survive shipping. The good news is that the case panels of the Q500 are very solid, even as standalone components.

Today, we are building a full system inside Cooler Master's new Q500 PC case as part of our review process.
An ultra-compact PC case with EATX motherboard support
The QUBE 500 is a tiny case, at least when compared to other cases that support ATX, and even EATX, motherboards. With its 406 x 231 x 415 dimensions, this case is incredibly compact, and its included carry handle makes this case ideal for making a LAN PC or a high-end portable workstation.
With EATX motherboard support, QUBE 500 users can build huge Intel Xeon or AMD Threadripper systems inside this case. Yes, you will need an SFX PSU to fit an EATX motherboard (width up to 296mm), but it is possible. This case may be small, but it has a lot of room for activities.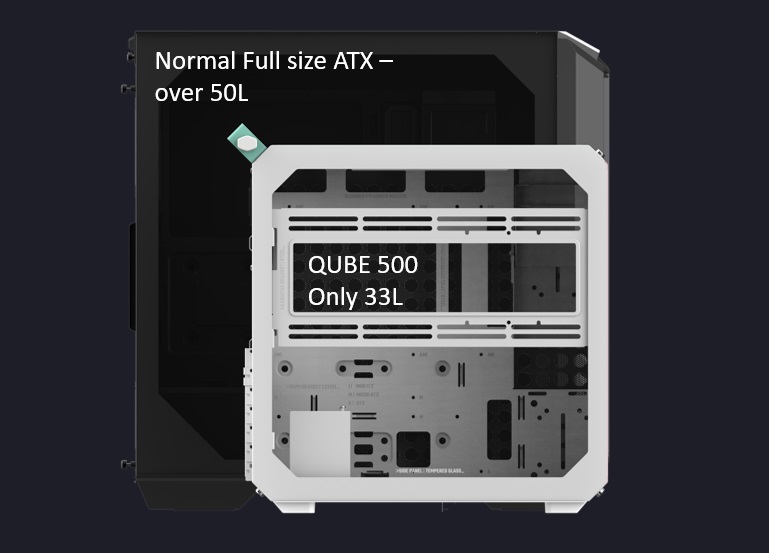 Flat packing a PC case
We've already talked about the flat packed nature of the QUBE 500. So it should be unsurprising that this case arrives as a box of panels. Unlike most PC cases, the QUBE 500 comes with a detailed instruction manual. The good news is that these instructions are easy to follow. If you can build something from Ikea, you can build a Cooler Master QUBE 500.
One case, three SKUs
At launch, the QUBE 500 will ship in three forms. For this review we have the Macaron Limited Edition, which ships with Mint, Cream, and Pink panel options. This models also comes with an RGB fan, and two accessories hooks. Alternatively, there are this case's Black and White Editions, which will ship with a non-RGB fan and either black or which filter panels.
As the name suggests, the Macaron Limited Edition will be available for a limited time. The Black and White versions of this case will be more readily available. That said, QUBE 500 users can easily paint this case whatever colour they want. All of the panels are already separated and ready for painting.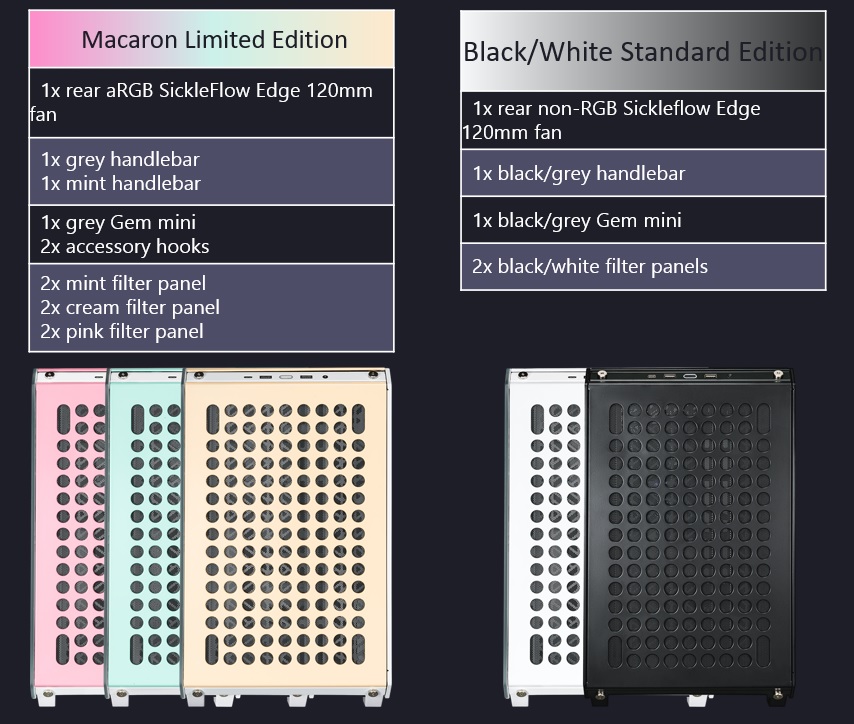 Build it your way
There are a lot of ways that you can build an QUBE 500. This motherboard can be used as a test bench, it can be set up in a "mirror mode", it can be placed on its side like Cooler Master's old HAF XB chassis. The QUBE 500 can even be used with your motherboard's rear I/O at the top of the case for easy access.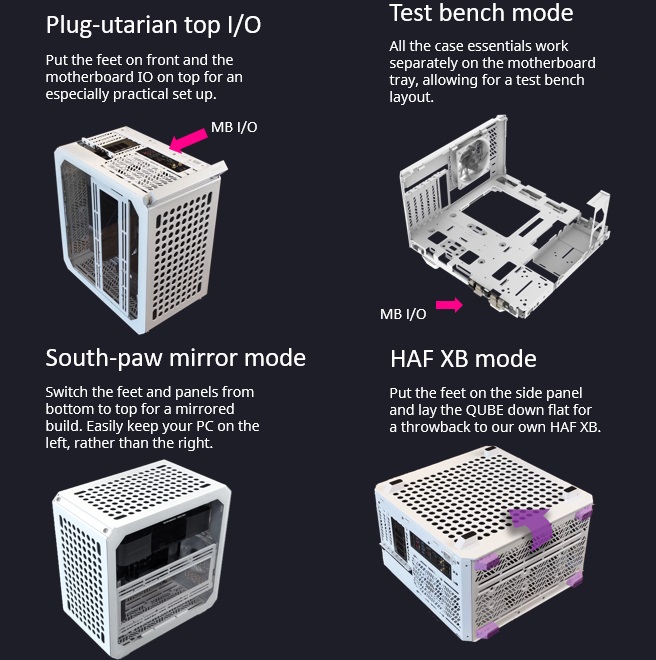 3D Printing with the QUBE
Cooler Master's new QUBE 500 PC case was designed with 3D printing in mind. In collaboration with Prusa, Cooler Master have invited their community of modders to create and share their own QUBE add-ons with each other at Printables.com. Cooler Master has already created some of their own add-ons to get the ball rolling.
Below we can see designs that Cooler Master have created. Below we have cup holder for the QUBE, a shelf holder, and a camera mount.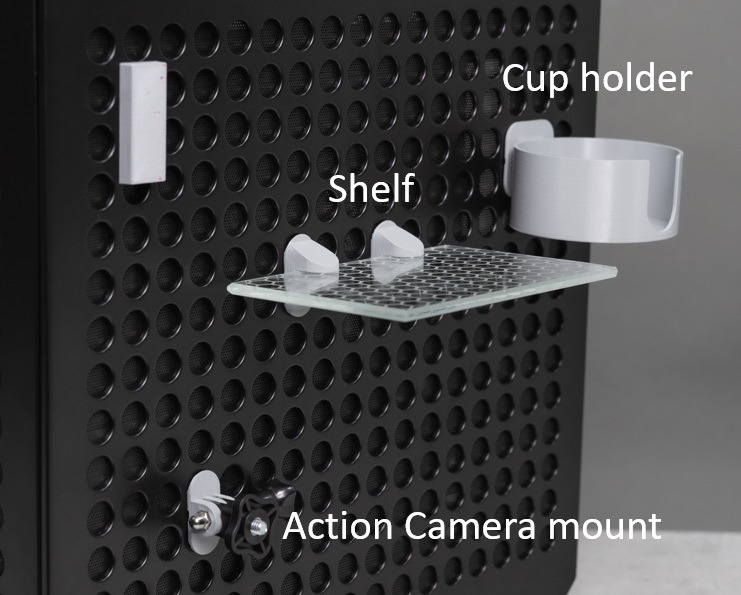 Cooler Master QUBE 500 Specifications
Out of the box the QUBE 500 is a blank canvas. Its level of hardware support depends heavily on what you want to do with the system. It can fit EATX motherboards with SFX power supplies, it can support up to four 3.5-inch HDDs in the right configuration. Liquid cooling enthusiasts can even fit two 280mm radiators and one 240mm radiator inside this case simultaneously. That's is a serious amount of rad space for a case of this size.