Flat Packed PC Case! – Cooler Master QUBE 500 Review
The build – Up Close with the Cooler Master QUBE 500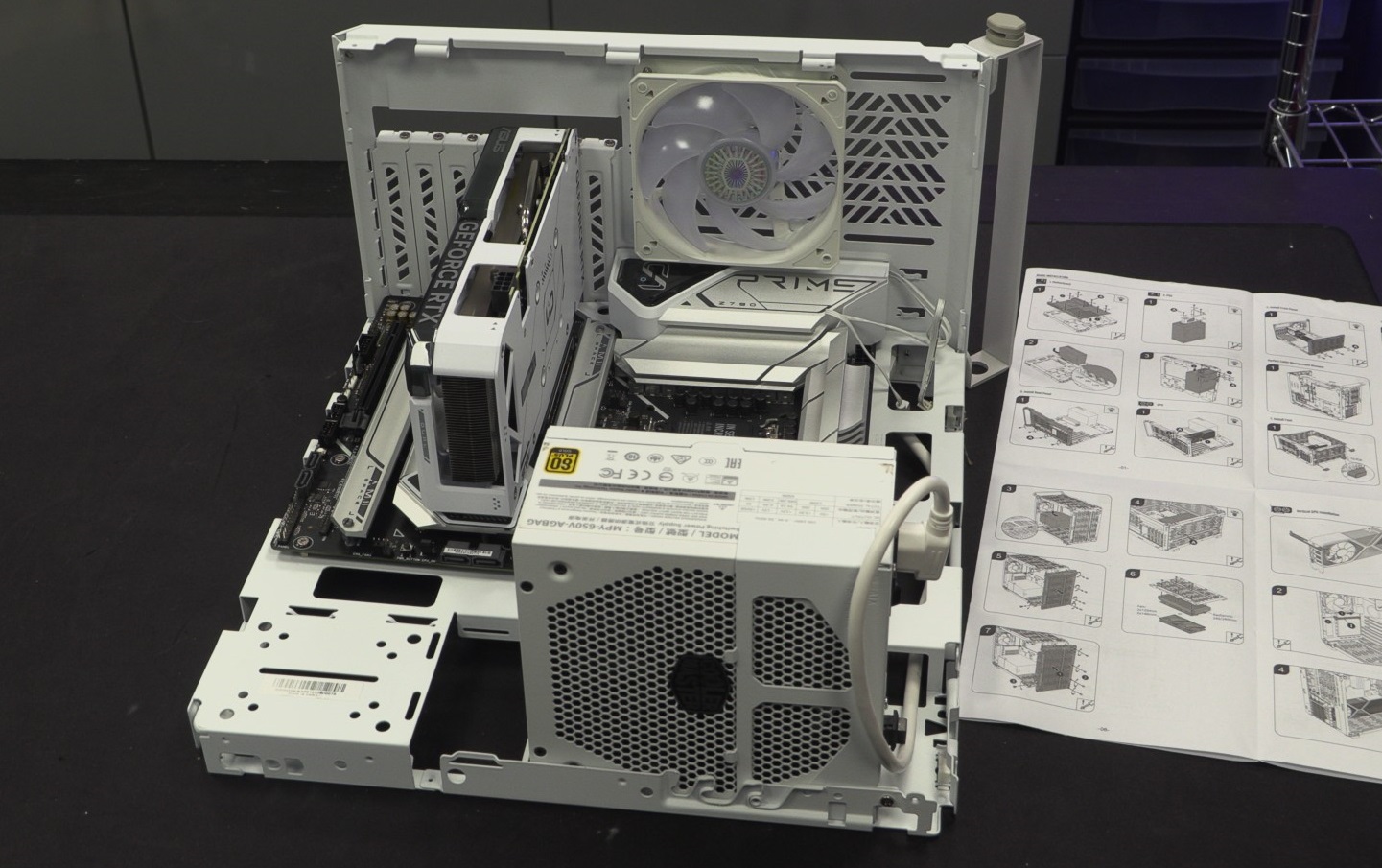 A shockingly small box
Cooler Master's latest case ships in an incredibly small box. I guess that is to be expected from a flat packed PC case. We have seen motherboards and GPUs ship in larger boxes than this. Let's just say that we never expected to see a case with EATX motherboard support ship in such a small box.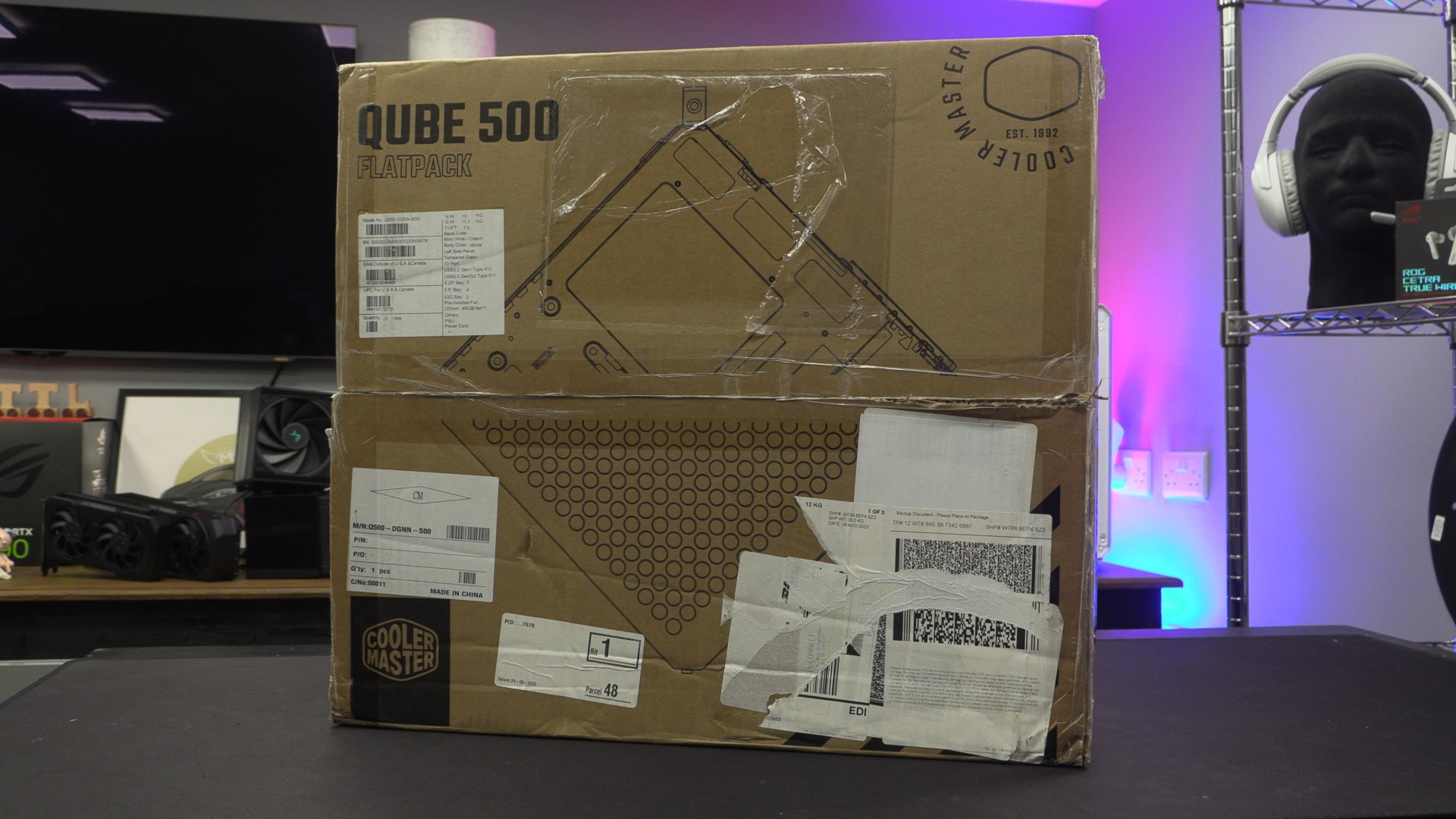 Once we open the box, we are greeted with the message "Don't sweat it, you got this", and a QR code for Cooler Master's video manual. Written instructions are also available if you don't want to use a video guide. The box itself also contains a few useful steps.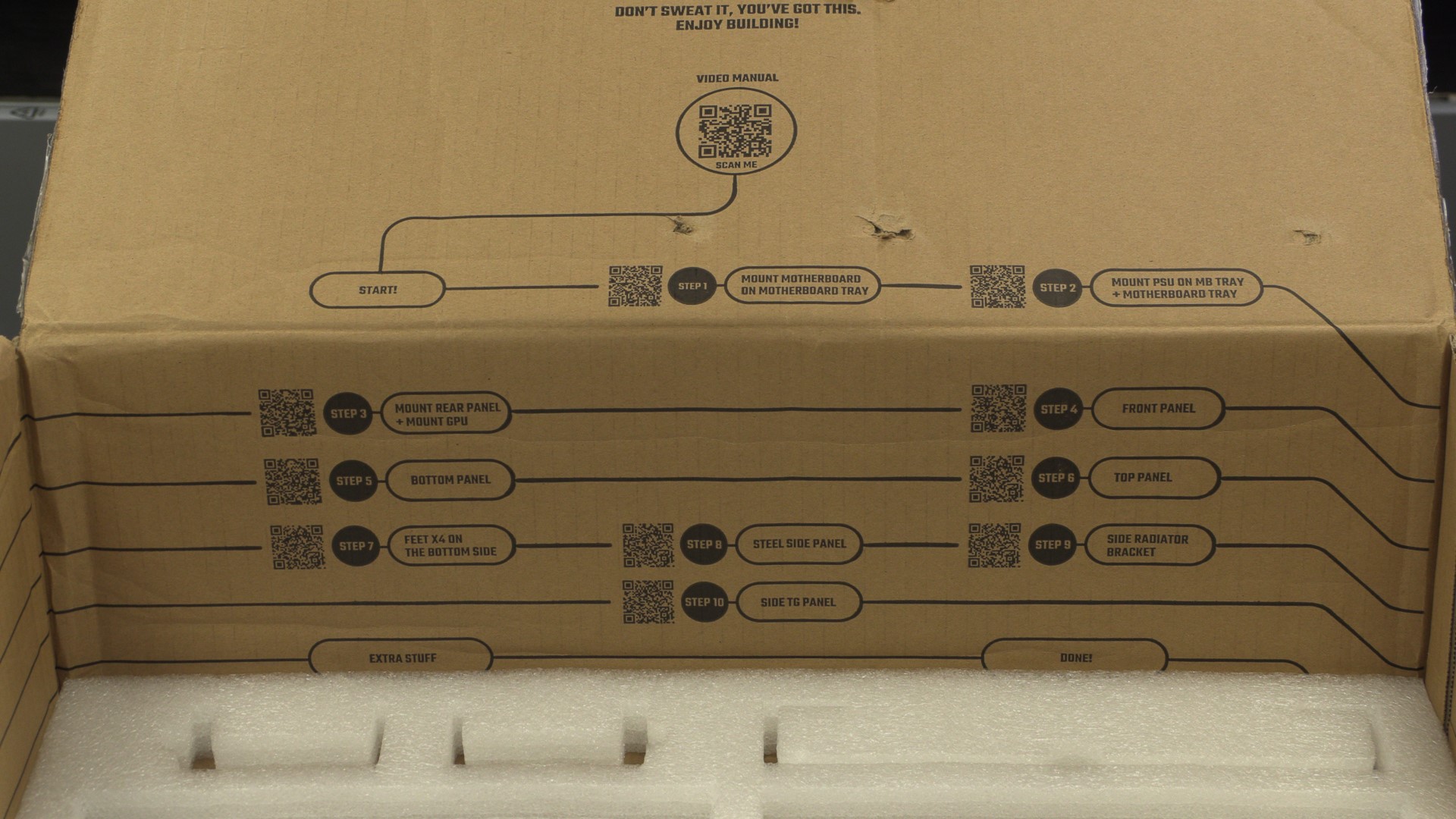 Build the QUBE 500 around your PC
When building the QUBE 500, Cooler Master wants your to build your PC while you build their case. Simply put, it is a lot easier to build a PC as your build the case than attempting to install components afterwards. This way, you install parts when your case is in its most accessible state. This makes the PC building process easy, and refreshingly different if you have been a PC builder for a long time.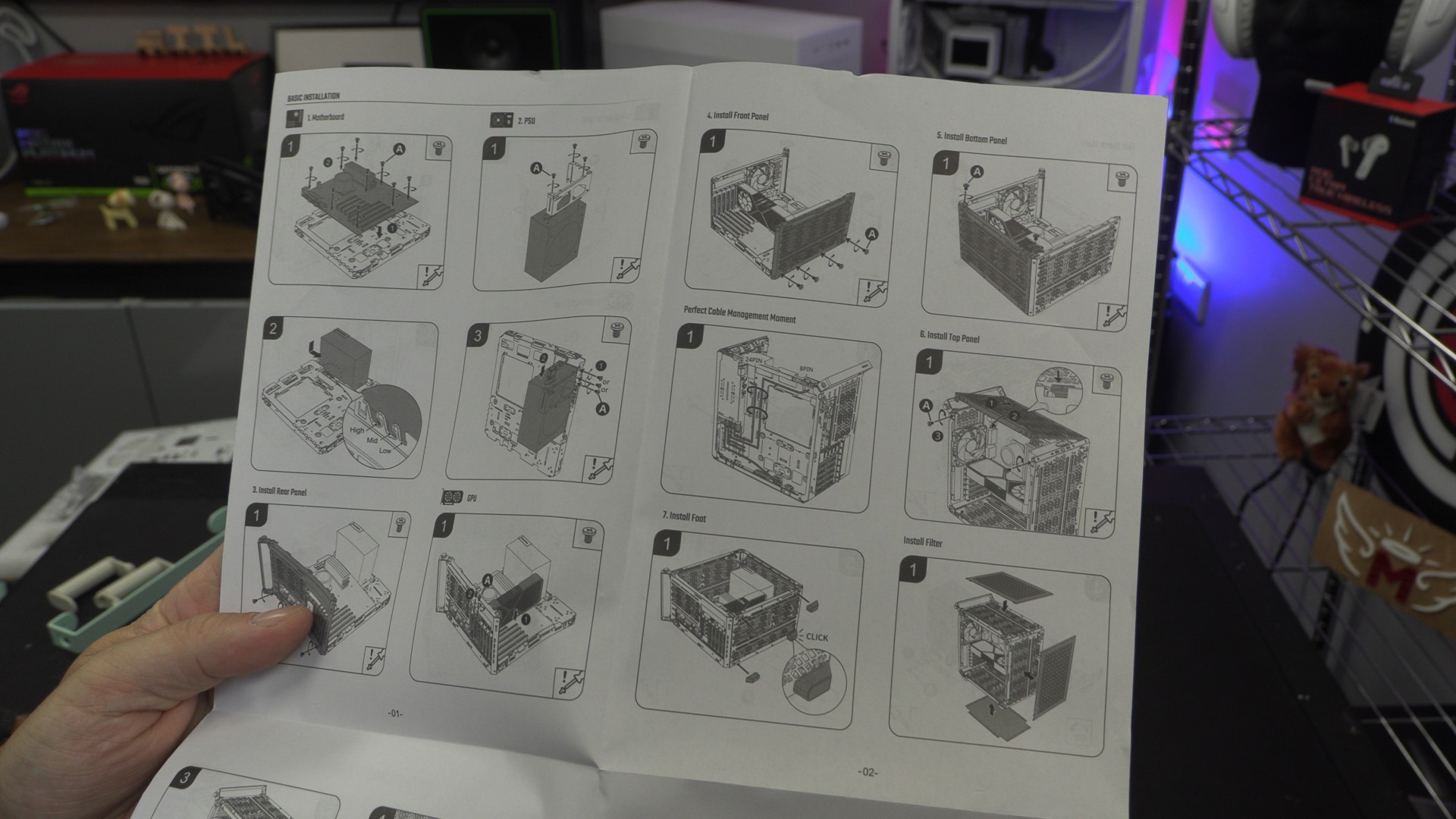 A Cooler Master Test Bench
Early on in the building process, you will have created a test bench using the QUBE 500. If you want a test bench and not a full system, you can almost end your case build here. There is even an option to mount the case's I/O plate onto this test bench configuration.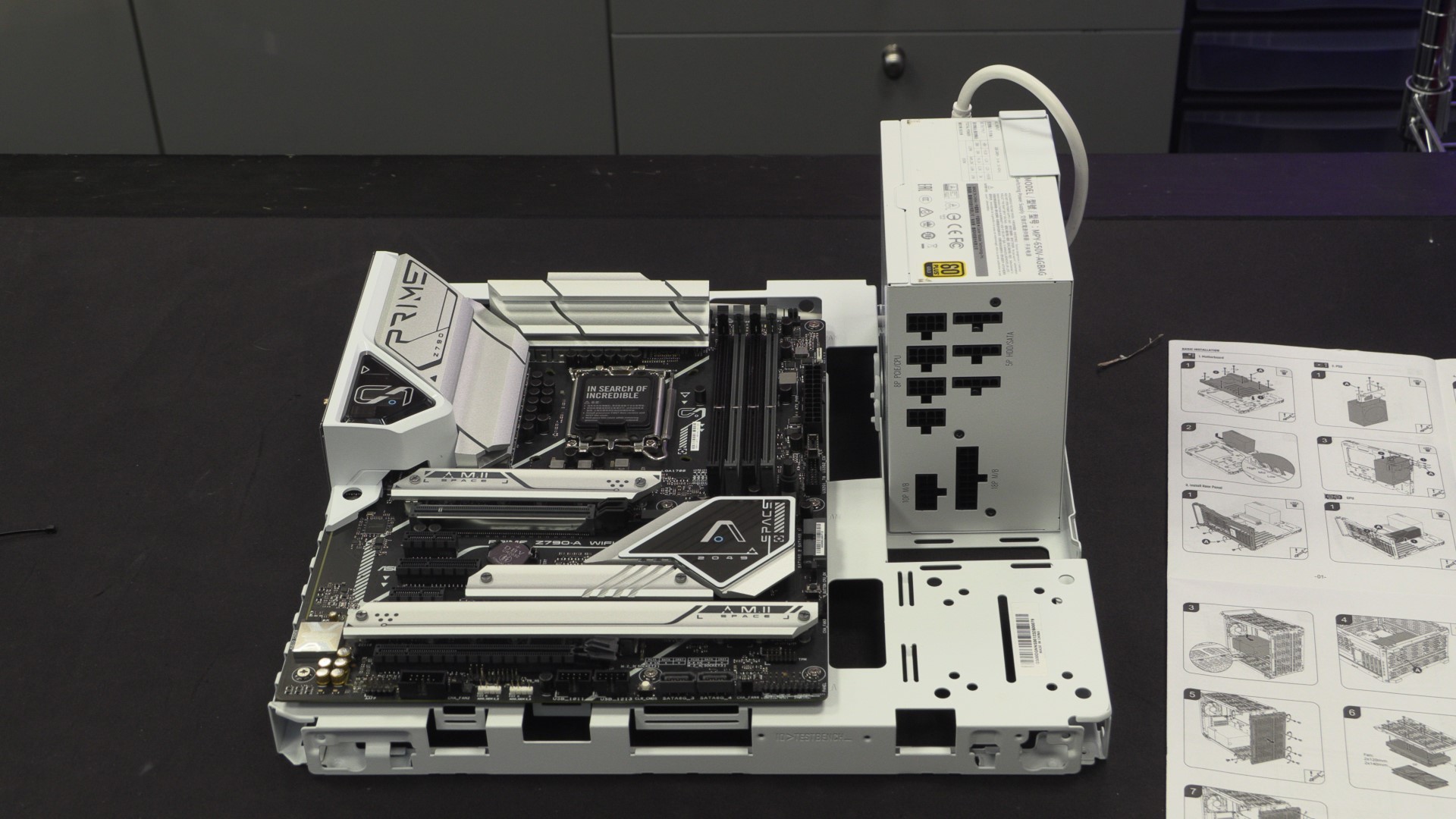 Once you have installed the back of the case, you will have pretty much created an ideal PC test bench using Cooler Master's flat packed kit.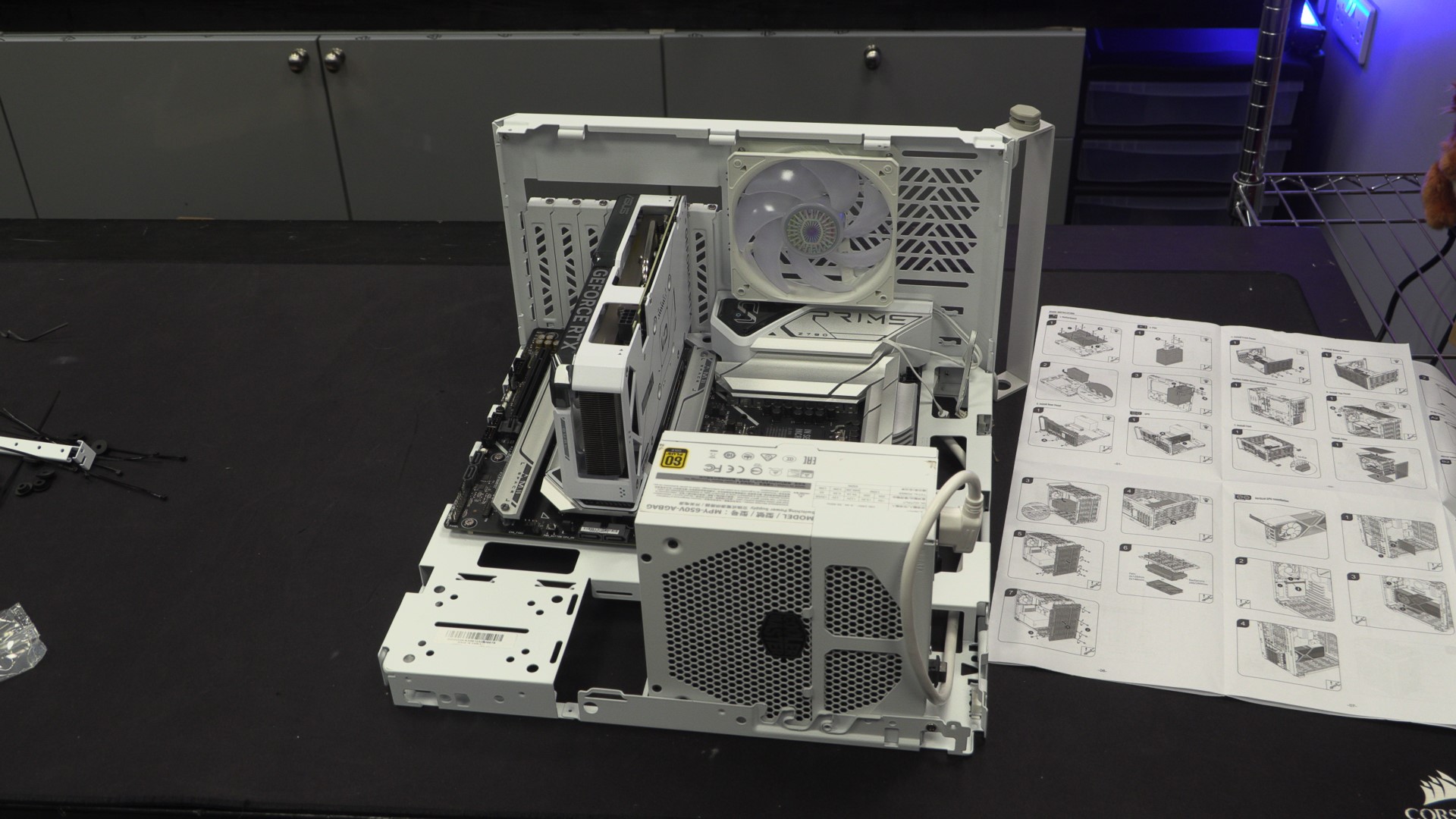 From this stage, adding the QUBE 500's remaining panels is a simple process. From here, you basically have a full PC case. Just add your filter panels, side panels, and PC cabling and your are finished.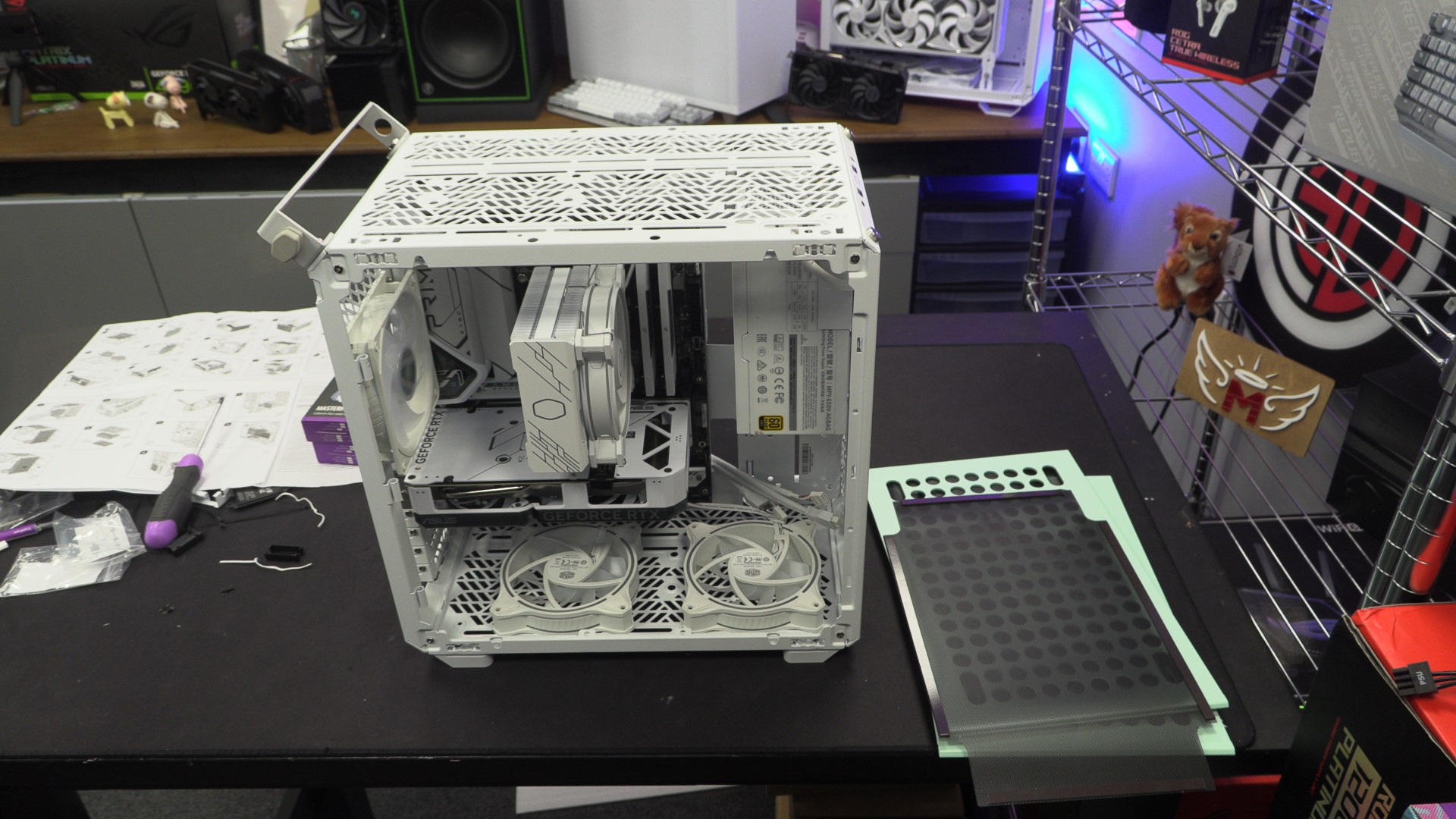 What we have now is an incredibly compact ATX system, complete with am i7-13700K processor, an ASUS Dual RTX 4060 Ti graphics card, and a white Cooler Master ATX power supply. We could have easily fitted a larger motherboard and a larger graphics card within this system with an SFX power supply. We also could have added a much larger CPU cooler than Cooler Master's Hyper 212 Halo, or even an all-in-one CPU liquid cooler.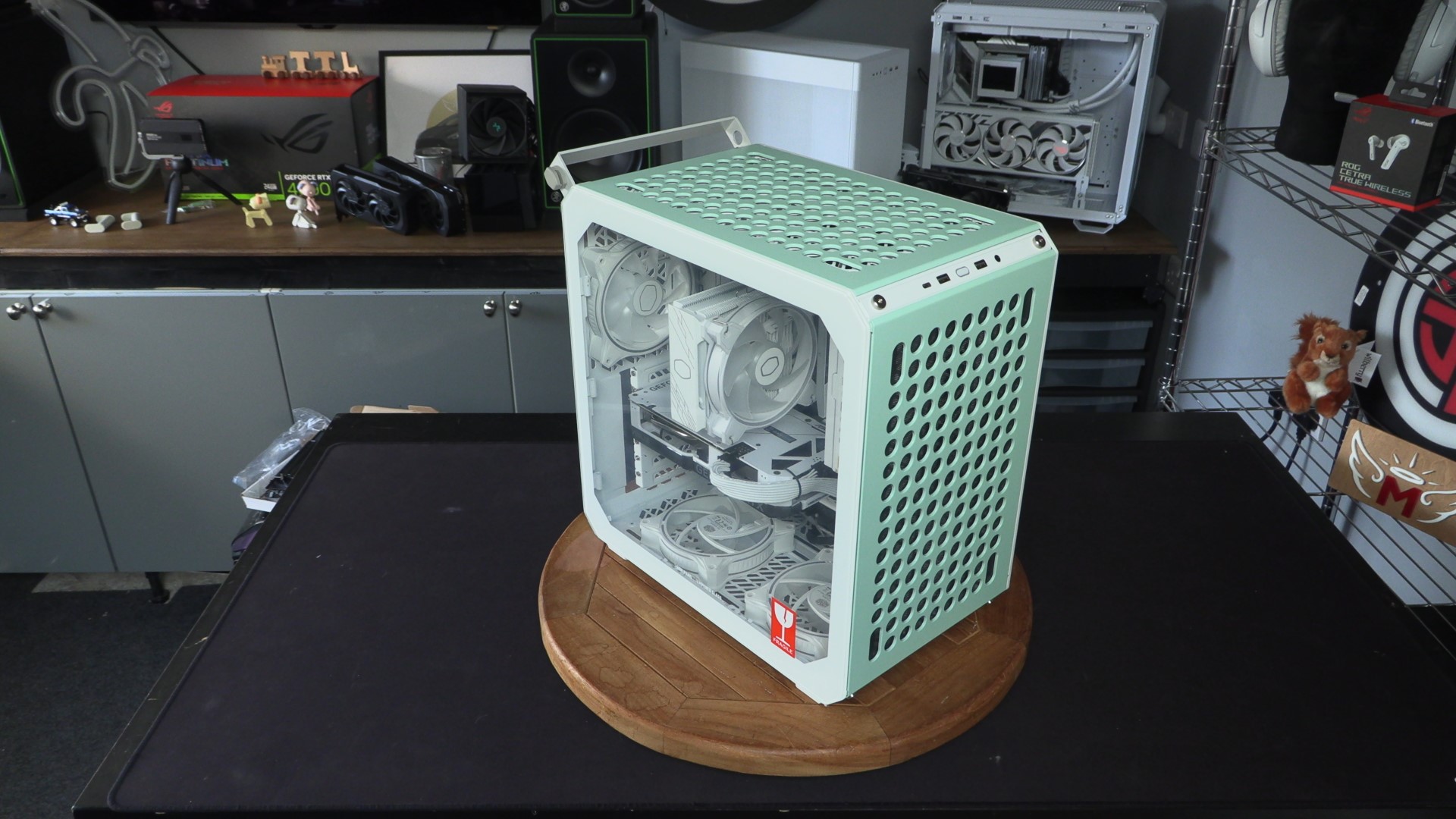 Every front panel connector should look like this!
One thing that I want to praise Cooler Master for is their use of a combined front I/O panel connector. Installing this cable is simplicity itself, and too many case manufacturers still use the split apart I/O connectors of yesteryear. All modern motherboards support this new style of connector. It's time for other case manufacturers to move on!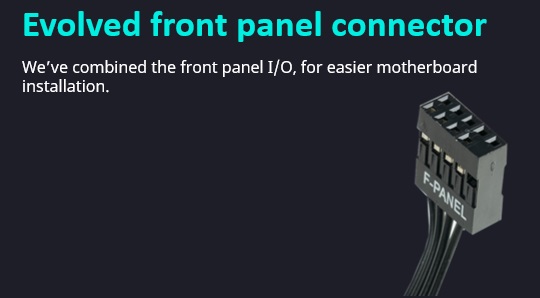 At the rear of the QUBE 500 is a power connector that can transfer power from the back of your PC and into your power supply. This is how Cooler Master are able to mount their PSU in such an odd location. They even went to the effort to make this cable white. Now that's attention to detail.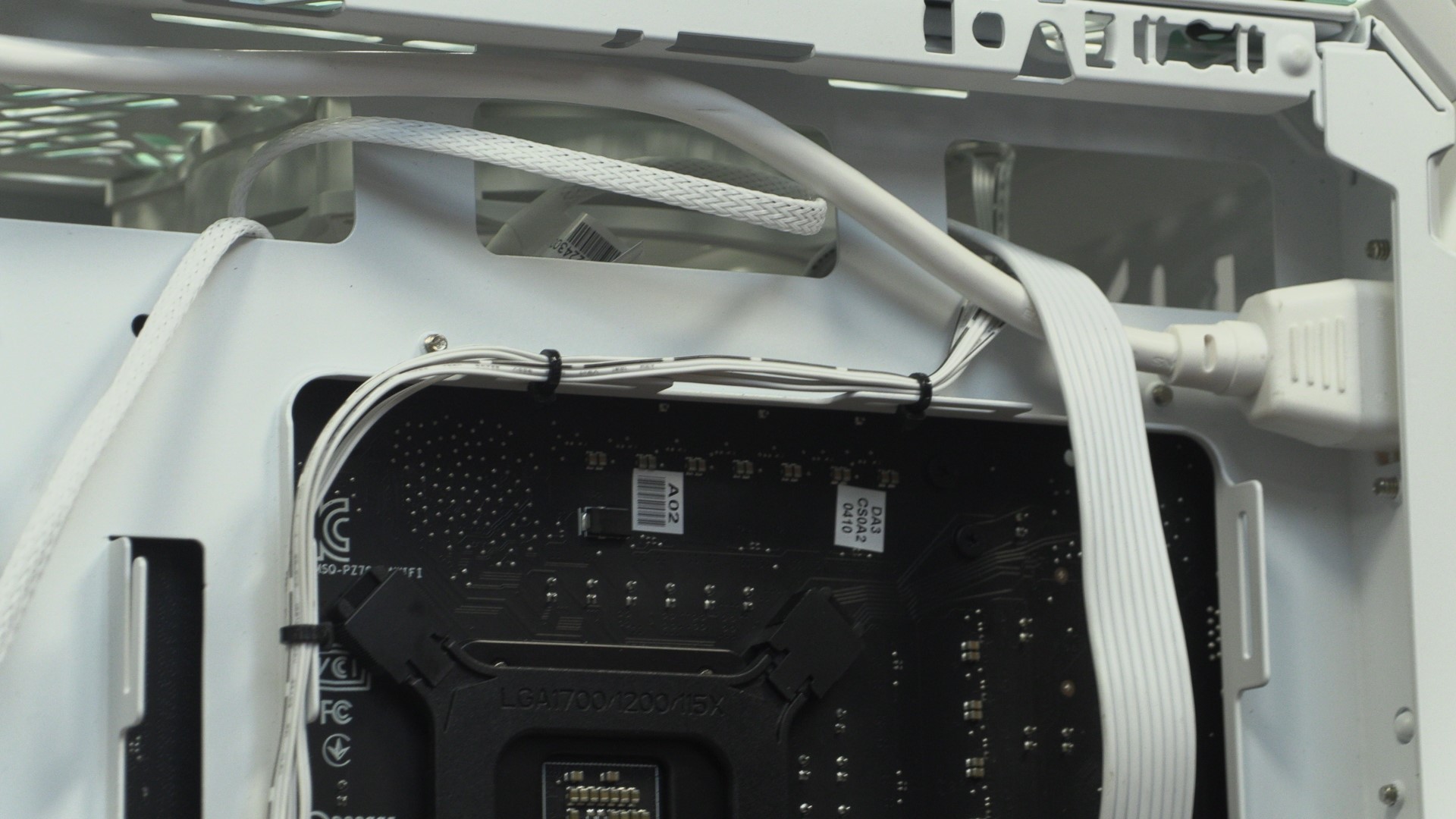 Even with its small size, the Cooler Master QUBE 500 has plenty of room for cable management. Between RGB fan cables and PSU cables, we have a lot of cables to route inside this system. Thankfully, managing these cables is a simple process.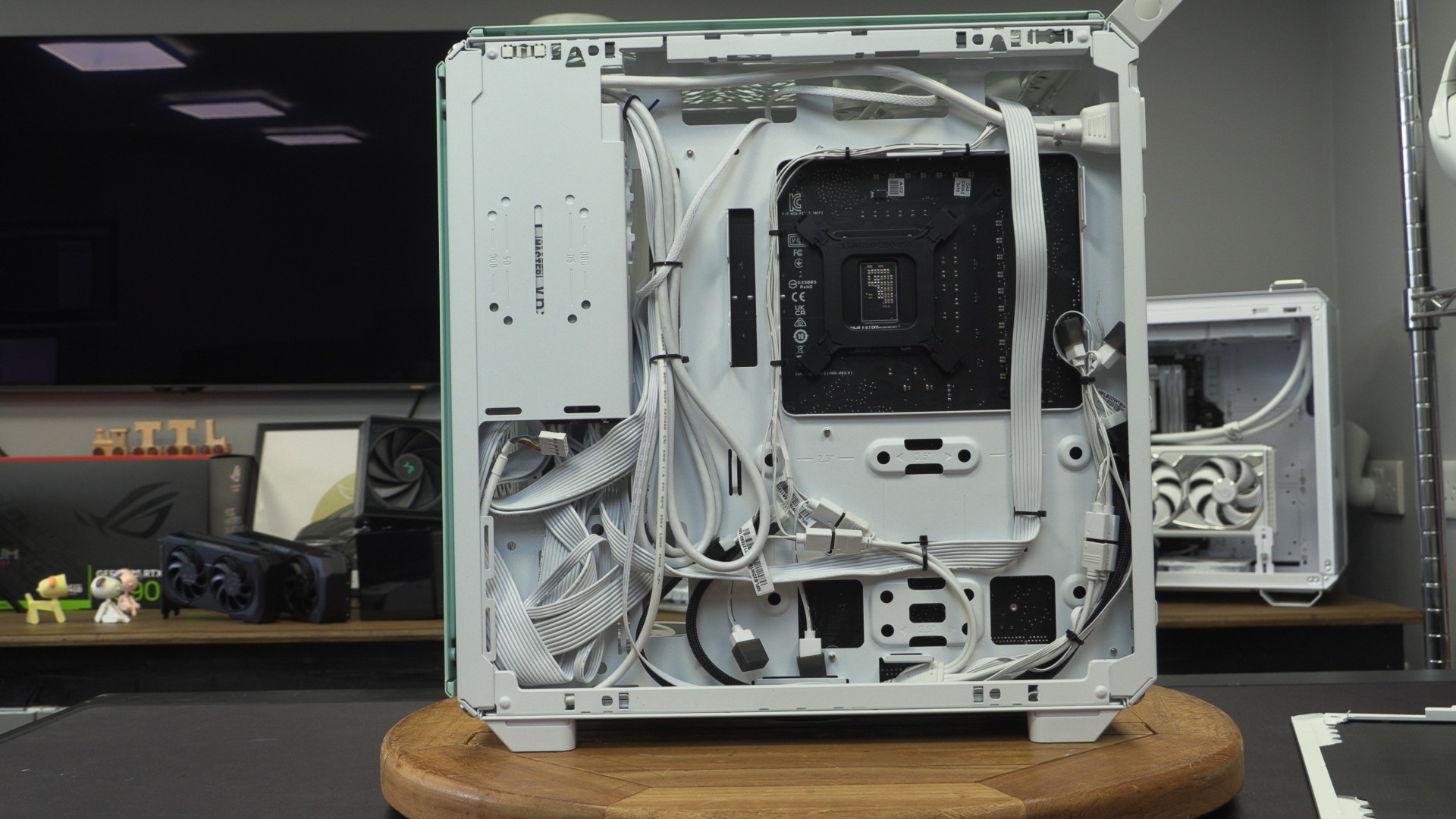 Almost too many options
At the front of the QUBE 500 is space for up to two 120mm or 140mm fans. With our PSU mounted where it is, only one 120mm or 140mm fan can currently be mounted. This case's hardware support is defined by where you mount certain components. Users of this case have a huge amount of control over their PC builds, but this will make the QUBE 500 a confusing case for some users.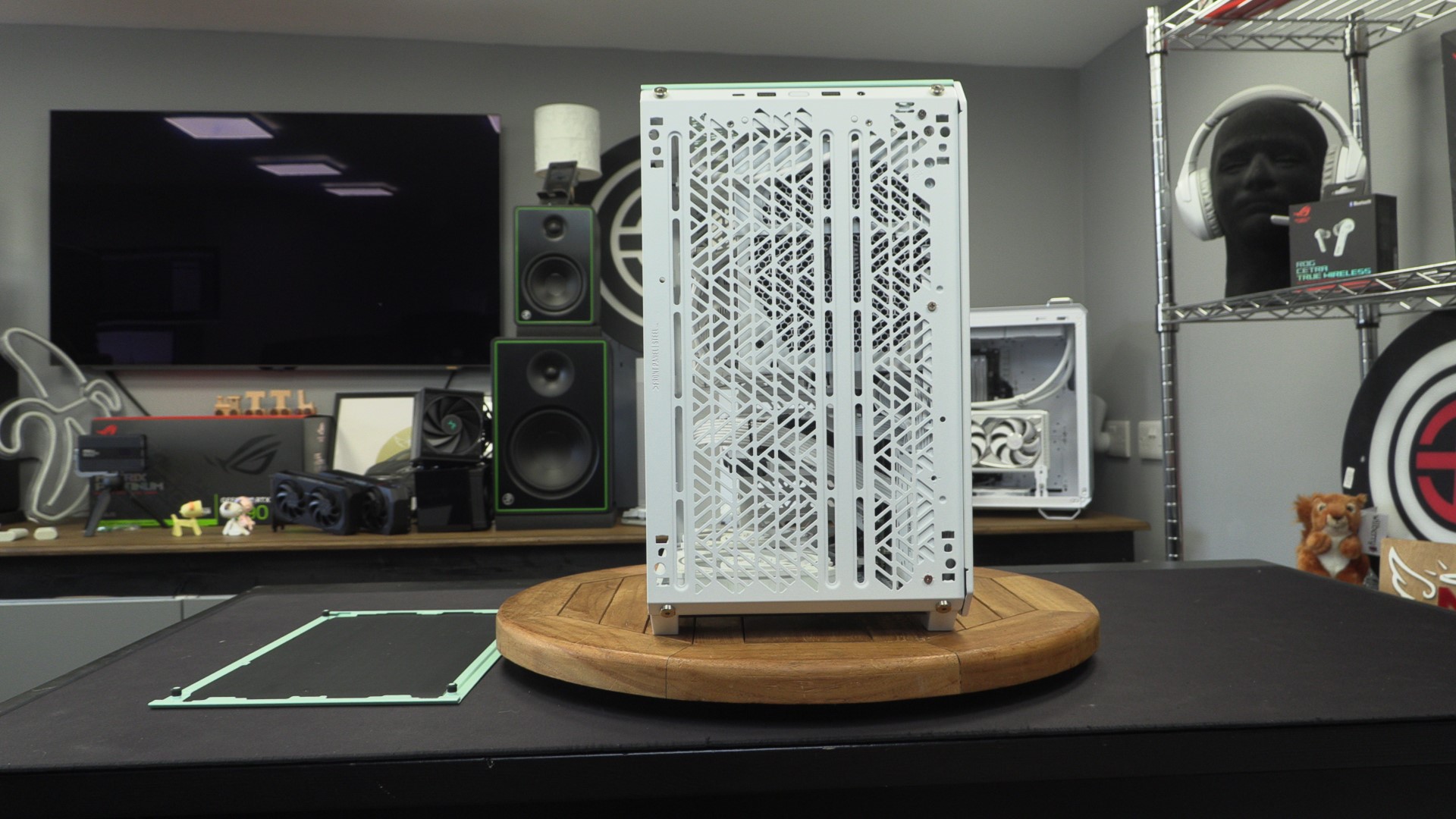 Below is the rear of Cooler Master's new QUBE 500. We can see seven PCIe slots. Note that only five PCIe slot covers are shipped with this case. This design decision saves material and slightly lowers this case's manufacturing costs. This is a non-issue given the fact that most users of this case will have a GPU or add-on card to occupy these uncovered slots.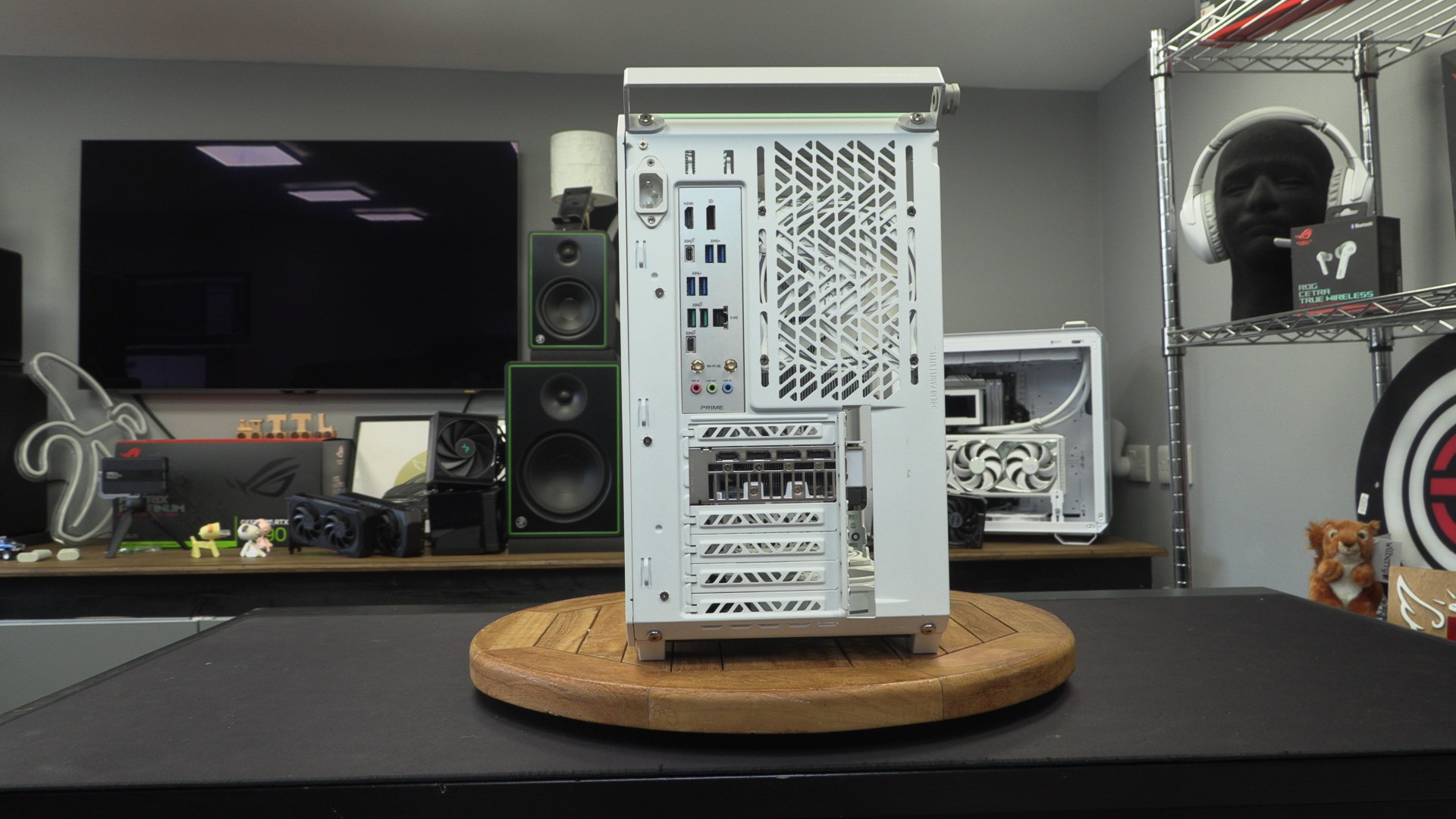 With the QUBE 500, Cooler Master have shipped an incredibly simple vertical GPU mounting system. Honestly, we would like to see this mount as a standalone product for PC modders, as we think it would sell like hot cakes if priced correctly.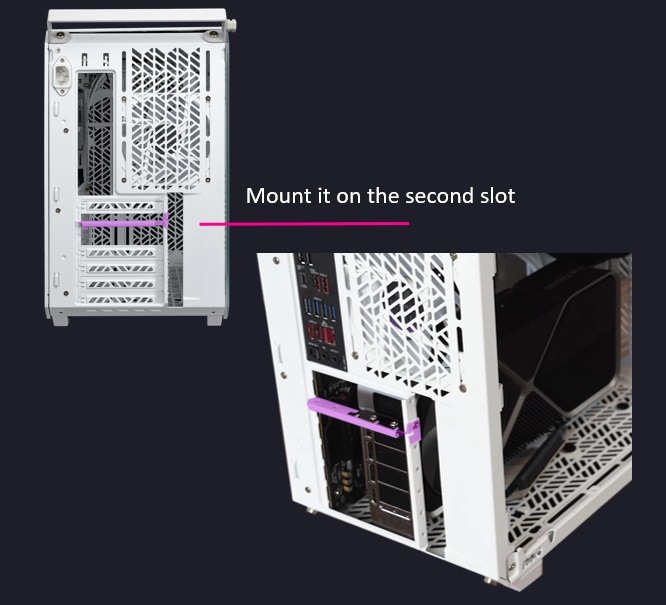 QUBE 500 PC Build
Below you can see our finished QUBE 500 PC build. With some effort, we could have made our cable runs a little tidier, but we think that we have done a good job showcasing what can be done with this case with all Cooler Master components.