Lian Li Galahad II LCD 360 RGB Review
Introduction and Unboxing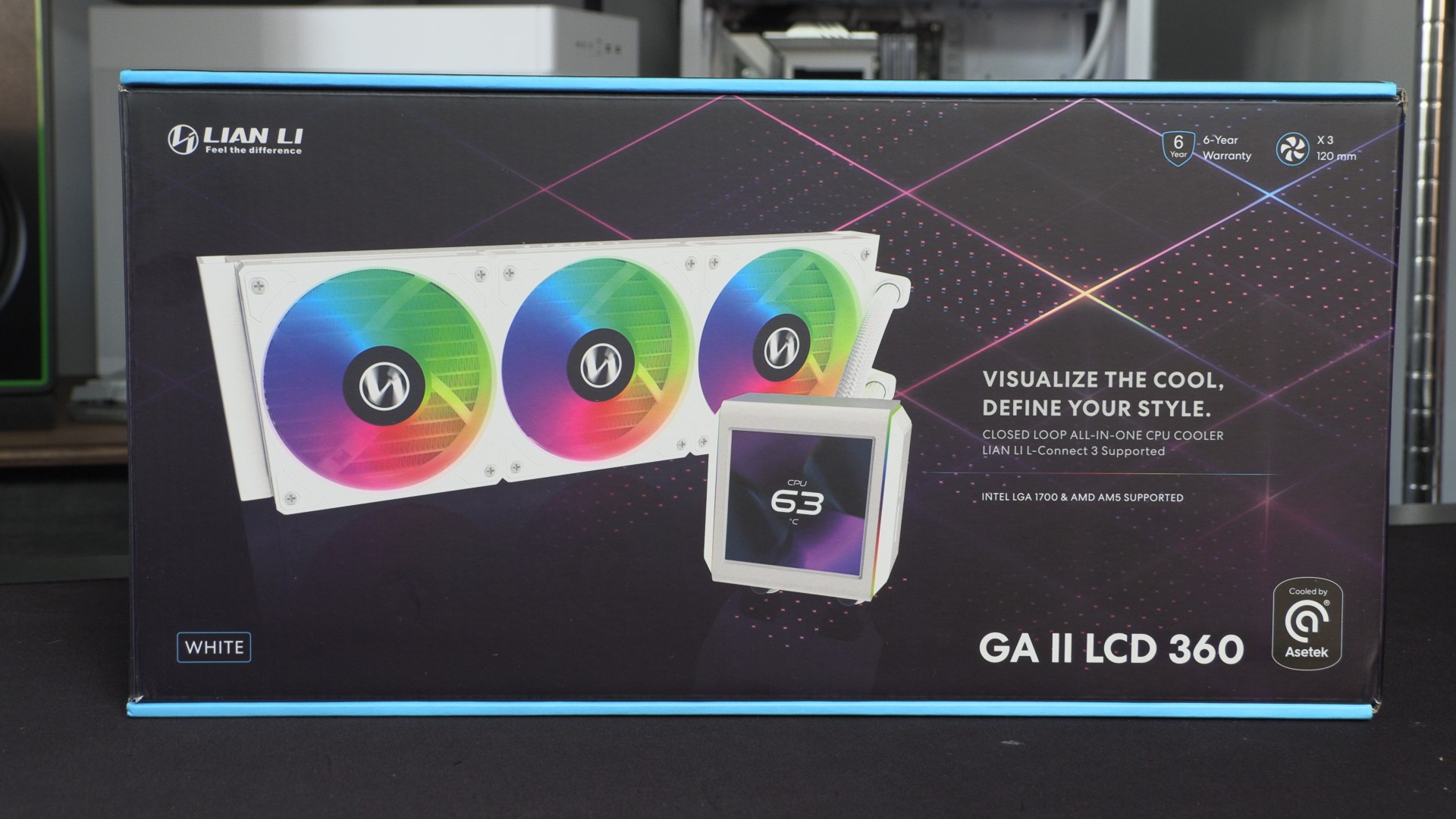 Lian Li has updated their Galahad II liquid Cooling lineup with a new LCD options
Lian Li has launched a trio of new LCD clad Galahad II series liquid coolers, and we have received the cooler's 360mm Performance model to test. These new liquid coolers are available in black and white, and are available in the UK though Overclockers UK.
The 360mm performance 360mm model of the Galahad II LCD sits in the middle of this trio of liquid coolers in terms of pricing. Below it is the smaller 280mm LCD model, and above it is a premium 360mm model with UNI FAN SL-INF fans. These three models cost £209.99, £229.99, and £269.99 respectively, for the 280mm performance, 360mm performance, and 360mm SL-INF models. Like all LCD-clad liquid coolers, these heatsinks have premium pricing.
Lian Li Galahad II LCD features
The Lian Li Galahad II LCD is a feature-rich CPU cooler. The AIO liquid cooler features a highly customisable LCD screen, and a new 8th generation Asetek pump. These heatsinks also feature out of the box compatibility with the latest consumer-grade CPU sockets from AMD and Intel.

All three fans on this AIO are RGB illuminated, and the cabling on these fans are daisy-chained to minimise cable clutter. The pump/cold plate of this AIO feature an IPS LCD screen and two ARGB illumination strips.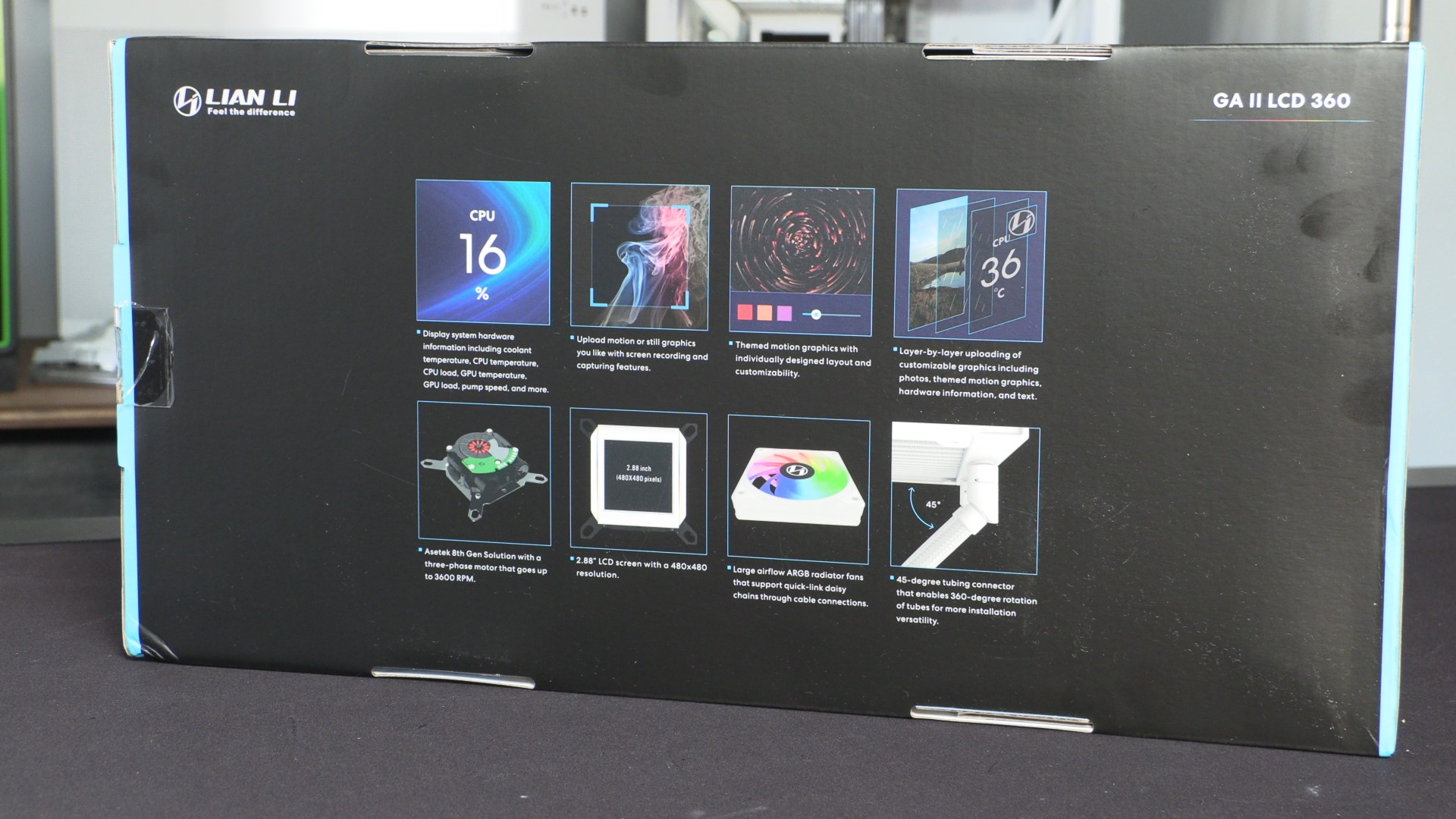 Pre-installed fans
One trend from Lian Li that we love is the fact that they are shipping their new CPU liquid coolers with their fans pre-installed. This saves a lot of time during installation, as it removed the need to insert twelve screws for this cooler, and most users will want to use these fans in their pre-installed configuration. Ideally, users will be installing this liquid cooler at the top of their PC case, with its fans acting as an exhaust.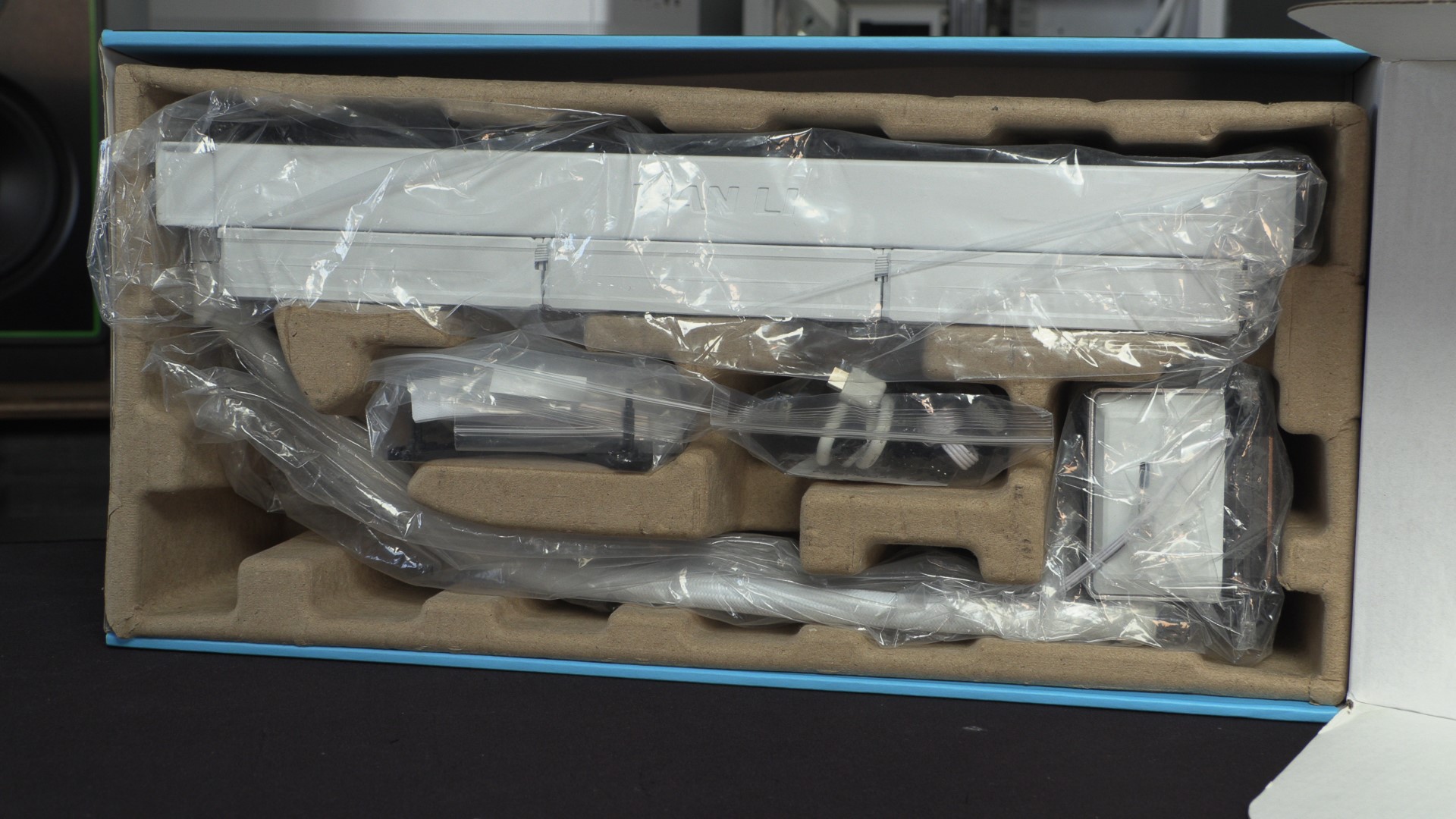 Overall, the Galahad II LCD Performance has a handsome set of 25mm thick ARGB fans. One cable powers all three fans, enabling control for their ARGB lighting and their fan speeds.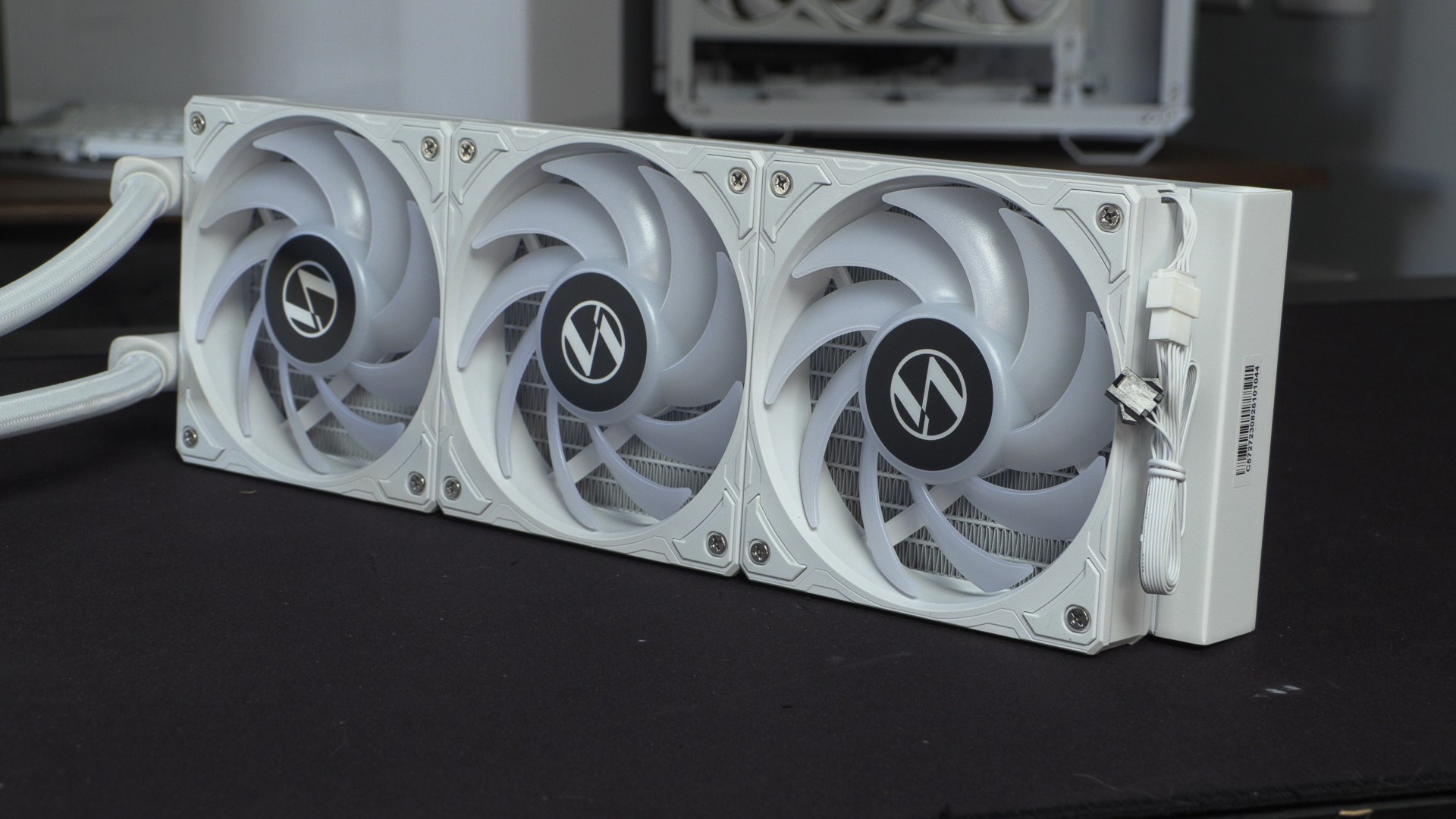 As you can see, these fans are daisy-chained. While this means that you cannot use these fans elsewhere outside of its 360mm configuration, it does give this AIO easy to hide/tidy cables. Lian Li had done a great job here matching the whites on their fans and liquid cooling radiator, something that can be very challenging for multi-material products.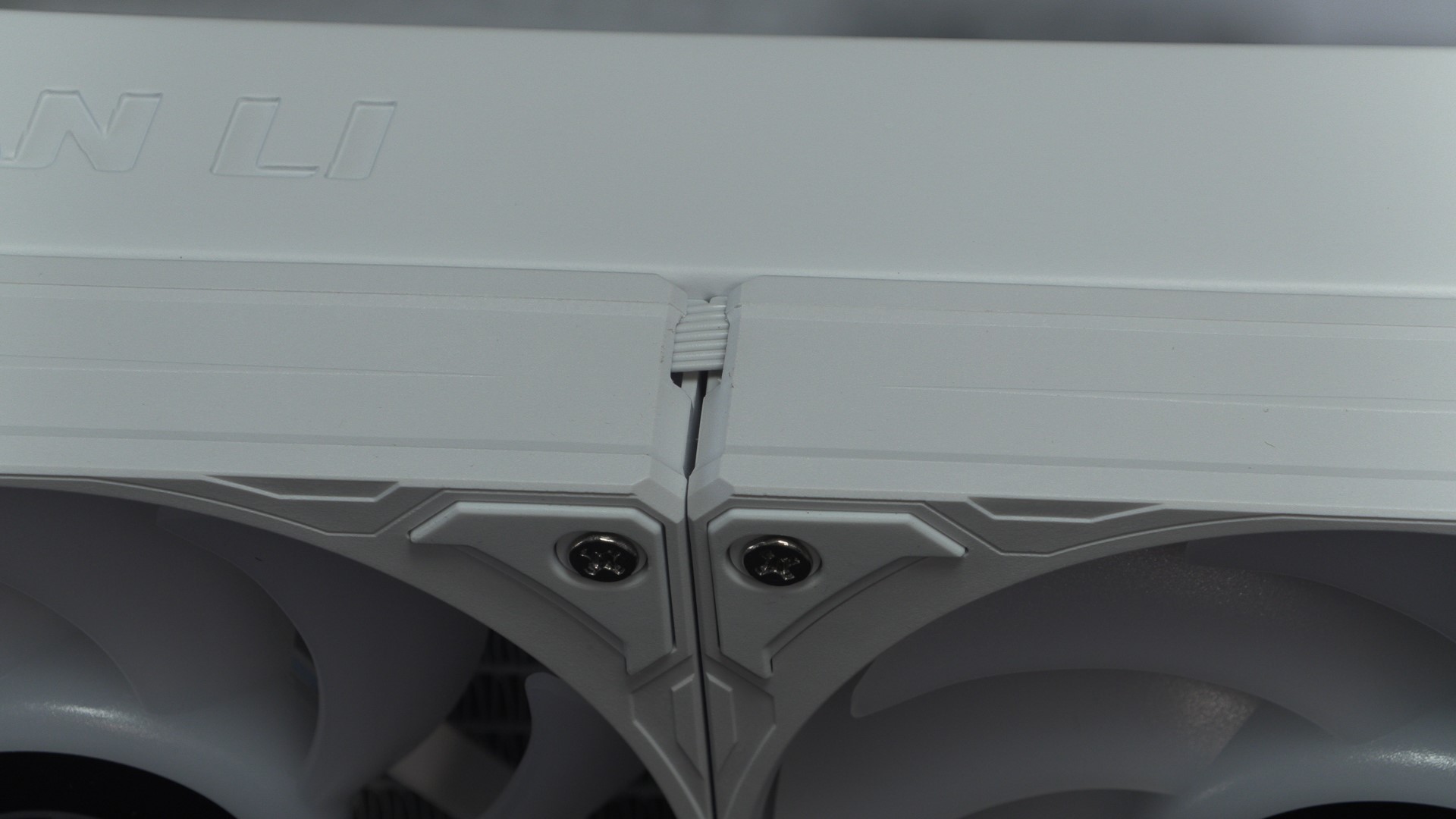 The coolant hoses on this AIO are connected using 45-degree angled fittings. These fittings offer users a 360-degree rotation, giving users a lot of versatility during installation. These fittings make this AIO a little easier to install, and gives users a little more control over their tubing orientation.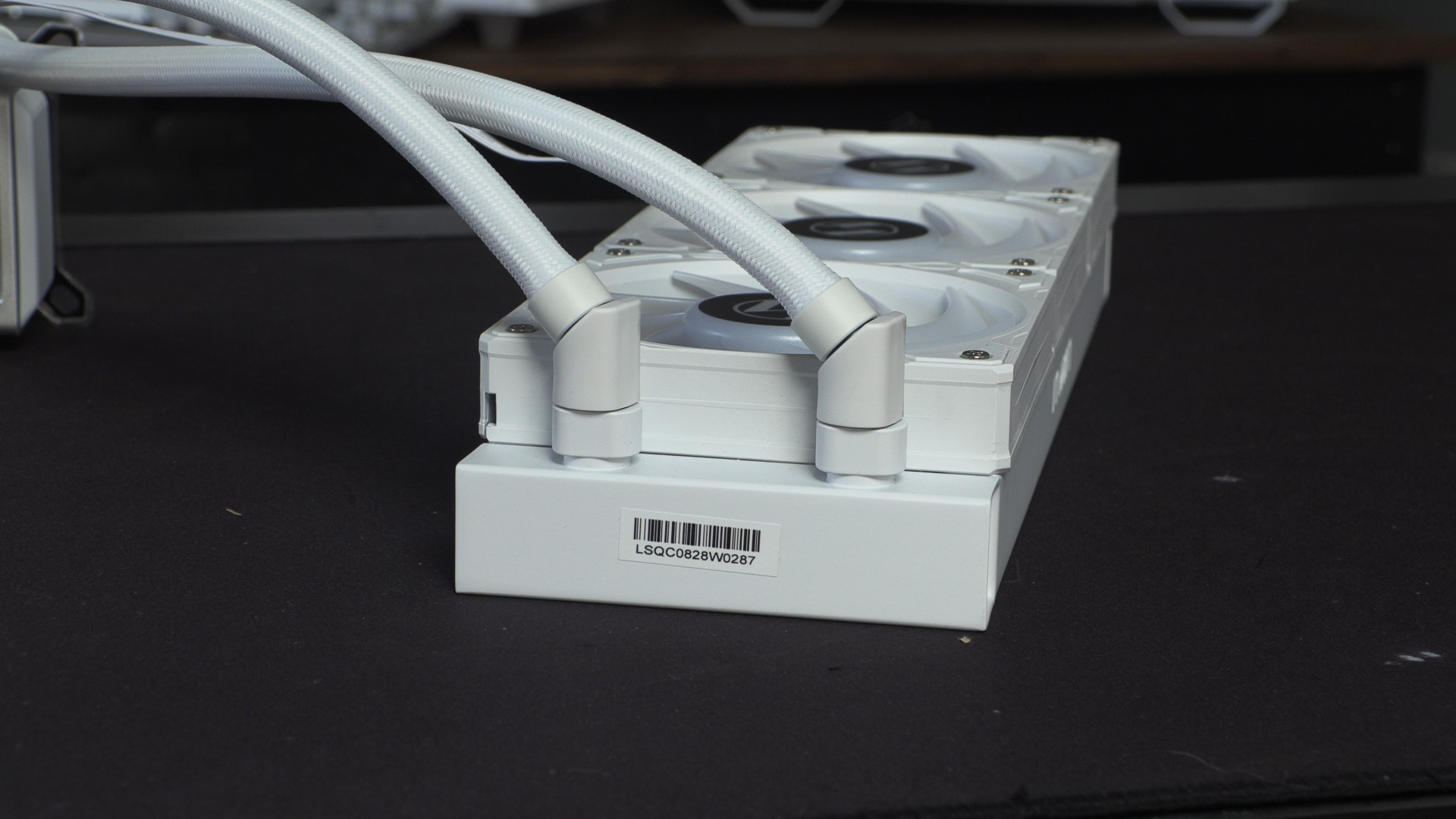 LCD specifications
Lian Li's Galahad II LCD features a 480 x 480 resolution IPS display. The screen can offer users 500 nits of brightness, supports 24-bit colour, and is 2.88 inches in size. This screen takes up most of this AIO's front face. The rest of this space is occupied by a small bezel and two ARGB lighting strips.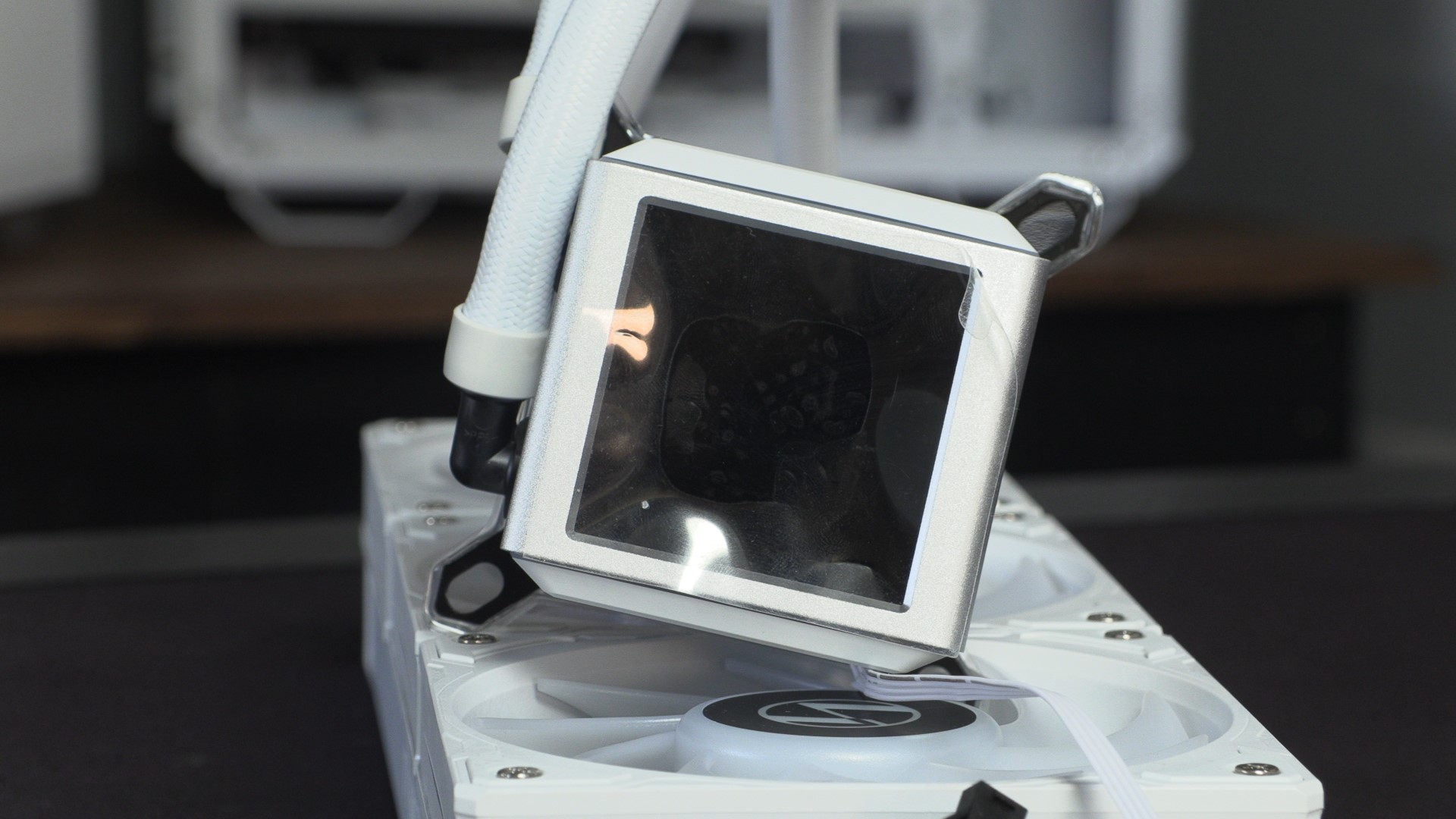 Lian Li Galahad II LCD features
Lian Li have taken customisation to another level with their Galahad II LCD, giving users four layers of customisability. Using these layers, users can use their screens to display hardware information, videos, motion graphics, images, and more. Below is a bried description about what users should be able to do with this screen's "layers"
Watermark: Upload an image or GIF that can be moved horizontally and vertically with different levels of shadow and opacity adjustments.
Hardware Information or text: Display and loop various hardware information, time, or custom text messages.
Each can be adjusted with various layouts, orientations, fonts, sizes, and shadow settings.
Themed Motion Graphics: Select background type effects with intensity that can be manually customized or dynamically adjusted based on hardware sensor monitor.
Images or Video: Set your background with colors or display videos and images through screen record/screen capture or file upload (MP4/GIF/JPEG/PNG).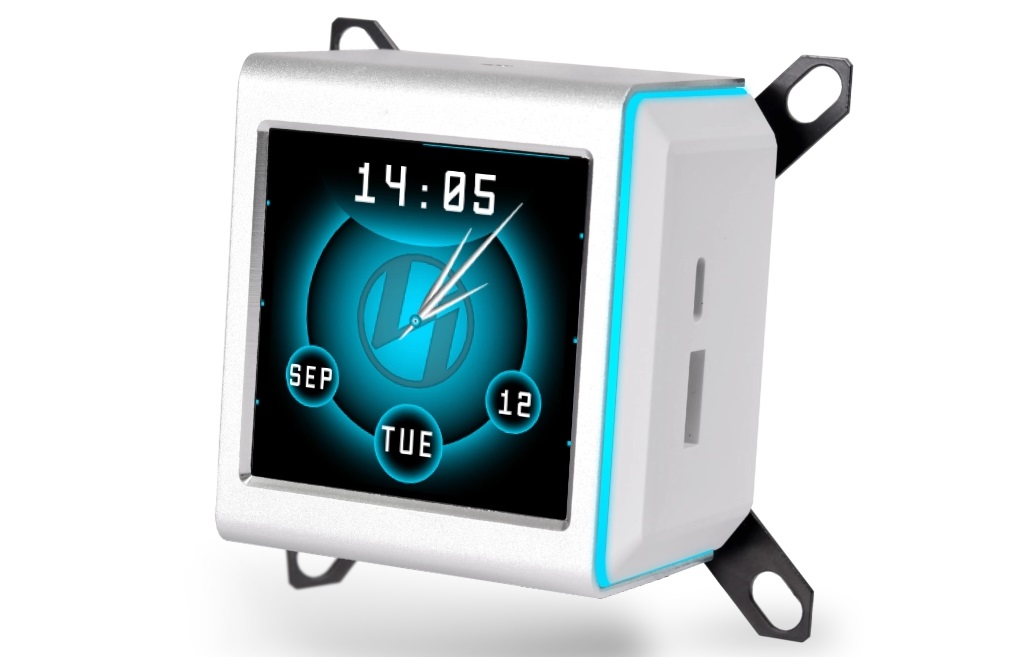 Software problems
Sadly, while this AIO's RGB and LCD features sound impressive, we could not get it to work though Lian Li's L-Connect 3 software. As you can see below "No Fan products Detected". While we could control our unit's fan speeds and pump speeds, we could not fully control our AIO's RGB lighting and LCD.
We updated the firmware on our Lian Li Galahad II LCD and even tested a different unit. If anything, updating our firmware made our problems worse, and our new unit exhibited the same issues. Sadly, we do not have all the time in the world to test these products, which means that the software side of this AIO liquid cooler has left us with a negative impression.