MicroATX Bargain! – Cooler Master MasterBox Q300L V2 Review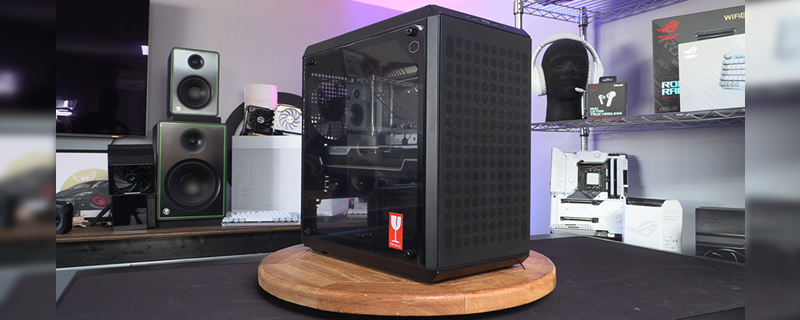 Cooler Master gives the MATX case market some much-needed love with their new MasterBox Q300L V2
It isn't often that we review an MATX case at OC3D, as the form factor is underserved by most major case manufacturers, and MATX motherboards are not often sent in for review. For MATX lovers, news that Cooler Master has created a new MATX PC enclosure will be music to your ears, and budget-conscious PC builders will also be rejoicing when they see this cases price point. 
Cooler Master's newest case is a revamp of their existing MasterBox Q300L design, which has been improved to give PC builders improved thermal performance, enhanced IO options, a tempered glass side panel window (the original Q300L has an acrylic window), and more room for cable management. 
The MasterBox Q300L is designed to be affordable, easy to use, and easy to modify to suit your preferences.  
Improvements over the original MasterBox Q300L
The MasterBox Q300L V2 is designed to improve on sone of the original Q300L's shortcomings, moving the case's IO to a more easy to reach location, replacing the case's scratch-prone acrylic window with tempered glass, and improving the case's dust filters to enable increased airflow for boosted PC cooling potential. 
With added support for USB 3.2 Gen 2×2 (Type-C) on the case's front I/O, users of the Q300L V2 now have access to data transfer speeds of up to 20 Gbps when this case is used with compatible hardware. This case also features two USB 3.2 Gen 1 Type-A ports and a 3.5mm audio jack.
Behind this cases motherboard tray, the MasterBox Q300L V2 features 28mm of space for cable management, allowing users to create a tidy looking micro PC. 
Hardware Clearance
The MasterBox Q300L V2 is a compact PC case, but Cooler Master has designed this enclosure to support graphics cards that are up to 360mm in length. Below, we have installed a 330mm graphics card, giving us enough clearance to also add a 25mm thick fan to the front of this PC case without any issues. CPU coolers up to 159mm are also supported, as are PSUs that are up to 160mm long.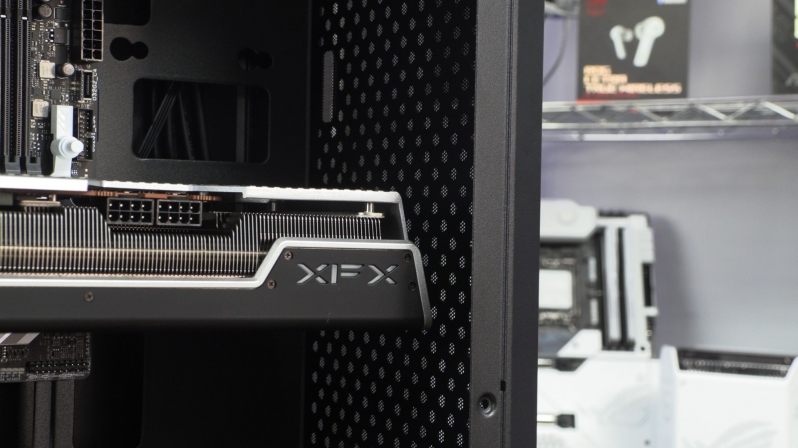 Pricing and Specifications
In the UK, Cooler Master's MasterBox Q300L V2 case is available for £59.99, with Scan Computers offering the case for £49.99 in the UK as a pre-order. This pricing makes the MasterBox Q300L an incredibly affordable PC case. Out of the box, this case only features one pre-installed fan, though five additional fans can be installed within this enclosure if users wish.
Below are the specifications of Cooler Master's new Q300L V2 case.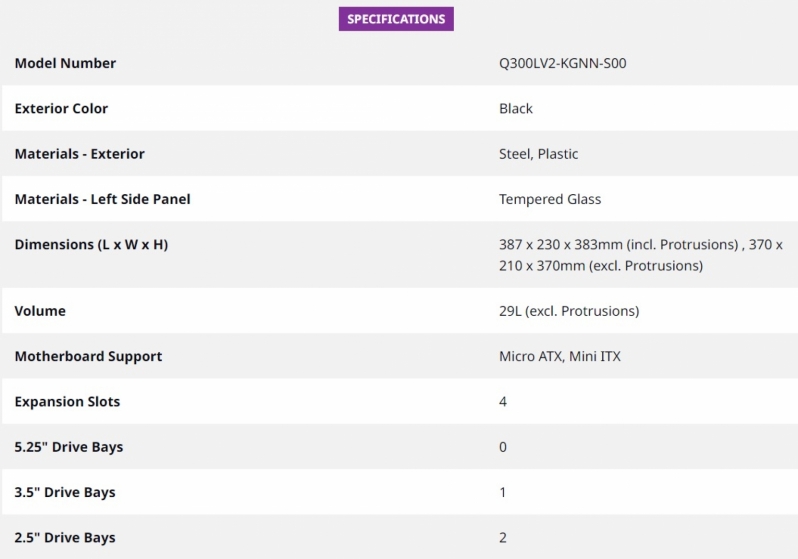 Up close with the Q300L V2