Ultimate Customisability! – Lian Li O11D EVO XL Review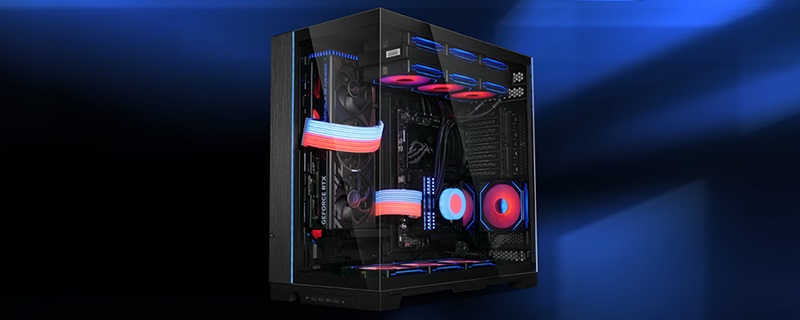 Meet the Lian Li O11D EVO XL a case of colossal customisability
Lian Li has just released a new large form factor case that aims to deliver PC builders incredible levels of customisability, allowing users to create unique systems that feature extensive water cooling loops and top of the line hardware. This new case is the Lian Li O11D EVO XL, which is available starting today for £235 and £245 for the case's black and white variants respectively. 
The O11D EVO XL from Lian Li is designed for PCs that have price tags that are well into four figures, supporting ultra-large water cooling setups, huge graphics cards, and a huge number of premium fans. This case is not designed for budget-friendly systems, Lian Li's O11D EVO XL is designed for PC builds who have a lot of money to throw at their systems, and want to build something that meets their requirements precisely. 
If there is one word that can be used to describe Lian Li's O11D EVO XL chassis, it is customisable. This case has a lot of movable parts and optional components. Simply put, this case defies the through process behind any normal PC case review process. This case has too many options for a reviewer to focus on, too many configurations to test, and a design that is simply not suitable for our normal set of thermal tests (as this case comes with no fans out of the box). 
The Lian Li o11D is a blank canvas. It ships with no fans and it simply asks users to configure it however they desire. Do you want this case in its standard or inverted orientation? How High do you want the motherboard tray? How many large liquid cooling radiators are you planning to use? Where do you want to mount your graphics card? These are all questions that users of this case will have to consider, and all of these options practically guarantee that all users of this case will have unique systems.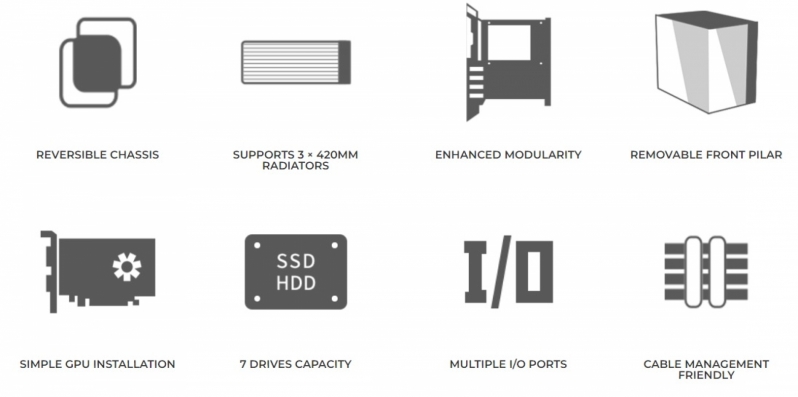 As mentioned before, this case ships in Black or White colour options, and users of this case can choose to invert their enclosure if they wish. This makes the O11D EVO XL usable in pretty much all environments that has enough space to accomodate such a large PC case.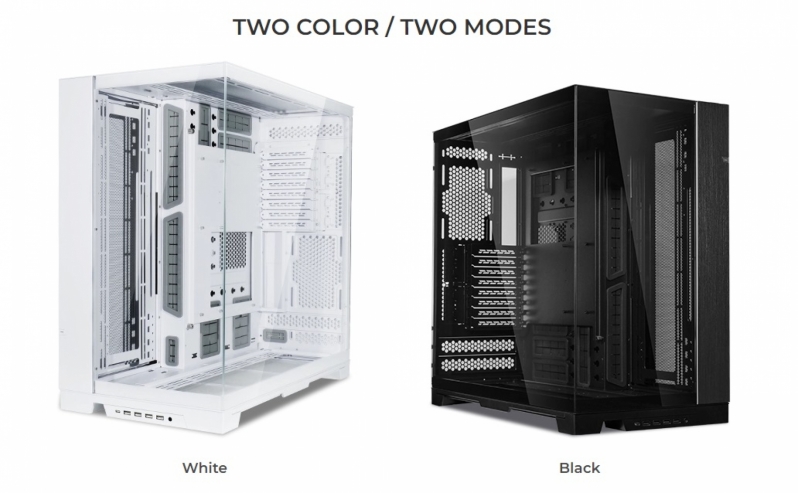 When compared to Lian Li's old O11D XL chassis, their new EVO model has been crafted with finer mesh, increasing the available space where air can flow into and out of the chassis. This increased mesh area should help users of the O11D EVO XL to achieve low system thermals, even if they use power-hungry PC components.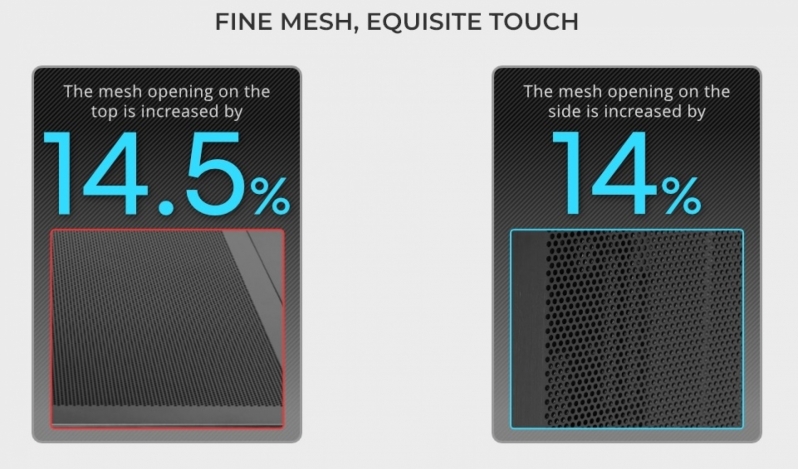 Loads of Options
If the image below shows you anything, it is that this case has a lot of removable parts. This case's side panels can be removed, its radiator/fan mounting plates can be removed, the case's motherboard tray can be removed, and all of this case's tempered glass side panels can be removed. These removable parts makes it easy for PC builders to access all areas of Lian Li's O11D EVO XL, and makes it very easy to users of this case to customise any of these parts to their liking. Want to paint these parts a certain colour? That's easy. Want to replace these parts with something fully custom? That's also doable. This case is only limited by the creativity of its user, and we love that.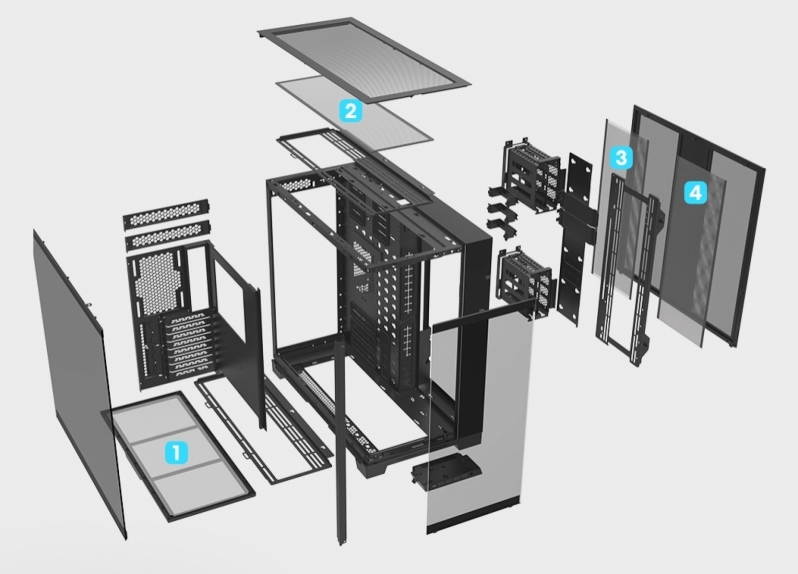 Removable Support
One thing that we will note about the Lian Li O11D EVO XL is that the case has a removable strut that adds a support to the case where the enclosure's two tempered glass panels meet. This strut is designed to support the case while it is being transported, preventing too much stress from being applied to this cases glass panels. This support strut is intended to be removed when the case is in-situ, giving users a seamless view into the case.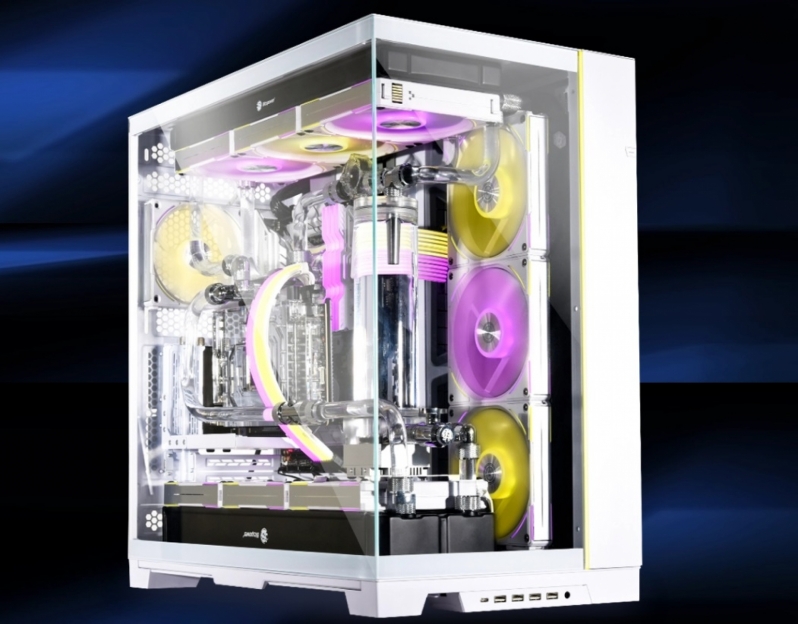 With dimensions of 522mm x 304mm x 531.9mm, this case is colossal. The case supports motherboards that are up to EATX (up to 280mm) in size, and features eight expansion slots. This case supports up to three 420mm liquid cooling radiators simultaneously, with the thickness of these radiators being limited in various ways depending on how you configure your system.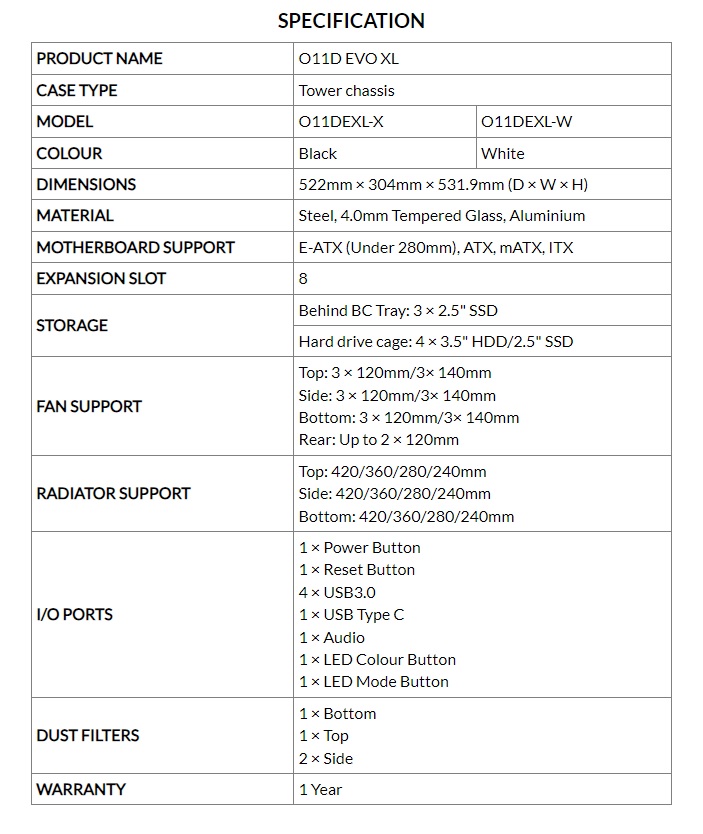 Up Close with the Lian li O11D EVO XL