DFI Lanparty T3eH6 DK X58 Motherboard
Â
DFI have proved yet again what it takes to make a motherboard appealing to the niche market of overclockers. While it may not be the best performer at stock, this board only comes alive if you intend to overclock.
Â
The DK variant of Lanparty motherboards usually signifies that this is a trimmed down version of the flagship models. However, without looking at the specification you really would not know it. Sure Digital PWM is nice to have but if the end result is the same who cares? The T3eH6 almost reached the T3eH8's overclocking prowess, missing the mark by a measly 20 MHz and while that 20MHz may mean the difference between a world record or not, the average overclocker can live with that I'm sure.
Â
This board is not aimed at the extreme end of the market, DFI have afforded their flagship models for that purpose. Rather the T3eH6 is targeted towards those who want the best, but on a budget. The DK is certainly not cheap, costing £216 from
Novatech
, but it is certainly cheaper than the flagship boards which cost in excess of £300. While there are also cheaper motherboards on the Market the DFI aims to provide the best possible motherboard without cutting too many corners. Sure, the DK is missing a few features but if you are not intending to run 10 SATA ports, desire useless gadgetry or indeed yearn for the absolute pinnacle in motherboard cooling then the T3eH6 DK will fit the bill very nicely indeed.
Â
It has an industry leading BIOS which is perhaps the jewel in the crown. The Genie BIOS has evolved over the years from customer feedback and technical know how to afford the end user every conceivable option possible. Today's there is little on the market save for another DFIÂ motherboard that can come close to providing such a solution. If spending hours in the BIOS is not your bag then fear not because DFI also provide an Autoboost system which automatically overclocks the CPU and memory to pre-determined levels.
Â
In short, what DFI have done is release a motherboard which offers wider market appeal. It really doesn't matter if you are some crazy overclocker with little regard for component safety or an average Joe looking to spend his hard earned cash on a stable mainboard. The DFI T3eH6 caters for all tastes and pockets and while it isn't the highest performing motherboard in any particular area, it doesn't have any tangible downfalls either. As such it is a very solid, all round performer that deserves OC3D recommendation.
Â
The Good
– Class leading BIOS
– Excellent overclocking
– Ideal for those who like to tweak
– Removable NB heatsink
Â
The Mediocre
– Colour scheme is overused
– On board switches look dated
– Rear CMOS reset switch preferred
Â
The Bad
– Retention glue on motherboard screws
– SATA ports don't allow latching of cables
Â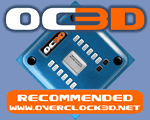 Â