Gigabyte G1 Assassin Review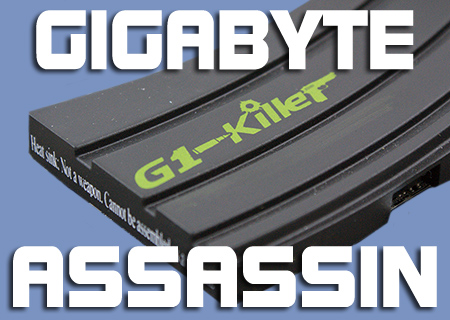 Introduction
With the LGA1366 socket being relatively old compared to it's LGA115x siblings, the X58 boards have been a little thinner on the ground as manufacturers have brought us P55 and then P67 based motherboards.
We've seen a few minor revisions to include some of the 333 feature-set, or tweak the odd thing here and there, but wholly new boards have been somewhat sparse.
Gigabyte have been beavering away on a new range of motherboards, the G1-Killer series. This consists of three models at varying price-ranges, the G1.Assassin, the G1.Sniper and the G1.Guerilla. Today we've got the full-fat, fully featured, top of the range G1.Assassin that comes complete with everything but the kitchen sink. There probably is a kitchen sink in the box somewhere.

Let's let Henry Kao, Gigabytes Senior VP of R&D explain :
"GIGABYTE is thrilled to be able to introduce the world's first motherboard series designed solely for elite gamers. The G1-Killer series features the industry's most advanced hardware and software solutions from Creative and Bigfoot Networks onboard as well as the top-notch quality and durability users have come to expect from GIGABYTE. So, lock and load gamers, the GIGABYTE G1-Killer series motherboards deliver a gaming experience unlike any other."
A glance at the technical specs lends much weight to his claims, so without further ado.
Technical Specifications
There is little debate that the Assassin has all that you could desire. If you've got a checklist of features you want to get in return for your investment then this has all of them ticked.
| | | | |
| --- | --- | --- | --- |
| Super Sight | Super Hearing | Super Speed | Super Shield |
| 4-way CrossFireX™ and 3-SLI™ | Onboard Creative Soundblaster X-Fi Digital Audio Processor (20K2) | Bigfoot Networks Killer™ E2100 Game Networking Platform | Locked and Loaded Heatpipe Design |
|   | X-Fi Xtreme Fidelity™ | Front Access Control Panel with OC button | 5 Smart Fan Connectors |
|   | EAX® AHD 5.0™ | SATA 3.0 (6Gbps), USB 3.0 and 3x USB Power | GIGABYTE Ultra Durable™ 3 |
|   | Dolby® Digital Live |   | Maximum CPU Power Delivery |
|   | DTS™ Connect |   | Dual CPU Power |
|   | Front Audio Headphone Amplifier |   | Driver MOSFETs |
|   | Nichicon High-end Audio Capacitors |   |   |
These features make their way to all three models exception the G1.Guerilla which has the Creative X-Fi software rather than a dedicated audio chip and the Assassin is the only model that supports Quad-GPU with the Sniper and Guerilla being triple GPU. Although the Assassin is ATX-XL to gain that extra card slot so if you've got a more modest tower then you would have to pick the Sniper to get the same features as we have today, minus the fourth PCIe socket obviously.
Anyway, we have the ATX-XL board in our hands and a suitably large case so let's take a look shall we.