Gigabyte G1 Assassin Review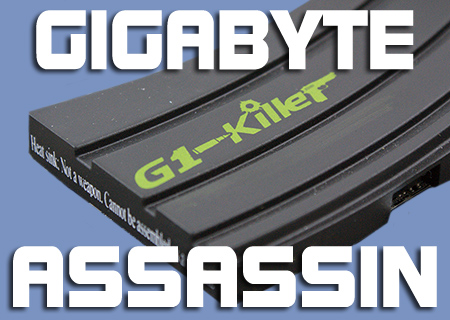 Pictures Part 3 – The System
If you're a fan of the green, then this certainly is the case for you. We're having a change of tack today and running with a water-cooled setup courtesy of SpecialTech. 
It's so nice to be able to put together a rig that isn't reliant upon blue or red for the colour scheme. Kudos to the current manufacturers for giving a full choice to consumers of the main three colours.
A Mushkin PSU is supplying our power today, with a lovely green LED fan that accentuates the look of the whole system.

RAM is provided by the Corsair Vengeance. The design of the Vengeance heatsink really matches the Military theme of the Assassin motherboard.
Performance is provided by two Zotac GTX580s which will give more than enough oomph for anything we desire.
Of course as cool as it looks off, turned on is where the real lush factor comes into play.
Let's turn the lights off and the system on.