Lian Li Galahad II/GA II Trinity 360 CPU Liquid Cooler Review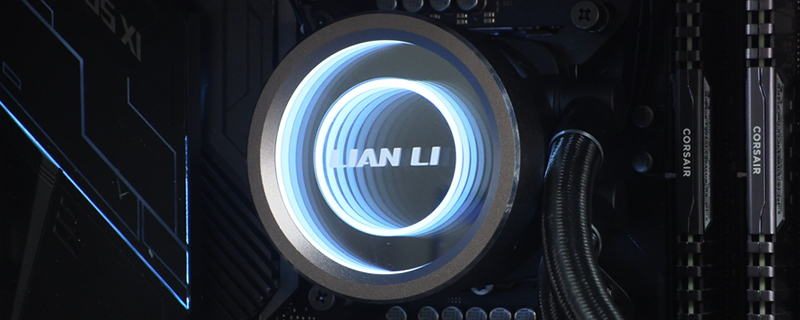 Lian Li's GA II Trinity CPU cooler has launched, and it looks great
At Computex 2023, Lian Li revealed their new Galahad II series of All-in-One CPU liquid coolers, their Galahad II Trinity, their Galahad II Trinity Performance, and their Galahad II LCD. Today, we will be reviewing their baseline GALAHAD II Trinity CPU cooler. 
For their new TRINITY series AIOs, Lian Li will be offering buyers three interchangeable pump tops to deliver three different aesthetics with their latest liquid cooler. This allows users to adjust their coolers to suit their aesthetic preferences, and to change the aesthetics of their coolers should they desire a change. Aesthetically, the TRINITY is effectively three different AIOs designs in one.
Other models
While we are looking at the Lian Li GA (Galahad) II Trinity 360 AIO today, we will note that this CPU cooler is also available with a 240mm radiator size and is available in both black and white. Additionally, there is a GA II Trinity Performance heatsink, which is available with a thicker 360mm radiator with double wave fins, thicker fans, and a faster pump. Topping off the lineup is the GA II LCD, which features a 2.88 inch 480×480 LCD screen that users can control.
Today we are looking at the GA Trinity II 360, the more budget-oriented AIO in Lian Li's new GA II CPU cooler lineup.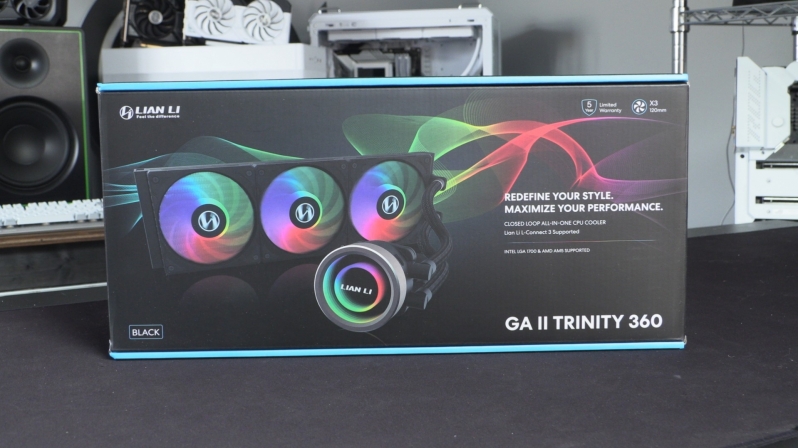 Pre-installed fans
Unlike most CPU liquid coolers, Lian Li's new Galahad II models all ship with pre-installed fans that are daisy chained. This allows all three of this AIO's fans to be controlled and powered through a single input. Additionally, the pre-installed nature of these fans can save users a lot of time when installing this heatsink. No fan unboxing, no fan orientation, and no screws to fit. The Galahad II is very easy to install.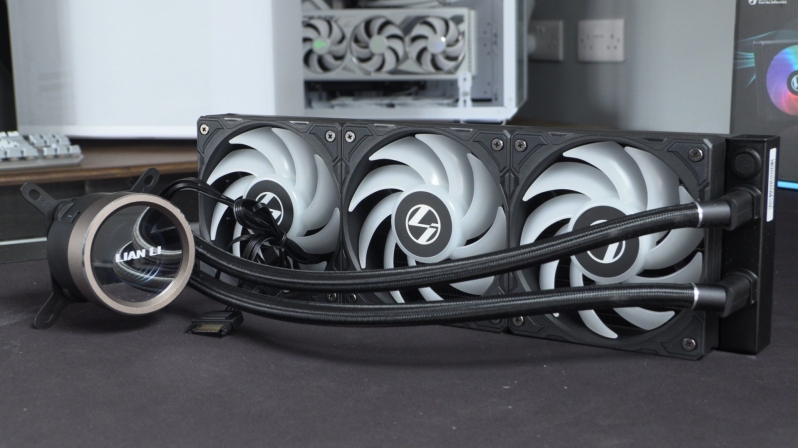 Improvements over the 1st generation Galahad
Aside from the Galahad II Trinity's three interchangeable tops, Lian Li's Galahad II design features a lot of design improvement that make the Galahad II a stronger performer than its predecessor. For starters, the Galahad II has a larger impeller to increase water flow, a new split flow cold plate to decrease flow resistance, and new 45-degree tubing connectors to make tubing bends a lot easier. This is not a Galahad I with a replaceable top, this is a all-ne AIO.
Lian Li's new L-Connect 3 software also allows users of Lian Li's Galahad II AIOs to easily control their cooler's lighting effects, fan RPMs, and pump motor speeds. The software can also be used to define custom fan profiles, and view system thermals.
Up Close with the Galahad II