ASUS GTX 1050 Ti Expedition Edition Review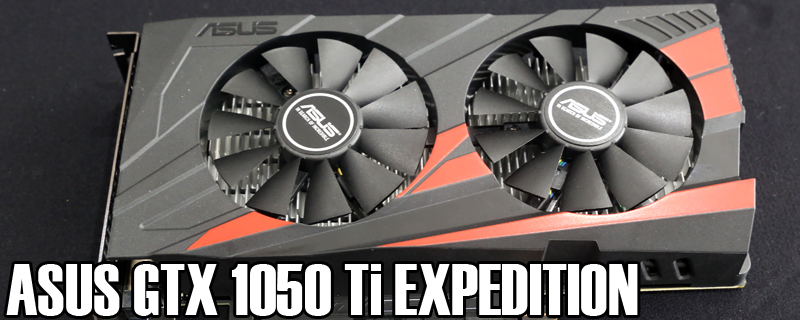 Introduction
Anyone who has spent any time in the world of PC gaming understands a couple of things which might have escaped the casual viewer. Firstly, Steam has unquestionably saved PC gaming. Whether it is the regular price cuts that tempt those who might have obtained their games by alternative means into legitimate purchases, or the ease of the delivery system, or just having a very visible platform upon which to tout your wares, Steam has erased all of the old jokes about PC games requiring a month and a half of setup and manual reading before you can play them. Secondly, and the reason for this mild diversion at the beginning of the review, they (Steam) have a huge list of what is and isn't popular when it comes to hardware.
As much as we might all aspire to high end graphics cards that make light work of upcoming titles, and a few of the more hardcore gamers even run them, the majority of people use graphics cards which provide good value.
In fact if we return to the Steam theory – or GoG or HumbleBundle etc – there are thousands of games which aren't at the leading edge of graphical technology but actually just come with excellent gameplay. Think MineCraft, Spelunky, Football Manager, Crimzon Clover, Hearthstone, the gaming landscape is awash with brilliant games which don't require SLI'd GTX 1080s to play in all their splendour.

Which brings us neatly to the GTX 1050 Ti. A graphics card which is very much at the entry level of the nVidia range along with its non-Ti sister. Coming in around £130 it's easily affordable to anyone who wants one, so of course we had to find out how it performed, and what better way to do so than with one equipped with an ASUS cooler?
Technical Specifications
Being based upon the latest Pascal GPU the GTX 1050 Ti isn't some rehash of a much older architecture, but rather one which provides all the current nVidia thinking about efficiency and feature sets just in a tiny package. How tiny you ask. Well it hasn't got a power connector. We thought that would pique your interest.