MSI R9 290X Lightning Review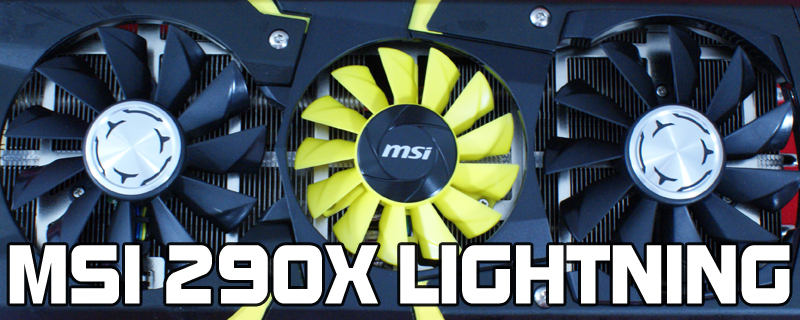 Conclusion
Our first impressions of the Hawaii XT GPU that forms the backbone of the MSI R9 290X Lightning was that it had enormous potential but that it was being stifled by the asthmatic cooler AMD had supplied it with. When the ASUS DirectCU II version of the 290X appeared it was clear that a lot of extra performance was unlocked by this improved solution. To be honest we wondered if much more could be squeezed out of the Hawaii XT GPU. It was the best AMD GPU for some time, but it was clear that nVidia still ruled the roost.
Now, with the MSI R9 290X Lightning those lines that were previously delineated with such clarity are now far murkier. Indeed the MSI is mixing it with the GTX780Ti regularly enough that by the end of our testing we ceased to be so surprised and were almost expecting it.
With any graphics card the partner, in this case MSI, are heavily reliant upon the quality of the GPU supplied by the manufacturer, and only have control over side issues. So AMD are supplying the steak, MSI can do the salad and fries. Whilst the GPU within our review sample wasn't the most willing overclocker we've ever come across, that's no fault of MSI. It would be impossible to build 100000 cards and test them all and only sell the best. Their role is just to make everything else as good as it can me, and it's clear that they have absolutely gone to town with the metaphorical fries, providing the crispest, tastiest ones you could imagine. With such a high thermal loading coming from the Hawaii GPU it was vital to keep that in check firstly, and the Tri-Frozr cooler does an amazing job. No, really. AMAZING. It's 20°C cooler than any other we've tested, and barely audible.

Power draw, and controlling that power, has been unleashed in a way we can't recall seeing before. Everything is at your fingertips, so if you're of a mind to chase some world records it's all at your command. The card comes with a fast enough factory overclock that if you merely want the kudos of having a Lightning in your system then you wont be left wanting either. Even if running this card at stock is missing the point entirely. The GDDR5 performance was the highlight, with 6.6GHz effective speed from the Hynix chips giving amazing results in 1080P testing and even better ones in the higher 2560×1440 tests.
The MSI R9 290X Lightning is a genuine contender as a powerful gaming card. Not quantified by "for a Radeon", this thing is fast, full stop. Easy, and rewarding to overclock with a fantastic cooler and every option you could want. It's Brilliant. It's Rapid. It's Yellow. It's a worthy winner of our OC3D Gold Award and the best Radeon card on the market today.
Thanks to MSI for supplying the R9 290X Lightning for review. Discuss your thoughts in the OC3D Forums.