PNY GTX580 Liquid Cooled Review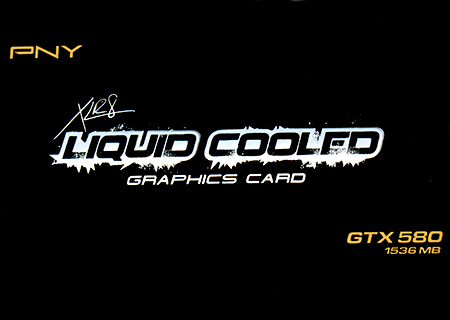 Introduction
There are three main types of cooling available on graphics cards. The first, and most obvious, is the reference design. This usually consists of a waterwheel style fan at one end, a lump of aluminium and a plastic shroud. The second is third-party designs such as the Twin Frozr III from MSI, the Windforce from Gigabyte or the various DIY options. Finally of course is buying a waterblock from EK or Danger Den and the like, and plumbing it into a dedicated water-loop.
The PNY we have on test today combines two of these into a stand-alone format by utilising an Asetek self-contained pump, block and radiator combined with a reference card.
It's quite a bizarre thing and looks like someone has welded a Corsair H50 to their card, but does it work?

Technical Specifications
PNY are certainly confident that the cooling solution works, as the Fermi 110 GPU has been overclocked from the default 772MHz up to a whopping 857MHz out of the box. Considering some very hardcore pre-overclocked cards available usually stop around 800MHz, and the Gigabyte Super Over Clock is 855MHz out the box, this is the fastest 'out of the box' GTX580 around. 
| | |
| --- | --- |
| Core Clock | 857 MHz |
| Processor Clock        | 512 |
| Processor Cores     | 1714 MHz |
| Texture Fill Rate     | 54.85 Billion/sec. |
| Memory Amount     | 1536MB GDDR5 |
| Memory Data Rate     | 4212 MHz |
| Memory Interface     | 384-bit |
| Memory Bandwidth     | 202.18 GB/sec. |
| On-board Outputs | DVI, DVI, and HDMI mini |
| Bus Type         | PCI Express® 2.0 |