Corsair Sabre RGB 10K Gaming Mouse Review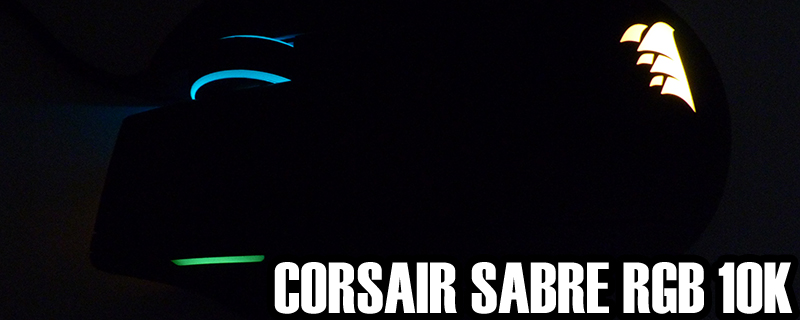 Up Close
The Sabre RGB comes in the now standard Corsair Gaming packaging of black with yellow accents. We think it looks the business and is both attention grabbing and, perhaps more importantly, different. When you see as much black and red stuff as we do it's easy to become immune. Yellow is such a rare showing on any item that it scores some points just for that.
Freed from the package and sure enough the design is a perfect match for the original Sabre RGB. A good move because it a) saves on retooling and b) if you're used to the original but just want more you don't have to relearn button placements. The only three differences we can spot are that this 10K sensor model has the Corsair name next to the profile switches, the plug is grey rather than yellow and the Corsair Gaming logo previously found beneath the 'ship' RGB logo is now absent. Minor changes, but at least if you own both you wont get them confused on the way out the door to your next clan meet.

The Sabre RGB is definitely designed for the right-handed amongst us. Admittedly that's 90% of the world but we still think there are too few mice for the left-handed around. However we cannot criticise Corsair for doing what everyone else does.
It's difficult to make full use of the RGB colour options and still allow Corsair to add some yellow branding. Perhaps that's why there is so little of it, and only on the underneath. Fortunately you don't see the underside much, because it's distinctly more plastic than the lovely matte finish to the topside. It reminds us of much cheaper offerings underneath, so let's put it the right way up and ignore that.
In keeping with a right-handed rodent the right side is entirely plain and the left has the back/forward buttons we're all used to. We do like having the profile indicator so obviously visible, and the placement of the switch buttons is within easy reach.