Corsair Vengeance K70 Keyboard Review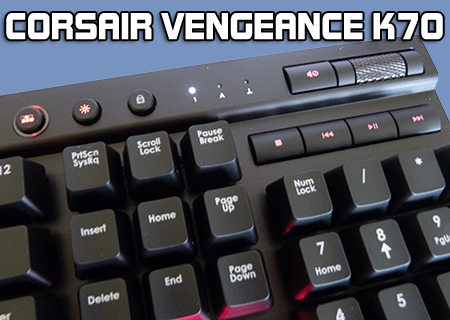 Introduction
About 18 months ago we first saw the fruits of the Corsair Vengeance line appear with the K60 and K90 mechanical keyboards, along with the M60 and M90 mice. All of which proved to be hugely popular. Partly because they were Corsair products and the value of a brand name can't be overstated, but equally because Corsair had got them right, straight out the box.
Now there is a new model that fits between the K60 and K90, rather obviously called the K70. If you are a regular reader of our humble pages then you'll recall that we liked both the keyboards but desired something that was a combination of the standard size of the K60, with the bling of the K90. A couple of days later and we had a backlit standard sized keyboard that we dubbed the TTL edition.
It seemed Corsair were watching and, whilst we'd never claim to have been the inspiration, the K70 reminds us of that home built piece of kit. So let's see how a more professional attempt at combining the K60 and K90 has worked out.

Technical Specifications
There are a few different versions of the K70 available. There is the silver chassis with blue lighting that we've seen before with the K60 and K90, and the one we're looking at today which is a black chassis with red LEDs. Apart from that you can also choose between the Brown, Blue and Red Cherry MX switches. Today's model comes equipped with what we believe to be the best of the bunch, the Cherry MX Red. 
Black anodised aluminium chassis
Replaceable contoured, textured WASD and 1-6 keycaps

A standard set of WASD and 1-6 keys is included for normal typing

Red LED lighting with individual key programmability
Six dedicated multimedia keys
Windows lock key for uninterrupted game play
USB through-port
Dimensions 436mm x 165mm x 38mm
Cherry MX Red mechanical switches

45g actuation force
2mm to actuation and 4mm to bottom
Rated to 50 million operations
Gold contacts