Corsair Vengeance K70 Keyboard Review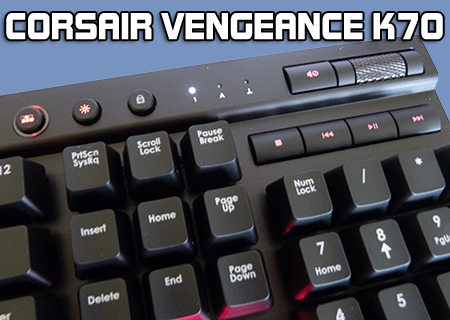 Up Close
The Vengeance packaging is both clear and simple. All the main points are covered, although as you'll see below there is one area that's a bit of a mystery.
The K70 continues the rather singular design of the Corsair Vengeance range, with the main chassis being quite low and the keys sitting proudly, rather than the more chocolate box design that appears to be more commonly utilised. It certainly makes it easily recognisable.Â

The cable is thickly braided and certainly designed more for robustness than softness and flexibility. Round the back we have the USB pass through. You have to plug the USB cable into your machine for this, so really it's more of an extension because you're losing one on your system to gain one on your keyboard.
Next to that is a BIOS switch. This is quite a conundrum. It's not mentioned on the packaging. The documentation is entirely free of pointing it out, and the Corsair website that lists the various features hasn't got a word to say about it. In the end we discovered that it can be used to change the polling rate of the keyboard on the extremely remote chance that your system doesn't support 1000MHz polling.
As well as the WASD replacement keys the K70 comes with replacements for the 1-6 keys as well. Finished in the same deep red as the LEDs, they are textured to ensure your fingers stay in place under even the most trying circumstances. Beneath each key beats the heart of the K70, the Cherry MX Red switches. Although switches are subjective, the Red variant is our favourite.