Corsair Vengeance K70 Keyboard Review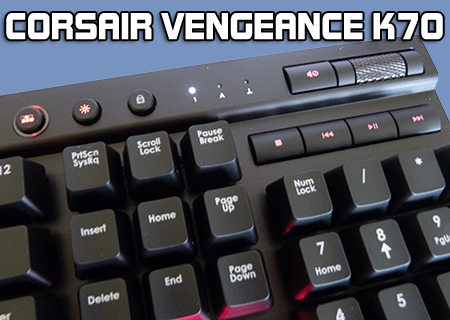 Conclusion
When reviewing a mechanical keyboard it's always a stretch to find something new to say. After all, regular readers of OC3D know full well what the benefits of a proper keyboard are, and if you're not a regular reader then a) you should be and b) we've reviewed enough that you can catch up if you desire.Â
Fortunately the Corsair Vengeance K70 has a few wrinkles which we can expound upon.
The most abiding feeling you get from the K70 is the same as we've had from all of the Vengeance range with the possible exception of their overly plastic wireless headset, and that's bomb proof build quality. The K70 is extremely sturdy indeed. With any mechanical keyboard that utilises the Cherry MX switches, you know that the keys themselves will remain that gorgeous blend of firm and yet supple, responsive and a tactile wonder, for many more years than you're likely to use it. We'd wager that by the time the switches in this wear out, we'll all have moved across to virtual keyboards, such is their lifespan.

Placing such keys in a plastic shroud would be like wrapping a rock in eggs. Thankfully Corsair have kept their heavy-duty aluminium design from the other models in the range. The K70 as a whole is going to be very hard-wearing and you'd have to make a concerted effort to damage it. Even the areas that can normally have their quality "found out", media keys and lighting buttons, are of a similar quality to the main keys themselves. The volume wheel in particular was glorious when we first came across it 18 months ago, and time hasn't dulled it's capability to impress. In short, it's built like a tank and one of the sturdiest keyboards we've ever seen.
The lighting is the K70's party piece. It's by no means the first keyboard we've seen that has red back lighting, nor is it the first that allows us to choose from something other than 'every key lit or none'. However, the quality of the lighting is very good, with a lovely deep red, the laser cutting of the keys is particularly crisp and none of the lock indicators are distractingly bright. So often red lighting can head towards pink, or be so bright that it's distracting. The K70 is the same red that you expect from peripherals and fans etc, so your keyboard will match your system perfectly. Putting the K70 into the manual LED mode is really simple too, requiring nothing more than holding down the lighting button for a couple of seconds, adjusting your keys to suit, and then pressing it again to lock them in place. You can then choose between all the keys lit or your personal choice.
As always there are a couple of niggles, with one certainly looming larger than the other. The BIOS switch on the back is, one would imagine, there for a reason. Corsair are extremely coy about what this reason is, as neither the K70 itself nor the K70 page on their website remotely hints at what it's there for. Thankfully someone has asked that question on their forums, so we do know it's for adjusting the polling rate to aid compatibility on older systems. Whether 1 is 1000MHz polling and the numbers are reductions, or 1 is the slowest possible and the numbers increase it, remains a mystery. Still if you ever struggle with accessing your BIOS then you can just switch to a different BIOS and hopefully the slower polling will make it easier to hit that del key.
The second, and more damning, problem is simply one of cost. You can get a CM Storm Quickfire with Cherry MX Reds, for around £70, albeit a plastic cover rather than solid aluminium, the Razer Blackwidow for about £90 and we know Razer stuff tends to be pricey. Heck right now you can purchase a Corsair K90 for £95. Sure the K95 is about to replace it, but the fact remains that you can buy the bigger brother for much less. Quite why the K70 is so comparatively expensive at £111 is as much a mystery as the BIOS switch it sports. It's good, but is it £40 better than the CM Storm, and yet has less features than its K90 stable mate, this is a question only you and your wallet can decide.
So it's a brilliant keyboard, as any with Cherry MX switches would be, and built like a battleship, but far too expensive to make for a recommendation unless you're obsessed with having a Corsair keyboard, and it must be black, you don't really need any macro features and you don't mind overpaying for it. You're basically paying £30 on top of the price of a K60 because it lights up.
Because of the eye-watering price it can only receive our Silver award. Although if you willing to pay £111 for that bomb proof build quality then it's worth noting that the Corsair Vengeance K70 is, albeit lacking in macros, almost without fault.
   Â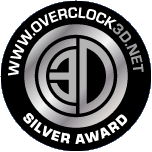 Â
Thanks to Corsair for supplying the K70 for review. Discuss it in our OC3D Forums.